---
Books by and about 2020 presidential candidates
Crippled America,
by Donald J. Trump (2015)
United,
by Cory Booker (2016)
The Truths We Hold,
by Kamala Harris (2019)
Smart on Crime,
by Kamala Harris (2010)
Guide to Political Revolution,
by Bernie Sanders (2017)
Where We Go From Here,
by Bernie Sanders (2018)
Promise Me, Dad ,
by Joe Biden (2017)
Conscience of a Conservative,
by Jeff Flake (2017)
Two Paths,
by Gov. John Kasich (2017)
Every Other Monday,
by Rep. John Kasich (2010)
Courage is Contagious,
by John Kasich (1998)
Shortest Way Home,
by Pete Buttigieg (2019)
The Book of Joe ,
by Jeff Wilser (2019; biography of Joe Biden)
Becoming,
by Michelle Obama (2018)
Our Revolution,
by Bernie Sanders (2016)
This Fight Is Our Fight,
by Elizabeth Warren (2017)
Higher Loyalty,
by James Comey (2018)
The Making of Donald Trump,
by David Cay Johnston (2017)
Books by and about the 2016 presidential election
What Happened ,
by Hillary Clinton (2017)
Higher Loyalty ,
by James Comey (2018)
Trump vs. Hillary On The Issues ,
by Jesse Gordon (2016)
Hard Choices,
by Hillary Clinton (2014)
Becoming ,
by Michelle Obama (2018)
Outsider in the White House,
by Bernie Sanders (2015)
---
Book Reviews

(from Amazon.com)

(click a book cover for a review or other books by or about the presidency from Amazon.com)
America's Mayor, America's President?
The Strange Career of Rudy Giuliani,
by Robert Polner, published May 2007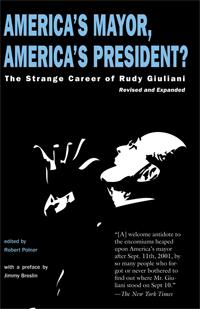 (Click for Amazon book review)
Click here for 28 full quotes from Rudy Giuliani in the book America's Mayor, America's President, by Robert Polner.
OR click on an issue category below for a subset.
BOOK REVIEW by OnTheIssues.org:
This book describes the anti-Giuliani attacks that will come if Giuliani is nominated for president. The book has been met with a lack of interest during the primaries -- Giuliani has not been critiqued at all for the negative material contained here, unlike the anti-Hillary and anti-Obama books, which have been pored over by pundits and critics alike. We reviewed another anti-Giuliani book, Giuliani: Flawed Or Flawless?, which at least in its title pretends to give Giuliani the possibility of favorability. In contrast, "America's Mayor" focuses almost exclusively on the flaws. The exceptions are a few begrudging acknowledgements that, indeed, Giuliani did well on 9/11; and did indeed make NYC a more attractive place to live.
The author sums up his purpose and his method, as well as his begrudging acknowledgements, in the introduction:
"I decided to organize and edit a collection of original essays by New York City-based writers after leaving the City Hall beat in early 2002. America's Mayor: The Hidden History of Rudy Giuliani's New York, the title of my first edition, was published in 2005 amid speculation he'd run for president and as he amassed a lucrative portfolio of corporate clients and speaking gigs. This new edition, the second, has been renamed and revised with additional essays. Early public opinion polls show Giuliani running strongly in the Republican field of candidates. Yet most Americans still know relatively little about the former mayor of New York City, compared to say, John McCain or Hillary Rodham Clinton.

"The 9/11 halo has obscured many disturbing facts about Giuliani and his record. Put aside, for a moment, the grace under pressure he showed on September 11th. Though it might infuriate lionizers to hear it, his New York City administration was is many crucial ways unexceptional. True, there were successes in his eight years at City Hall. But as with many City Hall administrations that preceded Giuliani's, there was also patronage, cronyism, growth of spending beyond the rate of inflation, deep debt, concessions for favored unions and companies, scandals, false boasts, mismanagement, drift, waste, undue secrecy, avarice and pettiness."
-- Jesse Gordon, jesse@OnTheIssues.org, Jan. 2008
OnTheIssues.org excerpts: (click on issues for details)
Budget & Economy
1990s: Cut spending in 1st term but raised spending in 2nd.
Civil Rights
1990s: City jobs cuts fell disproportionately on black staff.
1990s: Arrested hundreds of unlicensed art vendors.
Corporations
1990s: NYC paid millions in "corporate retention deals".
Crime
Enforced jaywalking laws as part of "broken windows" theory.
What has he done for minorities? They're alive!
Father, Harold, served 16 months for armed robbery.
Arrested homeless for crimes like public urination.
Drugs
Tried to ban methadone treatment for heroin addicts.
Education
Lobbied to cut state aid to NYC schools.
Supports Ten commandments & prayer in schools.
Foreign Policy
1980s: Denied asylum to Haitian refugees.
Government Reform
No city reinvention, but success on crime, colleges & budget.
Homeland Security
Emergency HQ's fuel storage contributed to WTC7 collapse.
Lack of unified command & communication added to 9/11 deaths.
WTC7 met Giuliani's criteria for emergency HQ.
Jobs
1990s NYC unemployment fell but so did working class wages.
Principles & Values
Considered priesthood; rejected it because of celibacy.
Praised RFK in law school newspaper and bashed Goldwater.
Former Democrat; endorsed twice by the Liberal Party.
Tax Reform
Claimed 90s NYC tax cuts reduced deficits.
1994 hotel tax cut was effective, but didn't raise revenue.
Technology
NYPD & NYFD radio problems not confronted before 9/11.
$90M cut in kid's transit subsidy led to fare increase.
Interoperability failure worsened deaths on 9/11.
Welfare & Poverty
Sold 80% of city-owned abandoned homes to developers.
Moved 600,000 people off welfare during mayoral term.
NYC welfare reform focused on workfare assignments.
| | |
| --- | --- |
| Click for quotations from other sources by: | |
The above quotations are from America's Mayor, America's President?
The Strange Career of Rudy Giuliani,
by Robert Polner, published May 2007.
Related books, debates, and candidates: