---
Books by and about 2020 presidential candidates
Crippled America,
by Donald J. Trump (2015)
United,
by Cory Booker (2016)
The Truths We Hold,
by Kamala Harris (2019)
Smart on Crime,
by Kamala Harris (2010)
Guide to Political Revolution,
by Bernie Sanders (2017)
Where We Go From Here,
by Bernie Sanders (2018)
Promise Me, Dad ,
by Joe Biden (2017)
Conscience of a Conservative,
by Jeff Flake (2017)
Two Paths,
by Gov. John Kasich (2017)
Every Other Monday,
by Rep. John Kasich (2010)
Courage is Contagious,
by John Kasich (1998)
Shortest Way Home,
by Pete Buttigieg (2019)
The Book of Joe ,
by Jeff Wilser (2019; biography of Joe Biden)
Becoming,
by Michelle Obama (2018)
Our Revolution,
by Bernie Sanders (2016)
This Fight Is Our Fight,
by Elizabeth Warren (2017)
Higher Loyalty,
by James Comey (2018)
The Making of Donald Trump,
by David Cay Johnston (2017)
Books by and about the 2016 presidential election
What Happened ,
by Hillary Clinton (2017)
Higher Loyalty ,
by James Comey (2018)
Trump vs. Hillary On The Issues ,
by Jesse Gordon (2016)
Hard Choices,
by Hillary Clinton (2014)
Becoming ,
by Michelle Obama (2018)
Outsider in the White House,
by Bernie Sanders (2015)
---
Book Reviews

(from Amazon.com)

(click a book cover for a review or other books by or about the presidency from Amazon.com)
Gold, Peace, and Prosperity
The Birth of a New Currency, by Ron Paul (published 1981; re-released 2007)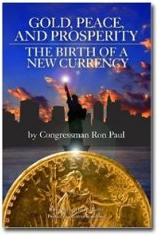 (Click for Amazon book review)
Click here for 10 full quotes from Ron Paul in the book Gold, Peace, and Prosperity, by Ron Paul.
OR click on an issue category below for a subset.
BOOK REVIEW by OnTheIssues.org:
This book was written in 1981 and re-released for Paul's presidential campaign in 2007. It has no 2007 update, unfortunately, so we have to infer that Rep. Paul still subscribes to all of his policy prescriptions from 26 years ago. There is a substantial chapter on this topic in Rep. Paul's 1987 book, Freedom Under Siege; so we can explicitly state that he believed this policy at least through 1987 (and hence in his presidential campaign of 1988). Rep. Paul has not much raised this issue in the 2008 presidential race, but the few times he does, he appears to be consistent with his views expressed in this book.
The theme of this book is that the federal government should return to the gold standard for the US dollar. The "gold standard" means that a person can take a dollar bill, and ask for its equivalent in gold bullion at any time (assuming one can find a bank that actually keeps gold bullion in stock). That was the case until 1971, when Pres. Nixon removed "redeemability" of dollars. Rep. Paul refers to that as creating "fiat currency," i.e., the dollar now has a value only by government fiat (the dollar's value is based on a promise from the US government to maintain its value -- that is accomplished by the semi-autonomous Federal Reserve) rather than a value based on gold. In other words, you can no longer ask for gold in exchange for a dollar bill -- the dollar bill's value is only because everyone else agrees to accept it.
Rep. Paul explores the history of the dollar as redeemable currency, as an explanation of how we got to the point of fiat currency. He explains how fiat currency causes inflation and empowers politicians and big business; and explores the implications for international organizations. Because currency is a complicated topic, most of the book goes to explaining how currency woks and the problems with the current system, but there are some policy prescriptions along the way.
This book will be of interest to Paulistas and Libertarians who want a deeper understanding of why fiat currency is problematic and how a gold-standard currency would disempower the central government and its corporate supporters. However, the topic is not very relevant to the 2008 presidential race, since no one else is discussing the possibility of returning to the gold standard. Readers interested in a more general book about Paul's policies should read Freedom Under Siege, which is considerably more relevant to the 2008 presidential race.
-- Jesse Gordon, jesse@OnTheIssues.org, Dec. 2007
OnTheIssues.org excerpts: (click on issues for details)
Budget & Economy
Depreciating currency is greatest threat to middle class.
Gold standard avoids need for government promises.
Gold standard means minimal inflation.
Dollar as fiat currency only benefits politicians.
Friedman monetarist policy is better, but still inflationary.
Corporations
Big business demand for easy money causes inflation.
Free Trade
IMF empowers politicians by causing inflation.
Allow Americans to own gold; end large-scale foreign sales.
Government Reform
Spending without taxation causes inflation.
Tax Reform
Inflation is a form of taxation on poor & middle class.
| | |
| --- | --- |
| Click for quotations from other sources by: | |
The above quotations are from Gold, Peace, and Prosperity
The Birth of a New Currency, by Ron Paul (published 1981; re-released 2007).