---
Books by and about 2020 presidential candidates
Crippled America,
by Donald J. Trump (2015)
United,
by Cory Booker (2016)
The Truths We Hold,
by Kamala Harris (2019)
Smart on Crime,
by Kamala Harris (2010)
Guide to Political Revolution,
by Bernie Sanders (2017)
Where We Go From Here,
by Bernie Sanders (2018)
Promise Me, Dad ,
by Joe Biden (2017)
Conscience of a Conservative,
by Jeff Flake (2017)
Two Paths,
by Gov. John Kasich (2017)
Every Other Monday,
by Rep. John Kasich (2010)
Courage is Contagious,
by John Kasich (1998)
Shortest Way Home,
by Pete Buttigieg (2019)
The Book of Joe ,
by Jeff Wilser (2019; biography of Joe Biden)
Becoming,
by Michelle Obama (2018)
Our Revolution,
by Bernie Sanders (2016)
This Fight Is Our Fight,
by Elizabeth Warren (2017)
Higher Loyalty,
by James Comey (2018)
The Making of Donald Trump,
by David Cay Johnston (2017)
Books by and about the 2016 presidential election
What Happened ,
by Hillary Clinton (2017)
Higher Loyalty ,
by James Comey (2018)
Trump vs. Hillary On The Issues ,
by Jesse Gordon (2016)
Hard Choices,
by Hillary Clinton (2014)
Becoming ,
by Michelle Obama (2018)
Outsider in the White House,
by Bernie Sanders (2015)
---
Book Reviews

(from Amazon.com)

(click a book cover for a review or other books by or about the presidency from Amazon.com)
John McCain: An American Odyssey,
by Robert Timberg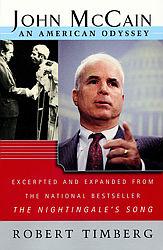 (Click for Amazon book review)
Click here for 18 full quotes from John McCain in the book An American Odyssey, by Robert Timberg.
OR click on an issue category below for a subset.
OnTheIssues.org BOOK REVIEW:
This book was written in 1999 (when McCain first ran for president and lost the GOP primary to Bush) and then "re-issued" in 2007 (when McCain ran for president and got the GOP nomination). In other words, its purpose is a biography for a presidential candidate. And it's a favorable biography (not authorized, but definitely favorable), which means it's McCain's story framed the way McCain would like his story framed. If every reporter -- and the voting public -- had framed McCain's story this way in 2000 -- or in 2008 -- McCain likely would have won the presidency.
A bit about the history of this book. Robert Timberg first wrote it in 1995 as A Nightingale's Song, a description of five graduates of Annapolis, including McCain, who was then a Senator. In 1999, when McCain ran for President, Timberg excerpted out the McCain parts, added some new material, and created this semi-new book. In 2007, the re-issued version didn't add any new material except a new 11-page foreword. That new foreword is not nearly as favorable to McCain as the rest of the book. Timberg, evidently, deeply admired McCain in 1999, but not so much in 2007 (but enough to re-issue a positive book). Timberg was an Annapolis graduate himself -- hence the first book -- and then a reporter for the Baltimore Sun -- hence the admiration for McCain in 2000, as all reporters admired McCain then (even OnTheIssues' reporters!).
So, let's outline the pro-McCain framework that Timberg wrote when he admired McCain:
McCain's war stance is framed as an outcome of lessons from Vietnam: Stay out of most wars (he opposed Lebanon in 1983, p. 151, and opposed Haiti in 1994, p. 191); but if we get in, see it through (as in Kosovo in 1999, p. 205). This actually explains McCain's support for "the surge" in 2007 in Iraq without painting his as a warmonger; but doesn't explain his support for invading Iraq in 2002 in the first place.
The Keating Five incident -- in which five Senators were accused of impropriety in a banking scandal -- is framed with McCain as exhibiting bad judgment (p. 184) while three others involved were reprimanded and didn't run for re-election. This issue didn't resonate as an issue in the 2000 campaign, in any case, which is why most voters barely recognize the term "Keating Five" anymore.
While McCain was a POW in Vietnam, his wife Carol was crippled in a car accident, and she didn't tell McCain (p. 104); McCain left her shortly after his return (p. 128). This issue is framed as favorably as possible, that the couple had drifted apart after 6 years of separation. But then McCain married a young heiress (p. 135) and ran for office, which could have been framed as opportunistic, but is framed instead as McCain "starting over" after his long imprisonment (p. 136).
OnTheIssues expanded our excerpts of this book (and several other McCain books and others) in preparation for the 2016 presidential election. What role McCain plays in 2016 is an open question: perhaps elder statesman; perhaps behind-the-scene adviser; perhaps Sarah Palin's supporter. So we'll see.
-- Jesse Gordon, editor-in-chief, OnTheIssues.org, August 2014
OnTheIssues.org excerpts: (click on issues for details)
Drugs
1994: Wife Cindy accused of prescription drug abuse.
Foreign Policy
1983: Called for rapid withdrawal of Marines from Lebanon.
1994: Led opposition to Haiti intervention.
Health Care
1997: Led fight for anti-tobacco legislation.
Principles & Values
As teenager, inherited obligation to attend Annapolis.
Admiral Slew McCain set Johnís standard for grit & courage.
Born at a Naval Air Station in the Panama Canal Zone.
Relationship with father was one of respect, more than love.
1969: Wife Carol crippled in car crash while John was POW.
1974: First marriage ended in wake of return from POW camp.
1978: Married Cindy, 25 years younger, started over post-POW.
1982: Won House seat by personally knocking on 20,000 doors.
1983: Flew to Phoenix every weekend in 1st year in Congress.
1987: Association with Keating 5 worse than any culpability.
1991: Rebuked for "poor judgment" in Keating 5; & vindicated.
1999: Voted to convict Pres. Clinton of lying under oath.
War & Peace
Vietnam's greatest injustice: burden of service on the poor.
1999: Kosovo: We are in it; now we must win it.
| | |
| --- | --- |
| Click for quotations from other sources by: | |
The above quotations are from John McCain: An American Odyssey,
by Robert Timberg.
Related books, debates, and candidates: