---
Books by and about 2020 presidential candidates
Crippled America,
by Donald J. Trump (2015)
United,
by Cory Booker (2016)
The Truths We Hold,
by Kamala Harris (2019)
Smart on Crime,
by Kamala Harris (2010)
Guide to Political Revolution,
by Bernie Sanders (2017)
Where We Go From Here,
by Bernie Sanders (2018)
Promise Me, Dad ,
by Joe Biden (2017)
Conscience of a Conservative,
by Jeff Flake (2017)
Two Paths,
by Gov. John Kasich (2017)
Every Other Monday,
by Rep. John Kasich (2010)
Courage is Contagious,
by John Kasich (1998)
Shortest Way Home,
by Pete Buttigieg (2019)
The Book of Joe ,
by Jeff Wilser (2019; biography of Joe Biden)
Becoming,
by Michelle Obama (2018)
Our Revolution,
by Bernie Sanders (2016)
This Fight Is Our Fight,
by Elizabeth Warren (2017)
Higher Loyalty,
by James Comey (2018)
The Making of Donald Trump,
by David Cay Johnston (2017)
Books by and about the 2016 presidential election
What Happened ,
by Hillary Clinton (2017)
Higher Loyalty ,
by James Comey (2018)
Trump vs. Hillary On The Issues ,
by Jesse Gordon (2016)
Hard Choices,
by Hillary Clinton (2014)
Becoming ,
by Michelle Obama (2018)
Outsider in the White House,
by Bernie Sanders (2015)
---
Book Reviews

(from Amazon.com)

(click a book cover for a review or other books by or about the presidency from Amazon.com)
John McCain
An Essay in Military and Political History, by John Karaagac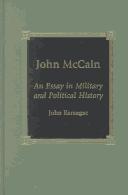 (Click for Amazon book review)
Click on a participant to pop-up their full list of quotations
from John McCain: An Essay, by John Karaagac (number of quotes indicated):
BOOK REVIEW by OnTheIssues.org:
This is not a political biography but instead an academic study. It's unclear to OnTheIssues.org what the difference is, since it reads just like a political biography. In theory, the difference is that the author, an academic, reviews other literature and analyzes it, like a literary analyst instead of like a writer. In practice, there's no difference.
Well, there is one difference -- the book's price is $87, which is only possible in the academic book world. That cover price means no one will read this book except other academics and students who are required to purchase it for a class. Since McCain lost, even that is unlikely. That's too bad, because if this book were accessible to the public, a lot of people would enjoy it.
-- Jesse Gordon, jesse@OnTheIssues.org, November 2008
OnTheIssues.org excerpts: (click on issues for details)
Budget & Economy
John McCain: Consistent conservative voting on free-market principles.
Civil Rights
John McCain: 1987: 1st Senate committee was Indian affairs, crucial to AZ.
Corporations
John McCain: Skilled chair of Senate Commerce Committee since 1997.
Environment
John McCain: 1980s: 1st House committee was water rights, crucial to AZ.
Foreign Policy
John McCain: 2000: Internationalist vision with populist caution.
Government Reform
John McCain: 2000: Theme "reformer & outsider" attacked as Senate insider.
John McCain: Early Congressional races included large war chests.
John McCain: McCain-Feingold reforms never appealed to GOP base.
John McCain: Reform focus endears him to many, but alienates GOP insiders.
John McCain: Reform was a lonely message in 2000.
Health Care
John Ashcroft: Sole committee vote against 1998 McCain tobacco bill.
John McCain: 1998 tobacco bill attempted regulation via $1.10/pack tax.
Homeland Security
John McCain: Focuses on issue-specific waste, not overall Pentagon reform.
Principles & Values
John McCain: To understand McCain, understand grandfather Slew.
John McCain: Community of origin is the Navy, not a geographic community.
John McCain: Described himself as a "jock," but not exceptional.
John McCain: Temper usually directed at those higher; seldom at underling.
John McCain: From Hanoi to C.F.R., never chose path of least resistance.
John McCain: War injuries left him unable to raise arms above head.
John McCain: Won 1992 AZ House election as newcomer & confident war hero.
John McCain: 1990: McCain & Glenn exonerated in Keating 5 scandal.
John McCain: Identifies with Teddy Roosevelt, but only some reforms apply.
John McCain: Re-adjusted to civilian life after POW years: no "imbalance".
War & Peace
Donald Trump: John McCain's actions in Vietnam were not "heroic".
John McCain: 1966: Part of no-win situation in Operation Rolling Thunder.
John McCain: 1967: Survived USS Forrestal fire that killed over 100.
John McCain: 1967: Shot down on first mission over central Hanoi.
John McCain: 1967: POW son of admiral was propaganda coup for N. Vietnam.
John McCain: 1967:Refused making propaganda film in exchange for medicine.
John McCain: 1968: Under torture, wrote coerced "confession".
John McCain: Silent about origins & necessity of Vietnam.
Lyndon Johnson: 1965-1968: Operation Rolling Thunder air campaign.
| | |
| --- | --- |
| Click for quotations from other sources by: | |
The above quotations are from John McCain
An Essay in Military and Political History, by John Karaagac.
Related books, debates, and candidates: