---
Books by and about 2020 presidential candidates
Crippled America,
by Donald J. Trump (2015)
United,
by Cory Booker (2016)
The Truths We Hold,
by Kamala Harris (2019)
Smart on Crime,
by Kamala Harris (2010)
Guide to Political Revolution,
by Bernie Sanders (2017)
Where We Go From Here,
by Bernie Sanders (2018)
Promise Me, Dad ,
by Joe Biden (2017)
Conscience of a Conservative,
by Jeff Flake (2017)
Two Paths,
by Gov. John Kasich (2017)
Every Other Monday,
by Rep. John Kasich (2010)
Courage is Contagious,
by John Kasich (1998)
Shortest Way Home,
by Pete Buttigieg (2019)
The Book of Joe ,
by Jeff Wilser (2019; biography of Joe Biden)
Becoming,
by Michelle Obama (2018)
Our Revolution,
by Bernie Sanders (2016)
This Fight Is Our Fight,
by Elizabeth Warren (2017)
Higher Loyalty,
by James Comey (2018)
The Making of Donald Trump,
by David Cay Johnston (2017)
Books by and about the 2016 presidential election
What Happened ,
by Hillary Clinton (2017)
Higher Loyalty ,
by James Comey (2018)
Trump vs. Hillary On The Issues ,
by Jesse Gordon (2016)
Hard Choices,
by Hillary Clinton (2014)
Becoming ,
by Michelle Obama (2018)
Outsider in the White House,
by Bernie Sanders (2015)
---
Book Reviews

(from Amazon.com)

(click a book cover for a review or other books by or about the presidency from Amazon.com)
Republican Debate in Phoenix, Arizona, Dec. 7, 1999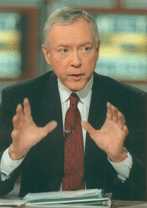 Click on a participant to pop-up their full list of quotations
from Republican Debate in Phoenix, AZ (number of quotes indicated):
OnTheIssues.org excerpts: (click on issues for details)
Budget & Economy
George W. Bush: Guarantees future surpluses with his tax plan.
Steve Forbes: Fed's bizarre theory: prosperity causes inflation.
Education
Alan Keyes: Use bully pulpit to advocate prayer, not coerce it.
Alan Keyes: Money should follow parents' education choices.
George W. Bush: If poor kids don't learn, give school funds to parents.
George W. Bush: Develop tests locally - no national tests.
John McCain: Tax breaks for charters - not from public school funds.
John McCain: Good teachers & bad senators don't need $140,000 a year.
John McCain: Teach virtues in all schools.
Orrin Hatch: Vouchers will cover costs under most circumstances.
Orrin Hatch: Let parents walk away from failing schools.
Energy & Oil
George W. Bush: Encourage oil exploration and more natural gas.
George W. Bush: Wean from oil, via electric deregulation & natural gas.
Families & Children
Gary Bauer: Nazi salutes indicated problem at Columbine.
Steve Forbes: Don't raid unemployment funds for family leave.
Foreign Policy
George W. Bush: China's taste of freedom encourages capitalism's growth.
Free Trade
Alan Keyes: WTO is not representative; hence unconstitutional.
Gary Bauer: WTO bureaucrats are out of control.
Gary Bauer: Apply Reagan's USSR policy: No MFN; insist on human rights.
Gary Bauer: Nazi atrocities precluded trade. When will China's?
Gary Bauer: Seattle protestors were right that WTO isn't representative.
George W. Bush: Work with China, but as a competitor, not a partner.
George W. Bush: WTO for both China & Taiwan; maintain Taiwan relations law.
Orrin Hatch: China's WTO admission will undermine police state.
Government Reform
Alan Keyes: Campaign reforms: unconstitutional "incumbency protection".
Alan Keyes: Unlimited contributions, but only by people, & publicized.
Gary Bauer: Large donations buy access and are "corrupting".
John McCain: Drain the big money swamp to kill lobbyist mosquitoes.
Orrin Hatch: McCain-Feingold campaign finance reform is unconstitutional.
Steve Forbes: Drain the tax code swamp to kill lobbyist mosquitoes.
Gun Control
Gary Bauer: Problem of the heart & soul, not of guns.
Homeland Security
Steve Forbes: Haiti & Somalia interventions were mistakes.
Principles & Values
Orrin Hatch: 23 years of experience fighting for you.
Tax Reform
Alan Keyes: Forbes' plan leaves IRS, and an invasive tax, intact.
Alan Keyes: Forbes' plan still requires people to beg for tax cuts.
Alan Keyes: Sales tax gives control back to people.
Alan Keyes: Wrong to pay income taxes before basic necessities.
Gary Bauer: Estate tax is double taxation - remove it.
John McCain: 1st step to simplify taxes: close special interest loopholes.
Steve Forbes: Flat-tax IRS exists, but is smaller and less powerful.
Steve Forbes: Sales tax better than current IRS; but we'd end up with both.
Steve Forbes: McCain agrees with Forbes' flat tax goal, but not 1st step.
Technology
John McCain: Make Internet tax moratorium permanent.
Orrin Hatch: Keep government's mitts off the Internet.
War & Peace
Alan Keyes: Respond to facts, not Serb intentions.
Gary Bauer: No vital US interests in Kosovo.
John McCain: Kosovo an example of feckless photo-op foreign policy.
Steve Forbes: Arming intended victims would have avoided Bosnia & Kosovo.
| | |
| --- | --- |
| Click for quotations from other sources by: | |
The above quotations are from Republican Debate in Phoenix, Arizona, Dec. 7, 1999.
Related books, debates, and candidates: