---
Books by and about 2020 presidential candidates
Crippled America,
by Donald J. Trump (2015)
United,
by Cory Booker (2016)
The Truths We Hold,
by Kamala Harris (2019)
Smart on Crime,
by Kamala Harris (2010)
Guide to Political Revolution,
by Bernie Sanders (2017)
Where We Go From Here,
by Bernie Sanders (2018)
Promise Me, Dad ,
by Joe Biden (2017)
Conscience of a Conservative,
by Jeff Flake (2017)
Two Paths,
by Gov. John Kasich (2017)
Every Other Monday,
by Rep. John Kasich (2010)
Courage is Contagious,
by John Kasich (1998)
Shortest Way Home,
by Pete Buttigieg (2019)
The Book of Joe ,
by Jeff Wilser (2019; biography of Joe Biden)
Becoming,
by Michelle Obama (2018)
Our Revolution,
by Bernie Sanders (2016)
This Fight Is Our Fight,
by Elizabeth Warren (2017)
Higher Loyalty,
by James Comey (2018)
The Making of Donald Trump,
by David Cay Johnston (2017)
Books by and about the 2016 presidential election
What Happened ,
by Hillary Clinton (2017)
Higher Loyalty ,
by James Comey (2018)
Trump vs. Hillary On The Issues ,
by Jesse Gordon (2016)
Hard Choices,
by Hillary Clinton (2014)
Becoming ,
by Michelle Obama (2018)
Outsider in the White House,
by Bernie Sanders (2015)
---
Book Reviews

(from Amazon.com)

(click a book cover for a review or other books by or about the presidency from Amazon.com)
Citizen McCain, by Elizabeth Drew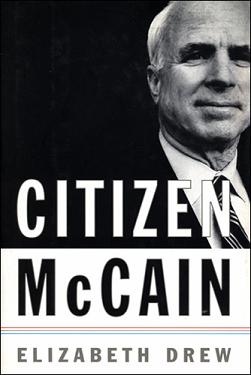 (Click for Amazon book review)
Click on a participant to pop-up their full list of quotations
from Citizen McCain, by Elizabeth Drew (number of quotes indicated):
BOOK REVIEW by OnTheIssues.org:
Remember in high school civics class how you had a lesson, "How a Bill Becomes Law"? This book is a grown-up version of that. The bill in question is the McCain-Feingold campaign finance reform bill. Because it IS for grown-ups, the book details the Senate politics, as well as the House politics for the corresponding Shays-Meehan bill. And it's a pretty good story, for people who like this sort of story.
We skip the details of the discharge petitions and compromise negotiations, and focus on the issues. We do include the author's observations of the many key players, from Dick Cheney to Russ Feingold.
Because the passage of campaign finance reform overlapped with 9/11, the author spends several chapters detailing McCain's immediate response and longer-term policy about 9/11 and terrorism. The author clearly prefers McCain's responses to those of President Bush. For that matter, the author seems to clearly prefer ALL of McCain's issues and personality much more than those of President Bush. If there's any bias in this book, that's it.
But the book starts and ends with campaign finance reform -- literally. The opening page is about McCain's introduction of what would become the final bill, in January 2001. And the closing paragraph describes the bill's 2002 culmination: "On March 27, surrounded by the Vice President and a few staff members, the President signed the campaign finance bill into law, thus avoiding a public ceremony at which its sponsors would be present. From Phoenix, John McCain issued a one-sentence statement: 'I'm pleased that President Bush has signed campaign finance reform into law.' "
This book was published in 2002, before it was clear that McCain would be running for president in 2008. (Well, to many pundits, it seemed pretty likely even at that time). The author, Elizabeth Drew, is a much-published and much-honored political writer, who also is a frequent commentator on TV and radio political shows. While this book is not about the 2008 election, it's good reading for anyone who wants some insight into McCain's legislative abilities as well as into his policy ideas.
-- Jesse Gordon, jesse@OnTheIssues.org, March 2008
OnTheIssues.org excerpts: (click on issues for details)
Energy & Oil
John McCain: Energy 2001: 1st Republican to sign onto reducing GHGS.
Free Trade
John McCain: Supports opening border to Mexican trucks.
Government Reform
Dick Cheney: Opposed CFR because previous reforms failed.
John McCain: Campaign finance reform needed to restore faith in politics.
John McCain: Finance reform will prevail if we have the votes & the guts.
John McCain: Supported non-severability as key component of CFR.
Paul Wellstone: Supports full public financing of campaigns.
Russell Feingold: Loner in Dem caucus because he's a campaign finance purist.
Gun Control
John McCain: Calls for GOP "tolerance" of closing gun show loopholes.
Health Care
John McCain: Greater consumer access to generic drugs.
Homeland Security
John McCain: First reaction to Sept 11: "This is war".
John McCain: Argued for base closings even in the wake of 9/11.
John McCain: Channel fear into productive missions and activities.
Principles & Values
Chuck Hagel: Finalist on Bush VP list, & interested in presidency.
John McCain: Residual bitterness at Bush from 2000 campaign.
John McCain: Temper is same as other senators--he's just more famous.
John McCain: Straight Talk focuses on appeal via authenticity.
John McCain: Keep tight reign on emotions--not to high nor too depressed.
Tax Reform
John McCain: Consistent on focusing tax cuts more toward middle class.
Technology
John McCain: 1996 Telecomm Bill: public interest was not at the table.
War & Peace
John McCain: 2000: Warned against radical Islamic terrorism.
John McCain: 2001: No pinprick responses to 9/11; it's a long haul.
John McCain: 2001: Nuclear weapons unnecessary against terrorists.
| | |
| --- | --- |
| Click for quotations from other sources by: | |
The above quotations are from Citizen McCain, by Elizabeth Drew.
Related books, debates, and candidates: