---
Books by and about 2020 presidential candidates
Crippled America,
by Donald J. Trump (2015)
United,
by Cory Booker (2016)
The Truths We Hold,
by Kamala Harris (2019)
Smart on Crime,
by Kamala Harris (2010)
Guide to Political Revolution,
by Bernie Sanders (2017)
Where We Go From Here,
by Bernie Sanders (2018)
Promise Me, Dad ,
by Joe Biden (2017)
Conscience of a Conservative,
by Jeff Flake (2017)
Two Paths,
by Gov. John Kasich (2017)
Every Other Monday,
by Rep. John Kasich (2010)
Courage is Contagious,
by John Kasich (1998)
Shortest Way Home,
by Pete Buttigieg (2019)
The Book of Joe ,
by Jeff Wilser (2019; biography of Joe Biden)
Becoming,
by Michelle Obama (2018)
Our Revolution,
by Bernie Sanders (2016)
This Fight Is Our Fight,
by Elizabeth Warren (2017)
Higher Loyalty,
by James Comey (2018)
The Making of Donald Trump,
by David Cay Johnston (2017)
Books by and about the 2016 presidential election
What Happened ,
by Hillary Clinton (2017)
Higher Loyalty ,
by James Comey (2018)
Trump vs. Hillary On The Issues ,
by Jesse Gordon (2016)
Hard Choices,
by Hillary Clinton (2014)
Becoming ,
by Michelle Obama (2018)
Outsider in the White House,
by Bernie Sanders (2015)
---
Book Reviews

(from Amazon.com)

(click a book cover for a review or other books by or about the presidency from Amazon.com)
Republican Debate in Des Moines, Iowa, Dec. 13, 1999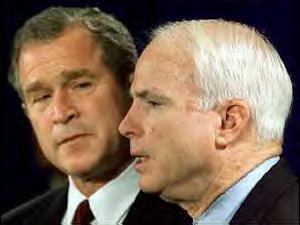 Click on a participant to pop-up their full list of quotations
from Republican Debate in Des Moines, IA (number of quotes indicated):
OnTheIssues.org excerpts: (click on issues for details)
Abortion
Orrin Hatch: Abortions cause a societal insensitivity to life.
Education
Alan Keyes: Violence in schools due to loss of moral heritage.
Gary Bauer: Present both evolution & creationism and let students decide.
Energy & Oil
Mitt Romney: No-regrets policy: energy independence and CO2 reduction.
Orrin Hatch: Revoke Kyoto Accords as environmental extremism.
Families & Children
Alan Keyes: Shape our children's consciences in the fear of God.
Gary Bauer: Columbine resulted from our undermining the sanctity of life.
John McCain: Unfiltered Internet robs our children of their innocence.
Foreign Policy
Gary Bauer: Stop allowing China to play us for suckers.
Free Trade
Alan Keyes: WTO allows dictators to decide our future - US out.
Gary Bauer: Europeans fight to protect their farmers; so should we.
George W. Bush: China in WTO is good for US farm exports.
Steve Forbes: Do free trade ourselves, without WTO.
Gun Control
Gary Bauer: Churches should discuss souls, not gun resolutions.
Gary Bauer: Promoting virtue would work better than passing gun laws.
George W. Bush: Best gun control is more prosecution & certain jail.
Steve Forbes: Prosecute crimes done with guns; not buying guns.
Health Care
Alan Keyes: Focus on cost-reductions, not methods of payment.
Alan Keyes: Let market determine health payments, not bureaucrats.
George W. Bush: Keep Medicare in government, but provide flexibility.
George W. Bush: Create Review Board to hear HMO complaints.
John McCain: Matching funds for seniors citizens' prescription drugs.
John McCain: Expand health insurance to 11 million uninsured children.
Homeland Security
John Edwards: Reduce $9B spending on missile defense.
John McCain: Women have proven themselves in combat-no restrictions.
Jobs
Alan Keyes: Family farms are nursery of moral character.
John McCain: Ethanol is not worth it, even in Iowa.
Orrin Hatch: Assist farmers in transition to free market.
Steve Forbes: Ethanol should be self-sufficient by 2007.
Steve Forbes: Raise wages by allowing growth, not by fiat.
Principles & Values
Orrin Hatch: President should set a moral example.
| | |
| --- | --- |
| Click for quotations from other sources by: | |
The above quotations are from Republican Debate in Des Moines, Iowa, Dec. 13, 1999.
Related books, debates, and candidates: