---
Books by and about 2020 presidential candidates
Crippled America,
by Donald J. Trump (2015)
United,
by Cory Booker (2016)
The Truths We Hold,
by Kamala Harris (2019)
Smart on Crime,
by Kamala Harris (2010)
Guide to Political Revolution,
by Bernie Sanders (2017)
Where We Go From Here,
by Bernie Sanders (2018)
Promise Me, Dad ,
by Joe Biden (2017)
Conscience of a Conservative,
by Jeff Flake (2017)
Two Paths,
by Gov. John Kasich (2017)
Every Other Monday,
by Rep. John Kasich (2010)
Courage is Contagious,
by John Kasich (1998)
Shortest Way Home,
by Pete Buttigieg (2019)
The Book of Joe ,
by Jeff Wilser (2019; biography of Joe Biden)
Becoming,
by Michelle Obama (2018)
Our Revolution,
by Bernie Sanders (2016)
This Fight Is Our Fight,
by Elizabeth Warren (2017)
Higher Loyalty,
by James Comey (2018)
The Making of Donald Trump,
by David Cay Johnston (2017)
Higher Loyalty ,
by James Comey (2018)
Trump vs. Hillary On The Issues ,
by Jesse Gordon (2016)
Outsider in the White House,
by Bernie Sanders (2015)
---
Book Reviews

(from Amazon.com)

(click a book cover for a review or other books by or about the presidency from Amazon.com)
News coverage of `Blue Wave` 2018 House races in Texas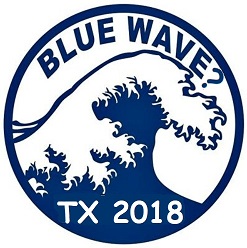 (Click for external website)
Click on a participant to pop-up their full list of quotations
from 2018 House TX elections (number of quotes indicated):
2018 TX House race news coverage:
TX-5: The Cedar Creek Lake Monitor, "Congressman Gooden holds town hall meeting at high school," by Denise York
TX-21: The Pluralist, "Rep Pushes for Drug Cartels to Be Designated as Terrorist Organizations," by Jason Hopkins, 11/21/19
TX-6: Stars and Stripes, "Texas congressman introduces bill to care for military dogs," by Steven Beynon, Nov. 14, 2019
TX-10: Dallas Morning News, "Get U.S. troops out of the way if Turkey planned to 'ethnically cleanse the Kurds'," by Todd J. Gillman, Oct. 23, 2019
TX-6: Waxahachi Daily Light, "One-on-one with Congressman Ron Wright," by Patrick Clarke, Oct 12, 2019
TX-2: The Texan News, "Crenshaw Talks Guns, Healthcare, and Immigration," by Holly Hansen, August 29, 2019
TX-2: Houston Chronicle, "Dan Crenshaw irks both the left and right with gun comments," by Jeremy Wallace, Aug. 7, 2019
TX-6: Dallas News, "Should women be punished for having abortions? 'Absolutely,' Wright says," by Matthew Adams, 6/6/19
TX-21: CNBC.com, "House Republican holds up $19 billion disaster relief bill expected to pass unanimously," May 24, 2019
TX-23: Rolling Stone, "Republican Congressman: Trump's Border Crisis Is a 'Myth'," by Andy Kroll, 1/18/19
TX-5: KERA News 91.7FM NPR, "Gooden Backs A National Emergency Declaration Over The Border Wall," by Jill Ament, 1/11/19
TX-3: Texas Scorecard, "Taylor Reflects on Good Governance and How to Bring it to DC," by Saurabh Sharma, 12/21/2018
TX-2: Washington Post, "Why guys like me go to places like Syria," by Dan Crenshaw, Dec. 21, 2018
TX-29: Houston Chronicle, "Rep-elect Garcia gets another shot at 'Dreamer' legislation," by Kevin Diaz, 12/2/2018
TX-21: Politico.com, "Meet the Next Ted Cruz," by Tim Alberta, October 23, 2018
TX-29: Houston Public Media, "Garcia Calls for Protecting, Expanding Affordable Health Care" by Andrew Schneider, 9/4/2018
TX-29: San Antonio Express-News, "Senate passes 'school choice' bill," by Bobby Cervantes, 3/30/2017
TX-3 & TX-29: Texas Tribune, "Senate Education Committee passes school choice legislation," by Aliyya Swaby, 3/23/2017
TX-29: KHOU 11, "Bill would make schools test water for lead," by Scott Noll, 3/9/2017
TX-3: Pew Trusts, "After Court Setbacks, Lawmakers Push for New Voting Restrictions," by Rebecca Beitsch, 2/28/2017
TX-3 & TX-29: Victoria Advocate, "Senator files bills on water rights" by Sara Sneath, 1/10/2017
TX-3: Fort Worth Star-Telegram, "Texas lawmaker pushes majority rules in the oilfield," by Max B. Baker, 11/25/2016
TX-29: Texas Observer, "Religious Freedom is Only for Christians in Texas," by David R. Brockman, 11/1/2016
TX-29: Waco Tribune-Herald, "Hispanics need to think about health care enrollment," by Sylvia Garcia, 3/16/2014
TX-29: San Antonio Express-News, "Democrat Lucio followed faith, not party," by Kolten Parker, 7/19/2013
TX-3: USA Today, "Texas House passes 12 firearms bills on 'gun day'" 5/4/2013


Special coverage of "Blue Wave" states:
CA: 7 new House members including 6 Democrats and 5 Democratic takeovers
FL: 5 new House members including 2 Democrats and 2 Democratic takeovers
MI: 5 new House members including 4 Democrats and 2 Democratic takeovers
MN: 5 new House members including 3 Democrats and 2 Democratic takeovers (and 1 Republican takeover!)
NJ: 4 new House members including 4 Democrats and 3 Democratic takeovers
NY: 4 new House members including 4 Democrats and 2 Democratic takeovers
PA: 7 new House members including 4 Democrats and 4 Democratic takeovers (with statewide redistricting)
TX: 10 new House members including 4 Democrats and 2 Democratic takeovers
VA: 5 new House members including 3 Democrats and 3 Democratic takeovers
Endorsements: Organizational endorsements of new House members, from groups that focus on one issue
All other states: 51 new House members including 17 Democratic takeovers
Conclusion: the "Blue Wave" means Democrats took over Congress but the rest is media hype.
OnTheIssues.org excerpts: (click on issues for details)
Abortion
Ron Wright: Says women should be punished; later says only providers.
Sylvia Garcia: Women capable of making own decision with doctor's advice.
Sylvia Garcia: Against abortion, but respects a woman's right to one.
Drugs
Chip Roy: Label Mexican drug cartels as terrorist organizations.
Lance Gooden: Allow states to legalize medical cannabis, but no other uses.
Education
Ron Wright: Expand education aid for prisoners & those in trade schools.
Van Taylor: Protecting public schools is critical for future success.
Chip Roy: Bureaucrats should not override political officials.
Sylvia Garcia: Texas school choice bill grabs funding from public schools.
Van Taylor: Vouchers decrease growth and help public schools in long run.
Energy & Oil
Dan Crenshaw: Green New Deal has limited focus, need exportable solutions.
Van Taylor: Allow energy producers easier oilfield access.
Environment
Van Taylor: Bureaucratic hold up diminishes access to water resources.
Government Reform
Van Taylor: Voter registration database would ensure citizenship status.
Gun Control
Dan Crenshaw: AR-15 good weapon to defend yourself in your home.
Van Taylor: Proposed bill to allow gun license as form of ID.
Health Care
Van Taylor: Market-based solutions drive down costs; increases access.
Sylvia Garcia: Texas refusal to expand Medicaid was economically unwise.
Homeland Security
Ron Wright: Proposes grant program for retired military & police dogs.
Dan Crenshaw: What veterans need is a clear mission & resources to do it.
Immigration
Lance Gooden: Pay for border wall any way we can.
Chip Roy: Blocked disaster relief for not addressing crisis at border.
Van Taylor: America is nation of immigrants, but our system is broken.
Will Hurd: Border wall is 3rd-century solution to 21st-century problem.
Lance Gooden: Supports Trump's declaration of border emergency.
Van Taylor: Break immigration issue into little pieces to find solutions.
Sylvia Garcia: The DREAM Act cannot be combined with building border wall.
Dan Crenshaw: Build a wall on some parts, but other security along river.
Sylvia Garcia: Immigrants who meet requirements deserve path to citizenship.
Social Security
Sylvia Garcia: Medicare, Medicaid, and Social Security must be preserved.
Tax Reform
Van Taylor: Taxation cripples businesses, families and economic growth.
War & Peace
Michael McCaul: Abrupt US withdrawal from Syria benefits our adversaries.
Dan Crenshaw: We fight there so they don't bring it to us.
| | |
| --- | --- |
| Click for quotations from other sources by: | |
The above quotations are from News coverage of `Blue Wave` 2018 House races in Texas.
House campaign web sites:
Senate campaign web sites:
Presidential campaign web sites: