---
Books by and about 2020 presidential candidates
Crippled America,
by Donald J. Trump (2015)
United,
by Cory Booker (2016)
The Truths We Hold,
by Kamala Harris (2019)
Smart on Crime,
by Kamala Harris (2010)
Guide to Political Revolution,
by Bernie Sanders (2017)
Where We Go From Here,
by Bernie Sanders (2018)
Promise Me, Dad ,
by Joe Biden (2017)
Conscience of a Conservative,
by Jeff Flake (2017)
Two Paths,
by Gov. John Kasich (2017)
Every Other Monday,
by Rep. John Kasich (2010)
Courage is Contagious,
by John Kasich (1998)
Shortest Way Home,
by Pete Buttigieg (2019)
The Book of Joe ,
by Jeff Wilser (2019; biography of Joe Biden)
Becoming,
by Michelle Obama (2018)
Our Revolution,
by Bernie Sanders (2016)
This Fight Is Our Fight,
by Elizabeth Warren (2017)
Higher Loyalty,
by James Comey (2018)
The Making of Donald Trump,
by David Cay Johnston (2017)
Books by and about the 2016 presidential election
What Happened ,
by Hillary Clinton (2017)
Higher Loyalty ,
by James Comey (2018)
Trump vs. Hillary On The Issues ,
by Jesse Gordon (2016)
Hard Choices,
by Hillary Clinton (2014)
Becoming ,
by Michelle Obama (2018)
Outsider in the White House,
by Bernie Sanders (2015)
---
Book Reviews

(from Amazon.com)

(click a book cover for a review or other books by or about the presidency from Amazon.com)
AdWatch: transcripts from 2016 presidential, gubernatorial, and Senate campaigns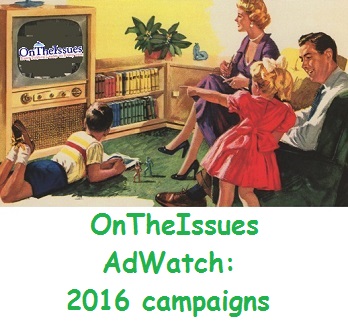 Click on a participant to pop-up their full list of quotations
from 2016 AdWatch (number of quotes indicated):
EXPLANATORY NOTE by OnTheIssues.org:
Starting well before each election, candidates produce and air politicial advertisements. Since Citizens United took effect, PACs have produced many campaign ads too.
In modern campaigns, ads might be on TV, but also might be via email, web video, Tweets, or other social media.
Political pundit publications, such as The Hill and Rollcall, analyze campaign advertisements as well as campaign events (although at OnTheIssues we ignore their relentless coverage of polls; since we consider them irrelevant to normal voters and relevant only to pundits!)
OnTheIssues.org reviews those ads and analyses for relevant issue content, including opponents' responses when available. Sometimes we transcribe the ads from video or audio; sometimes we include commentary; all the time, we urge paying attention to the opponent of each advertiser too, to get the full story!
OnTheIssues.org excerpts: (click on issues for details)
Abortion
John Bel Edwards: AdWatch: My daughter is living proof of my pro-life values.
Budget & Economy
Maggie Hassan: Restored $1B in cuts in state spending.
Corporations
Pat Toomey: AdWatch: Fights against corporate welfare & giant handouts.
Environment
Don Blankenship: AdWatch: role of MSHA in mine disaster was covered up.
Families & Children
Chris Rey: AdWatch: Faith, family, and service give my life meaning.
Government Reform
Patty Judge: Special interests get too much help from Congress.
Jason Kander: OpEd AdWatch: "Pandering Panda" caters to lobbyists.
Jason Kander: FactCheck: Has more MO donors & less PAC money than opponent.
David Jolly: OpEd AdWatch: Worked for lobbyists associated with Pakistan.
Gun Control
Jason Kander: Support 2nd amendment rights AND background checks.
Homeland Security
Curtis Coleman: AdWatch: Boozman voted to curtail civil liberties; I won't.
Jobs
Patty Judge: Raise minimum wage to $15 an hour, instead of tax breaks.
Tax Reform
Donald Trump: OpEd AdWatch: Trump more liberal on taxes than Democrats.
Donald Trump: FactCheck: Proposed 14% tax on wealthy in 2000, but not now.
Donald Trump: No net increase in taxes, but increases on wealthy.
Technology
Jonathan Johnson: Elect transit officials instead of political appointments.
War & Peace
Ben Carson: Military intelligence underused in crafting Syria strategy.
Michael Bennet: AdWatch: Supports Iranian nuclear deal.
August Wolf: We can't trust the Iranian terrorist regime with nukes.
| | |
| --- | --- |
| Click for quotations from other sources by: | |
The above quotations are from AdWatch: transcripts from 2016 presidential, gubernatorial, and Senate campaigns.
Related FactCheck.org analyses:

2022-2024: