---
Books by and about 2020 presidential candidates
Crippled America,
by Donald J. Trump (2015)
United,
by Cory Booker (2016)
The Truths We Hold,
by Kamala Harris (2019)
Smart on Crime,
by Kamala Harris (2010)
Guide to Political Revolution,
by Bernie Sanders (2017)
Where We Go From Here,
by Bernie Sanders (2018)
Promise Me, Dad ,
by Joe Biden (2017)
Conscience of a Conservative,
by Jeff Flake (2017)
Two Paths,
by Gov. John Kasich (2017)
Every Other Monday,
by Rep. John Kasich (2010)
Courage is Contagious,
by John Kasich (1998)
Shortest Way Home,
by Pete Buttigieg (2019)
The Book of Joe ,
by Jeff Wilser (2019; biography of Joe Biden)
Becoming,
by Michelle Obama (2018)
Our Revolution,
by Bernie Sanders (2016)
This Fight Is Our Fight,
by Elizabeth Warren (2017)
Higher Loyalty,
by James Comey (2018)
The Making of Donald Trump,
by David Cay Johnston (2017)
Books by and about the 2016 presidential election
What Happened ,
by Hillary Clinton (2017)
Higher Loyalty ,
by James Comey (2018)
Trump vs. Hillary On The Issues ,
by Jesse Gordon (2016)
Hard Choices,
by Hillary Clinton (2014)
Becoming ,
by Michelle Obama (2018)
Outsider in the White House,
by Bernie Sanders (2015)
---
Book Reviews

(from Amazon.com)

(click a book cover for a review or other books by or about the presidency from Amazon.com)
PolitiFact analysis of 2013 Senate and Gubernatorial races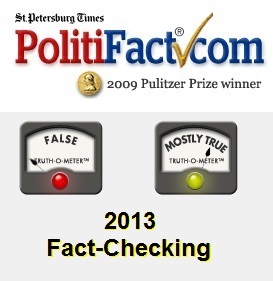 Click on a participant to pop-up their full list of quotations
from PolitiFact fact-checking of 2013 Senate and Gubernatorial candidates (number of quotes indicated):
EXPLANATORY NOTE by OnTheIssues.org:
PolitiFact is a project of the St. Petersburg Times to help you find the truth in American politics. Reporters and editors from the Times fact-check statements by members of Congress, the White House, lobbyists and interest groups and rate them on our Truth-O-Meter:
TRUE – The statement is accurate and there's nothing significant missing.
MOSTLY TRUE – The statement is accurate but needs clarification or additional information.
HALF TRUE – The statement is partially accurate but leaves out important details or takes things out of context.
MOSTLY FALSE – The statement contains an element of truth but ignores critical facts that would give a different impression.
FALSE – The statement is not accurate.
PANTS ON FIRE – The statement is not accurate and makes a ridiculous claim.
OnTheIssues.org trusts PolitiFact to report on the issues in a reasonably unbiased manner (or at least, to bash all sides equally). Their own statement on their political bias follows an explanation that they are based at a non-profit journalism school founded by the owner of the St. Petersburg (FL) Times: "When it comes to the question of 'Who is PolitiFact?' or 'Who pays for PolitiFact?', we can assure you that no one is behind the scenes telling us what to write for someone else's benefit. We are an independent, nonpartisan news organization. We are not beholden to any government, political party or corporate interest. We are proud to be able to say that we are independent journalists."

-- Jesse Gordon, jesse@OnTheIssues.org, August 2013

OnTheIssues.org excerpts: (click on issues for details)
Budget & Economy
Barbara Buono: My budget work speaks for itself, including $11B deficit.
Energy & Oil
Ken Cuccinelli: Opposes tailpipe emission rules for CO2 reductions.
Environment
Ken Cuccinelli: Kill rats around Occupy DC camps; don't move them to VA.
Ken Cuccinelli: EPA should stand for "the Employment Prevention Agency".
Health Care
Barack Obama: FactCheck: 7M new Medicaid includes woodwork & normal churn.
Barack Obama: Lie of the Year: 'If you like your plan, you can keep it'.
Barbara Buono: NJ has lost half our pharmaceutical jobs.
Barbara Buono: Keep collective bargaining for health benefits.
Ken Cuccinelli: Challenged & won on Constitutionality of ObamaCare's mandate.
Ken Cuccinelli: ObamaCare has 6 years of costs vs. 10 years of tax revenue.
Immigration
Marco Rubio: FactCheck: No MarcoPhones, and no executive DREAMers either.
Jeb Bush: FactCheck: Yes, immigrants are more fertile.
Jobs
Chris Christie: I inherited 119,000 private-sector jobs lost.
Barbara Buono: N.J. unemployment worse than US average & surrounding states.
Tax Reform
Chris Christie: 2012: Across-the-board tax cut; 2013: exclude over $400K.



| | |
| --- | --- |
| Click for quotations from other sources by: | |
The above quotations are from PolitiFact analysis of 2013 Senate and Gubernatorial races.
Related FactCheck.org analyses:

2022: