State of Emergency:
The Third World Invasion and Conquest of America, by Patrick J. Buchanan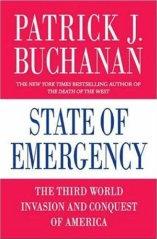 (Click for Amazon book review)
Click on a participant to pop-up their full list of quotations
from State of Emergency, by Pat Buchanan (number of quotes indicated):
George W. Bush (1)
Pat Buchanan (4)
Ted Kennedy (1)
OR click on an issue category below for a subset.
OnTheIssues.org BOOK REVIEW:
Pat Buchanan really dislikes immigration. Not just illegal immigration, but immigration in general.
He dislikes immigration on economic grounds (illegal aliens lower wages, p. 32)
He dislikes immigration on criminal justice grounds (felons can sneak in, p. 8)
He dislikes immigration on national unity grounds (Muslims don't assimilate, p. 195)
He dislikes immigration on national security grounds (Mexico wants "La Reconquista" of the Southwest U.S., p.105)
...And just about every other grounds you can think of. Buchanan cites John F. Kennedy frequently -- demonstrating how JFK would be considered anti-immigrant today -- and also several times cites Kennedy's book, A Nation of Immigrants. But Kennedy's book was strongly pro-immigrant, even by today's standards, if one doesn't parse out just a few excerpts. But Buchanan's book might be considered the conservative response to JFK's book.
Buchanan verbalizes what the Tea Party currently says, and provides data for the anti-immigrant movement today. Buchanan is pretty extreme in his anti-immigrant attitude -- some might say so extreme as to be anti-Muslim and racist -- but lays out the basis of all of the anti-immigrant attitudes in today's politics.
-- Jesse Gordon, editor-in-chief, OnTheIssues.org, Aug. 2014
OnTheIssues.org excerpts: (click on issues for details)
Foreign Policy
Pat Buchanan: Roman Empire fell due to cultural dilution; so might we.
Pat Buchanan: Patriotism is the soul of a nation.
Immigration
George W. Bush: OpEd: Allowing foreign workers is blanket amnesty.
Pat Buchanan: Letting in foreigners was Christian, but killed ancient Rome.
Pat Buchanan: Previous immigration was limited; now it's an invasion.
Ted Kennedy: 1965: Immigration Act won't flood America from Third World.
| | |
| --- | --- |
| Click for quotations from other sources by: | |
The above quotations are from State of Emergency:
The Third World Invasion and Conquest of America, by Patrick J. Buchanan.
Other archives related to Pat Buchanan: