The Death of the West
How Dying Populations and Immigrant Invasions Imperil Our Country and Civilization,
by Patrick J. Buchanan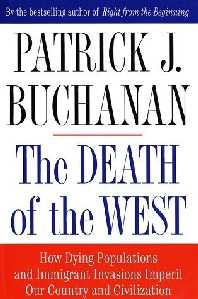 (Click for Amazon book review)
Click on a participant to pop-up their full list of quotations
from The Death of the West (number of quotes indicated):
Pat Buchanan (2)
OR click on an issue category below for a subset.
OnTheIssues.org BOOK REVIEW:
This book outlines Pat Buchanan's argument against immigration. His argument applies both to the United States and to Western Europe, and he cites numerous examples from both regions. His arguments can be encapsulated as:
Caucasian westerners are not reproducing at a rate to replace their population, and non-Caucasians will take over demographically;
Christian values are no longer defended either, and will be replaced by non-Christian values;
The decay of the population and the decadence of the culture will lead to the collapse of western civilization.
Non-Caucasian non-Christians might not like the undertone of those arguments, but in this book it remains just an undertone. This book, written in 2002, makes the argument based on geopolitical analyses. Buchanan's later book, State of Emergency, written in 2007, draws the same conclusions by citing historical antecedents, primarily the collapse of ancient Rome (which Buchanan says is due to the same arguments encapsulated above) -- and still maintains just the undertone of superiority of Caucasians and Christians. Buchanan replaces the undertone with explicit racism in his most recent book on this same topic, Suicide of a Superpower, written in 2011.

Read in isolation, this 2002 book makes some reasonable arguments, and leaves non-racist readers to wonder, "Well, might these arguments be used by racists?" Buchanan's 2011 book clearly answers that question in the affirmative. Retrospectively, the 2002 and 2007 books are valuable for seeing how Buchanan avoided racism earlier; but in the context of the 2011 racist screed, these two earlier books must be seen merely as hiding Buchanan's true opinion under clever analyses.

-- Jesse Gordon, OnTheIssues editor-in-chief, January 2013

OnTheIssues.org excerpts: (click on issues for details)
Families & Children
Pat Buchanan: Sex and Drugs and Abortions have killed the West.
Immigration
Pat Buchanan: Immigration tsunami will make whites a minority in US.



| | |
| --- | --- |
| Click for quotations from other sources by: | |
The above quotations are from The Death of the West
How Dying Populations and Immigrant Invasions Imperil Our Country and Civilization,
by Patrick J. Buchanan.
Other archives related to Pat Buchanan: