CBS "Face the Nation" interviews during 2013
(Bob Schieffer interviewing candidates for 2014 and 2016 races)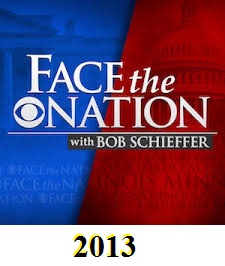 Click on a participant to pop-up their full list of quotations
from CBS "Face the Nation" interviews during 2013 (number of quotes indicated):
A long-standing political tradition is the Sunday morning talk show, beginning with "Meet the Press" in 1947. Currently, five separate "talking head" programs appear on five different TV stations every Sunday morning.

Making an appearance on all five talk shows on one Sunday is known as a Full Ginsburg, because it was first accomplished by William Ginsburg (Monica Lewinsky's attorney) in 1998. In 2013, both Jeb Bush and Marco Rubio accomplished a Full Ginsburg, fueling speculation that both are planning a presidential run in 2016.

OnTheIssues.org excerpts all five of the shows, listed below, with their respective interviewing pundits and each pundit's political affiliation:

ABC This Week: (George Stephanopoulos; liberal; from Bill Clinton's staff)
CNN "State of the Union": (Candy Crowley; moderate liberal)
Fox News Sunday: (Chris Wallace; conservative)
Meet the Press: (David Gregory; moderate)
CBS Face the Nation: (Bob Schieffer; moderate; ran briefly as Democrat for governor of Texas in 2009)
OnTheIssues.org excerpts: (click on issues for details)
Budget & Economy
Mark Warner: Sequester was stupidest way to cut; shutdown cost even more.
John Cornyn: We've had 17 federal shutdowns since 1976; Obama is AWOL.
Energy & Oil
Jeb Bush: A "patriotic energy policy" will yield far more revenue.
Government Reform
Mitch McConnell: Federal shutdown was just a 2-week paid vacation: bad policy.
Health Care
Lindsey Graham: Let ObamaCare show itself as a continuing debacle.
Mitch McConnell: ObamaCare is a train wreck; do what we can to repeal it.
John Cornyn: End Congress' carve-out exemption from ObamaCare penalties.
Homeland Security
Mark Udall: NSA should not collect bulk data; go through FISA court.
Richard Durbin: Benghazi was a tragedy, but not a cover-up.
Lindsey Graham: Cuts to military systems will leave us with a hollow force.
Jack Reed: Don't over-react to Benghazi; situation was confused.
Lindsey Graham: President did not do enough to protect Benghazi embassy.
Immigration
Jeff Sessions: Opposes amnesty first; finish fencing and enforcement first.
Jeb Bush: Reform must make it easier to come legally than illegally.
Principles & Values
Jeb Bush: Obama divided into "them vs. us"; GOP needs alternatives.
Richard Durbin: Bipartisan dialogue instead of gridlock.
War & Peace
Chris Christie: Governors shouldn't offer opinions about Syria.
Jack Reed: Coalition to stop Syrian WMDs, but nothing more militarily.
Lindsey Graham: Get involved in Syria to protect against al Qaeda and Iran.
| | |
| --- | --- |
| Click for quotations from other sources by: | |
The above quotations are from CBS "Face the Nation" interviews during 2013
(Bob Schieffer interviewing candidates for 2014 and 2016 races).
Related interviews from Sunday morning talk shows:

2014 Sunday pundit shows (2014 Senate races and 2016 presidential preparation):


Page last edited: Jan 06, 2014