---
Books by and about 2020 presidential candidates
Crippled America,
by Donald J. Trump (2015)
United,
by Cory Booker (2016)
The Truths We Hold,
by Kamala Harris (2019)
Smart on Crime,
by Kamala Harris (2010)
Guide to Political Revolution,
by Bernie Sanders (2017)
Where We Go From Here,
by Bernie Sanders (2018)
Promise Me, Dad ,
by Joe Biden (2017)
Conscience of a Conservative,
by Jeff Flake (2017)
Two Paths,
by Gov. John Kasich (2017)
Every Other Monday,
by Rep. John Kasich (2010)
Courage is Contagious,
by John Kasich (1998)
Shortest Way Home,
by Pete Buttigieg (2019)
The Book of Joe ,
by Jeff Wilser (2019; biography of Joe Biden)
Becoming,
by Michelle Obama (2018)
Our Revolution,
by Bernie Sanders (2016)
This Fight Is Our Fight,
by Elizabeth Warren (2017)
Higher Loyalty,
by James Comey (2018)
The Making of Donald Trump,
by David Cay Johnston (2017)
Books by and about the 2016 presidential election
What Happened ,
by Hillary Clinton (2017)
Higher Loyalty ,
by James Comey (2018)
Trump vs. Hillary On The Issues ,
by Jesse Gordon (2016)
Hard Choices,
by Hillary Clinton (2014)
Becoming ,
by Michelle Obama (2018)
Outsider in the White House,
by Bernie Sanders (2015)
---
Book Reviews

(from Amazon.com)

(click a book cover for a review or other books by or about the presidency from Amazon.com)
2013 State of the Union address to Congress, plus the Republican Response and the Tea Party response: Feb. 12, 2013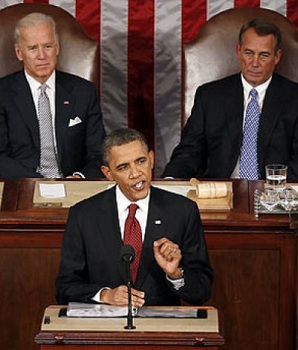 Click on a participant to pop-up their full list of quotations
from 2013 State of the Union address (number of quotes indicated):
President Obama delivered the first State of the Union address of his second term, outlining his agenda for the second term, with particular emphasis on the economy, energy, and gun control. The mainstream media focused on First Lady Michelle Obama's new bangs.
Senator Marco Rubio delivered the official Republican Party response to the President, and Senator Rand Paul delivered the Tea Party response. Both highighted the need for less government as the means to end the Great Recession, in contrast to Obama's call for additional stimulus spending and additional taxes. The mainstream media focused on how Sen. Rubio reached for a glass of water in the middle of his speech.
Coverage of the State of the Union address from Examiner.com:
"Michelle Obama was the toast of the star-studded and politico-filled crowd on hand at Congress to hear her husband's speech, still rocking her much talked about bangs that looked as if they might have been trimmed a bit in recent days but still as flattering as ever as worn by the FLOTUS on Tuesday night."
Coverage of the State of the Union address from The Atlantic Magazine:
"Marco Rubio's mid-speech lunge for an awkwardly placed bottle of Poland Spring water during his delivery of the official Republican Party response to the State of the Union immediately became the break-out moment of his remarks Tuesday night."
OnTheIssues.org excerpts: (click on issues for details)
Budget & Economy
Rand Paul: FactCheck: US borrowing $30,000 per second, not $50,000.
Barack Obama: FactCheck: $2.5T deficit reduction is a debatable estimate.
Barack Obama: $4T in deficit reduction: tax the top 1%.
Barack Obama: Uphold full faith & credit of US; keep government open.
Barack Obama: Home mortgage problems are holding back our economy.
Marco Rubio: Tax, borrow, & spend is not the way out of the recession.
Marco Rubio: Real problem is $1T deficit each year since 2009.
Rand Paul: Borrowing $50,000 per second is not sustainable.
Rand Paul: America needs Adam Smith, not Robin Hood.
Rand Paul: Penny Plan: Each $1 by one penny & balance budget by 2019.
Rand Paul: Keep the sequester, and increase it to $4T.
Civil Rights
Barack Obama: Pass the Paycheck Fairness Act.
Corporations
Marco Rubio: Lower corporate tax rate; it's the highest in the world.
Rand Paul: Cut corporate tax in half to create millions of jobs.
Crime
Rand Paul: Defend trial by jury & oppose unlawful searches.
Education
Barack Obama: Re-equip high schools to train for jobs right now.
Barack Obama: College Scorecard: compare schools by affordability.
Marco Rubio: Give parents chance to send kids to school of their choice.
Marco Rubio: Give info to students on costs & benefits of student loans.
Rand Paul: Allow school choice for everyone, white, brown, or black.
Energy & Oil
Barack Obama: FactCheck: Wind & solar doubled, but now only 1.4% of energy.
John McCain: FactCheck: Pushed cap-and-trade bill in 2009, but not since.
Barack Obama: Bipartisan market-based solution to climate change.
Barack Obama: We must do more to combat climate change.
Barack Obama: Energy Security Trust: oil & gas tax funds green energy R&D.
Marco Rubio: Our government can't control the weather.
Marco Rubio: Grow our energy industry, not "clean energy" like Solyndra.
Families & Children
Barack Obama: Pass the Violence Against Women Act.
Marco Rubio: Answers lie with family and our faith, not politicians.
Foreign Policy
Barack Obama: Support stable transition to democracy in Burma & elsewhere.
Free Trade
Barack Obama: Negotiate a Transatlantic and a Trans-Pacific Partnership.
Government Reform
Barack Obama: Waiting 6 or 7 hours to cast a ballot betrays our ideals.
Marco Rubio: More government breeds complicated rules & holds us back.
Rand Paul: Term limits if budget can't get balanced.
Gun Control
Barack Obama: Gun violence victims deserve a vote.
Marco Rubio: Deal with gun violence, but do it constitutionally.
Rand Paul: Don't let the liberals tread on the Second Amendment.
Health Care
Marco Rubio: FactCheck: ObamaCare is not now forcing loss of insurance.
Barack Obama: An AIDS-free generation is within our reach.
Homeland Security
Barack Obama: Defense cuts bad; but non-defense cuts even worse.
Barack Obama: Define legal framework for targeting & detaining terrorists.
Marco Rubio: World is a better place when America is the strongest nation.
Immigration
Barack Obama: Comprehensive immigration reform including legal immigration.
Rand Paul: See immigrants as assets, not liabilities.
Jobs
Barack Obama: FactCheck: Yes, 500K manufacturing jobs since 2010, but...
Mitt Romney: FactCheck: Briefly supported tying minimum wage to inflation.
Barack Obama: Make America a magnet for new jobs and manufacturing.
Barack Obama: Raise federal minimum wage to $9 per hour, and tie to COLA.
Marco Rubio: Grow the middle class; don't grow the government.
Principles & Values
Barack Obama: Put nation's interests before party.
Marco Rubio: America is exceptional: we value every life at every stage.
Marco Rubio: Come together or our generation will begin American decline.
Rand Paul: America's exceptionalism is notion that all should be free.
Social Security
Barack Obama: No new promises we can't keep; but keep promises we've made.
Tax Reform
Rand Paul: Stand firm and say NO to any MORE tax hikes!
Technology
Rand Paul: FactCheck: Free "Obama phones" actually started in 1984.
Barack Obama: $140 for each $1 spent on genome; make more such investments.
Barack Obama: Fix It First: urgent repairs like 70,000 bridges.
Barack Obama: Cyber-attacks are real threats to security and economy.
War & Peace
Barack Obama: Move into support role in Afghanistan; 34,000 troops home.
| | |
| --- | --- |
| Click for quotations from other sources by: | |
The above quotations are from 2013 State of the Union address to Congress, plus the Republican Response and the Tea Party response: Feb. 12, 2013.
Related books, debates, and candidates: