---
Books by and about 2020 presidential candidates
Crippled America,
by Donald J. Trump (2015)
United,
by Cory Booker (2016)
The Truths We Hold,
by Kamala Harris (2019)
Smart on Crime,
by Kamala Harris (2010)
Guide to Political Revolution,
by Bernie Sanders (2017)
Where We Go From Here,
by Bernie Sanders (2018)
Promise Me, Dad ,
by Joe Biden (2017)
Conscience of a Conservative,
by Jeff Flake (2017)
Two Paths,
by Gov. John Kasich (2017)
Every Other Monday,
by Rep. John Kasich (2010)
Courage is Contagious,
by John Kasich (1998)
Shortest Way Home,
by Pete Buttigieg (2019)
The Book of Joe ,
by Jeff Wilser (2019; biography of Joe Biden)
Becoming,
by Michelle Obama (2018)
Our Revolution,
by Bernie Sanders (2016)
This Fight Is Our Fight,
by Elizabeth Warren (2017)
Higher Loyalty,
by James Comey (2018)
The Making of Donald Trump,
by David Cay Johnston (2017)
Books by and about the 2016 presidential election
What Happened ,
by Hillary Clinton (2017)
Higher Loyalty ,
by James Comey (2018)
Trump vs. Hillary On The Issues ,
by Jesse Gordon (2016)
Hard Choices,
by Hillary Clinton (2014)
Becoming ,
by Michelle Obama (2018)
Outsider in the White House,
by Bernie Sanders (2015)
---
Book Reviews

(from Amazon.com)

(click a book cover for a review or other books by or about the presidency from Amazon.com)
Pres. Reagan's State of the Union messages to Congress, 1982-1988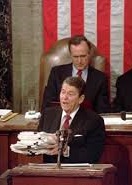 Click here for 23 full quotes from Ronald Reagan in the book Pres. Reagan's State of the Union speeches.
OR click on an issue category below for a subset.
Excerpts from State of the Union speeches by President Ronald Reagan:

January 26, 1982
January 25, 1983
January 25, 1984
February 6, 1985
February 4, 1986
January 27, 1987
January 25, 1988
OnTheIssues.org excerpts: (click on issues for details)
Abortion
An unborn child is a living human being.
Budget & Economy
End "stagflation" with cuts to taxes and spending.
Reduce deficit by growth, lower interest, & spending control.
Double-digit inflation is no longer a way of life.
Federal spending freeze: limited to rate of inflation.
Require the Federal Government to live within its means.
Corporations
Reduce corporate tax rates & keep incentives for capital.
Crime
Reform habeas corpus; more compassion for victims.
Drugs
Defeat the scourge of drugs, starting with our children.
Drug use falling: our students are just saying no to drugs.
Education
Establish education savings accounts as college incentive.
Tuition tax credits: avoid double payment for private school.
Replace obsession with dollars with commitment to quality.
Families & Children
Bedrock values: faith, family, work, neighborhood.
As the family goes, so goes our civilization.
Breakdown of the family causes "welfare culture".
Free Trade
Protectionism is destructionism: free, open, & fair trade.
Government Reform
In 1981, cut 23,000 pages of Federal Register regulations.
Health Care
Waste & fraud permeate every area of Medicare & Medicaid.
Homeland Security
One major regret: I took a risk with Iran & it did not work.
Tax Reform
Index tax rates so inflation can't push to higher brackets.
Technology
Permanently manned space station within a decade.
War & Peace
We support the Mujahidin, freedom fighters in Afghanistan.
| | |
| --- | --- |
| Click for quotations from other sources by: | |
The above quotations are from Pres. Reagan's State of the Union messages to Congress, 1982-1988.
State of the Union addresses: