---
Books by and about 2020 presidential candidates
Crippled America,
by Donald J. Trump (2015)
United,
by Cory Booker (2016)
The Truths We Hold,
by Kamala Harris (2019)
Smart on Crime,
by Kamala Harris (2010)
Guide to Political Revolution,
by Bernie Sanders (2017)
Where We Go From Here,
by Bernie Sanders (2018)
Promise Me, Dad ,
by Joe Biden (2017)
Conscience of a Conservative,
by Jeff Flake (2017)
Two Paths,
by Gov. John Kasich (2017)
Every Other Monday,
by Rep. John Kasich (2010)
Courage is Contagious,
by John Kasich (1998)
Shortest Way Home,
by Pete Buttigieg (2019)
The Book of Joe ,
by Jeff Wilser (2019; biography of Joe Biden)
Becoming,
by Michelle Obama (2018)
Our Revolution,
by Bernie Sanders (2016)
This Fight Is Our Fight,
by Elizabeth Warren (2017)
Higher Loyalty,
by James Comey (2018)
The Making of Donald Trump,
by David Cay Johnston (2017)
Books by and about the 2016 presidential election
What Happened ,
by Hillary Clinton (2017)
Higher Loyalty ,
by James Comey (2018)
Trump vs. Hillary On The Issues ,
by Jesse Gordon (2016)
Hard Choices,
by Hillary Clinton (2014)
Becoming ,
by Michelle Obama (2018)
Outsider in the White House,
by Bernie Sanders (2015)
---
Book Reviews

(from Amazon.com)

(click a book cover for a review or other books by or about the presidency from Amazon.com)
Jeb: America's Next Bush
His Florida Years and What They Mean For the Nation
by S.V. Date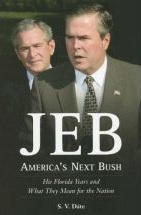 (Click for Amazon book review)
Click on a participant to pop-up their full list of quotations
from America's Next Bush, by S.V. Date (number of quotes indicated):
OnTheIssues.org BOOK REVIEW:
The author of "America's Next Bush," Shirish V. Dáte, is a Tallahassee journalist who covers Florida state government for the Associated Press and the Palm Beach Post. He does not like Jeb Bush, and he opens his preface with the warning, "Jeb Bush is going to hate this book." Hence this book is a critic's perspective on Bush's governorship, and of Bush's world view in general. Dáte does his share of bashing George W. Bush and George Bush Sr., too, (he claims the Bush family is "bent on global domination", p. xvi), in the context of analyzing why Jeb was "Born To Rule" as the "King Of Florida" (those are two chapter titles!).
However, Dáte is careful to balance his critiques with credit where credit is due. He praises Jeb (and points out the rest of Florida's praise) for Jeb's handling of disastrous hurricanes in 2005 (pp. 21-2 and again about Hurricane Katrina on pp. 168-9). He credits Jeb with registering 88,000 Hispanic voters in the 1980s, as part of his father's presidential campaign (Hispanics vote overwhelmingly Democratic, except in Florida, where Cubans overwhelmingly vote Republican). And he acknowledges that Jeb's use of $310 million in budget stimulus funds in 2003 were used well (for a biotech center) even though Dáte and others disagreed at the time. Dáte's balance, by praising some items and criticizing others, does make his criticisms seem more valid.
And Dáte's criticisms are very critical indeed. He feels that Jeb considers himself "Prince Jeb," (the title of Chapter 1) entitled to rule without dissent from the legislature or the judicial branch (and without much dissent possible from the public, since Jeb opposed the "Sunshine Laws," p. 41-2). Worse, Dáte accuses Jeb of receiving a large fortune from the 1980s Savings & Loan bailout (the same one which banned his brother Neil Bush from politics) -- that Jeb benefited to the tune of $4 million from an S&L bailout, despite Jeb's protests of no wrongdoing. And Dáte gleefully details every time Jeb apologized over the years, such as when he overdid his criticism of his opponent for weakness on the death penalty in a TV ad (pp. 112-3).
The problem with Dáte's criticism is when he offers his own opinions, which is ok, but in criticizing those who oppose his own opinion, he isn't clear when the opponent is Jeb and when it is not. For example, Dáte describes his own stance against Jeb's proposed healthcare privatization (pp. 163-4) by defending whether Medicare and Medicaid are socialistic -- but Jeb never described Medicare and Medicaid as "socialistic." Similarly, Dáte criticizes those who fly the Confederate flag, on grounds of "Southern heritage," as racist -- for a page and a half (pp. 193-4) -- before letting the reader know that Jeb took down the Confederate flag from the Florida Capitol (p. 195) -- and did it quietly, to avoid a hullabaloo over "Southern heritage."
Overall, Dáte is reasonably journalistic in his criticism (usually), i.e. readers can read this book as valid criticism, not as simple Bush-bashing. But the reader needs to read carefully to avoid mixing up Dáte's opinions with those of Jeb or Jeb's opponents. Especially as one approaches the end of the book, where later chapters are less reporting and more speculation (about a possible presidential run). If Jeb runs for president in 2016, this will be an important book for his opponents to read, as background for how Jeb operated in Florida and as a prediction for how he will behave as a presidential candidate and as president. But before 2016, we hope there will be better books about Jeb that don't require the reader to be quite as cautious.
-- Jesse Gordon, editor-in-chief, OnTheIssues.org, December 2012
OnTheIssues.org excerpts: (click on issues for details)
Abortion
George Bush Sr.: 1962: Pro-choice candidate, for population control.
Jeb Bush: Created divisive "Choose Life" license plates.
Jeb Bush: Parental consent; clinic regulation; pro-life counseling.
Budget & Economy
Jeb Bush: OpEd: 1990 S&L bailout included $4M to Jeb.
Civil Rights
Jeb Bush: Dismantled Florida's affirmative action program.
Jeb Bush: One Florida: equal minority contracts and admissions.
Jeb Bush: Don't create gays as another category of victims.
Jeb Bush: Removed Confederate battle flag from Florida Capitol.
Kendrick Meek: Registered black voters to support affirmative action.
Corporations
Jeb Bush: Touchdown Jacksonville: Bring pro football to Florida.
Jeb Bush: $310M in stimulus money to start Scripps biotech facility.
Jeb Bush: Cutting taxes on job creators benefits everyone.
Crime
Jeb Bush: We are not safe; not in our homes, not anywhere.
Jeb Bush: 1994 TV ad: My opponent won't push electric chair.
Jeb Bush: Called special legislative session for death penalty law.
Jeb Bush: Building private prisons would save 15%-20% of state costs.
Richard Nixon: 1968: Started "law-&-order" plank to gain Southern Whites.
Tom Feeney: Feeney Amendment: Limit judges with sentencing guidelines.
Education
Bob Graham: Constitutional Amendment reinstating Board of Regents.
Jeb Bush: Repeal class size limit state constitutional amendment.
Jeb Bush: Co-founded a charter school in poor Miami neighborhood.
Jeb Bush: Make school plan more punitive and more vouchers.
Jeb Bush: 1997: Smaller schools are better schools, but also cost more.
Jeb Bush: OpEd: Stacked Board of Regents with Republican donors.
Jeb Bush: Don't restrict creationism discussion, but don't require it.
Kendrick Meek: Constitutional amendment to limit class size to 25.
Kendrick Meek: Driven to address 35 kids in his own child's 3rd grade class.
Energy & Oil
Jeb Bush: During hurricanes, prosecutes gas stations for price gouging.
Jeb Bush: 2005: 125-mile no-drill zone; then 75 miles ok for drilling.
Environment
George Bush Sr.: 1953 Zapata Petroleum: sunk 71 wells, not one dry.
Jeb Bush: 2004: Universal praise for handling spate of hurricanes.
Jeb Bush: 1,920-acre development on edge of Everglades.
Families & Children
Jeb Bush: Supper with kids keeps them away from drugs & booze.
Jeb Bush: Privatized foster care via for-profit companies.
Foreign Policy
George Bush Sr.: Need public relations to change how others view America.
Jeb Bush: Honorary Cuban to exile community in Miami.
Jeb Bush: Two years in Venezuela; majored in Latin American studies.
Government Reform
Jeb Bush: Longer time and more fees to see public records.
Jeb Bush: Scrubbed voter registration rolls to eliminate felons.
Jeb Bush: Government is an obsolete dinosaur.
Katherine Harris: OpEd: Systematically used office to benefit Bush election.
Health Care
Jeb Bush: Terri Schiavo: Did all possible to keep her hooked up.
Jeb Bush: Compromised on limiting medical malpractice awards.
Homeland Security
George Bush Sr.: Criticized journalists who identified CIA agents.
Jeb Bush: 1985: Contra freedom fighters' cause is noble and just.
Ronald Reagan: OpEd: Given benefit of doubt on knowing Iran-Contra scheme.
Immigration
Jeb Bush: 1980s: Voter registration for 88,000 naturalized Hispanics.
Jeb Bush: Speaks Spanish; husband and father of Hispanics.
Jobs
Jeb Bush: Gambling is emblematic of "something for nothing" culture.
Principles & Values
Carrie Meek: 1992: One of 1st 3 black House members since Reconstruction.
George Bush Sr.: Married Barbara in 1945 while on leave from Navy.
George Bush Sr.: Believed in befriending all, to be remembered as good man.
George Bush Sr.: Lost daughter to leukemia at young age.
George Bush Sr.: OpEd: Chose Quayle as "impeachment insurance".
George Bush Sr.: Separates lowness of campaigning from high art of governing.
George W. Bush: Role in father's 1988 campaign: "loyalty enforcer".
George W. Bush: OpEd: Governed as if he were campaigning.
Jeb Bush: OpEd: Wealthy have high morals, until proven otherwise.
Jeb Bush: 1994 and 1998 campaign theme: Think outside the box.
Jeb Bush: OpEd: Balanced mix of campaigning and governing.
Jeb Bush: Company handbook focused on doing what you are told.
Jeb Bush: 9/11/2001: after emergency meeting, went to church to pray.
Jeb Bush: OpEd on 2016 Hillary: Which family dynasty do you want?
Kendrick Meek: 1994: In Florida Highway Patrol when elected to State House.
Republican Party: 1980s: Gained southern Whites plus southern Evangelicals.
Tax Reform
George Bush Sr.: 1989: Prioritized cutting capital gains tax.
Jeb Bush: 1987: supported sales service tax; 1998: opposed it.
Jeb Bush: Cutting "intangibles tax" helps "seniors and savers".
Ronald Reagan: After 1981 tax cut came 1982 TEFRA tax increase.
Technology
Jeb Bush: Enraged by citizen initiative mandating high speed rail.
Jeb Bush: 1998 transition team records not subject to open records law.
Jeb Bush: OpEd: Promised open administration; but delayed all releases.
War & Peace
George Bush Sr.: Low-balled Gulf War troop count to win US and Saudi support.
George Bush Sr.: I hated "Vietnam Syndrome" vilifying those who served.
George Bush Sr.: OpEd: Combat experience means caution in sending troops.
Jeb Bush: Opposed Vietnam War; considered Conscientious Objection.
Jeb Bush: Disliked Andover because of Vietnam-era campus turmoil.
Jeb Bush: 1998: Declined to call for invading Iraq to depose Saddam.
Jeb Bush: 1971: Troubled by LBJ's Vietnam, but registered to serve.
Welfare & Poverty
Jeb Bush: 1994: Get tough on recipients of public assistance.
Jeb Bush: More government money to religious groups.
| | |
| --- | --- |
| Click for quotations from other sources by: | |
The above quotations are from Jeb: America's Next Bush
His Florida Years and What They Mean For the Nation
by S.V. Date.
Other books by Jeb Bush or mentioning Jeb Bush:
Related books regarding George H. W. Bush Sr.:
Related books regarding George W. Bush: