---
Books by and about 2020 presidential candidates
Crippled America,
by Donald J. Trump (2015)
United,
by Cory Booker (2016)
The Truths We Hold,
by Kamala Harris (2019)
Smart on Crime,
by Kamala Harris (2010)
Guide to Political Revolution,
by Bernie Sanders (2017)
Where We Go From Here,
by Bernie Sanders (2018)
Promise Me, Dad ,
by Joe Biden (2017)
Conscience of a Conservative,
by Jeff Flake (2017)
Two Paths,
by Gov. John Kasich (2017)
Every Other Monday,
by Rep. John Kasich (2010)
Courage is Contagious,
by John Kasich (1998)
Shortest Way Home,
by Pete Buttigieg (2019)
The Book of Joe ,
by Jeff Wilser (2019; biography of Joe Biden)
Becoming,
by Michelle Obama (2018)
Our Revolution,
by Bernie Sanders (2016)
This Fight Is Our Fight,
by Elizabeth Warren (2017)
Higher Loyalty,
by James Comey (2018)
The Making of Donald Trump,
by David Cay Johnston (2017)
Books by and about the 2016 presidential election
What Happened ,
by Hillary Clinton (2017)
Higher Loyalty ,
by James Comey (2018)
Trump vs. Hillary On The Issues ,
by Jesse Gordon (2016)
Hard Choices,
by Hillary Clinton (2014)
Becoming ,
by Michelle Obama (2018)
Outsider in the White House,
by Bernie Sanders (2015)
---
Book Reviews

(from Amazon.com)

(click a book cover for a review or other books by or about the presidency from Amazon.com)
Jeb Bush
Aggressive Conservatism in Florida
by Robert E. Crew, Jr.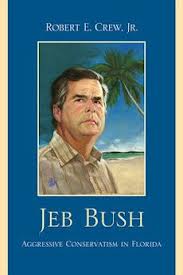 (Click for Amazon book review)
Click here for 33 full quotes from Jeb Bush in the book Aggressive Conservatism in Florida, by Robert Crew.
OR click on an issue category below for a subset.
BOOK REVIEW by OnTheIssues.org:
This book is an academic analysis of Jeb Bush's political philosophy and policy actions during his two gubernatorial terms. The emphasis is on "academic": the author is a professor of political science at Florida State University. Hence this book does not read like a typical political book at all -- it reads like a classroom study, with well-documented references and extensive footnotes.
Like any academic treatise, the professor injects lots of history and political theory:
The history of Florida politics (converting from Democrat to Republican as part of the GOP "Southern Strategy" since the 1960s, pp. xiii-xvii);
The history of the Florida legislature (8-year term limits passed in 1992, and hence took full effect in 2000, one year after during Jeb's first inauguration in 1999; that greatly empowered the Executive branch relative to the Legislative branch, pp. 64-5).
A theory of privatization as a core principle of government (pp. 116-7 as a philosophy; p. 30 as a policy goal of reducing state worker headcounts).
The theory of "aggressive conservatism", as indicated in the book's subtitle, permeates the book, even though Jeb himself never uttered the phrase (it presumably counters George W. Bush's phrase "compassionate conservatism"). An example of the heavily academic verbiage on this topic: "The theory of conservatism adopted by Jeb Bush was relentlessly consistent and carried with it an almost canonical list of specific agenda items to be checked off, many of which were viewed as moral absolutes rather than options open to debate and alteration." (p. 24)

The massive overuse of the passive voice, so common in academia, often leaves the reader struggling to figure out who exactly is doing what. That sentence from p. 24 could be translated as, "Bush did all the usual things that conservatives do, and did them because he thought they were the right thing to do, and wouldn't take 'no' for an answer." Massive parsing is required, when the passive voice is so massively overused. Here's the worst example (which we promise to parse and illustrate, so don't panic like we did):

A variety of empirical measures permit an objective assessment of the political legacy left by a governor. These include the extent to which a political figure affects partisan attachments among citizens, and the degree to which he or she improves the electoral fortunes of his or her party.... An examination of these measures in Florida reinforces the view that Governor Bush left a modest political legacy in the state."

We THINK that means, "Political scientists measure governors by how well their party does, and by how well others of their party do, too; Bush didn't do so well by either measurement." In other words, fewer Floridians registered as Republicans after Jeb than did before Jeb, and the Republican Party of Florida's elective position got weaker as well. But the author substantiates that Jeb did accomplish his philosophical goals, using a massively academic chart:

That chart (p. 68) indicates that when Jeb took office in 1999, the Florida governorship became a stronger office than the national average, whereas before Jeb the Florida legislature was the stronger branch. But if one reads the several paragraphs accompanying the chart, the author clarifies that the chart summarizes a multi-year survey of Florida executive branch officials. In other words, this chart indicates what state workers THINK about legislative power in Florida compared to other states -- not anything that Jeb actually did, measured in some objective manner, or even anything that Jeb said. Reading the rest of the book, astute readers might note that the big swing in power came about because of the implementation of legislative term limits, which was passed in 1992 (the turning point of the chart) and threw out many long-time legislators in 2000 (pp. 64-5). The author doesn't make that connection -- leaving it to the astuteness of the reader, or more likely leaving the reader to incorrectly assume that Jeb CAUSED the change.

I guess that's what "political science" means: making charts that readers must really study to understand. For most readers, that's way too academic -- it'd be better to explain the political implications directly, rather than leaving so much to inference. We don't think the author is biased against Jeb -- just too biased towards academia. But the author assuredly does not LIKE Jeb Bush: referring to Jeb's nickname as "King Jeb," the author cites a Republican legislator saying, "In his heart of hearts, the governor prefers dictatorship to Democracy" (p. 171). It's fine to have an anti-Jeb bias -- we conclude that this book is a reasonably unbiased analysis of Jeb's governorship. But the reader should be prepared for an adventure in academia!

-- Jesse Gordon, jesse@OnTheIssues.org, December 2012

OnTheIssues.org excerpts: (click on issues for details)
Abortion
Funded adoption counseling, but not abortion counseling.
Prevent use of public funds for stem cell research.
Budget & Economy
Florida budget grew by 27% during Bush's terms.
Crime
Symbol of crime needs a human face on it.
Passed Habitual Offender Accountability Act.
Education
Guarantee college admission for top 20% of high school grads.
Catholic Conference sought more voucher accountability.
60% of FCAT-passed schools failed to meet NCLB standards.
Environment
Florida Forever: $1B for environmental land purchases.
Everglades are "crown jewel" of Florida environmental legacy.
Acceler8: $1.5B plan for Everglades restoration.
Declined results of state survey to limit urban sprawl.
Government Reform
Legislative term limits strengthened Bush's executive power.
OpEd: Foundation for Florida's Future hides campaign donors.
Refused to fund state agency requests for specific services.
Mature society can empty government buildings of workers.
Judges should respect primacy of Legislature & Executive.
Asked judicial candidates: Are you a God-fearing churchgoer?
2004: Purged felons list from eligible voters.
2005: Achieved goal of restraining growth in spending.
Gun Control
Stand-your-ground bill: Deadly force OK when threatened.
Health Care
Move Medicaid from "defined benefit" to defined contribution.
Provide risk-adjusted premiums (insurance vouchers).
Slashed every request for adult mental health.
OpEd: Medicaid reforms won't cover chronic conditions.
Jobs
Job growth during Bush terms, but very low wage jobs.
Principles & Values
Bush family name is a detriment that limits career choices.
Social Security
Privatization became administration's fundamental philosophy.
Social service benefits via private & faith-based companies.
Tax Reform
Remove Intangibles Tax on stocks, bonds & dividends.
Technology
Increased transportation budget by 96% over 8 years.
Welfare & Poverty
Proposed refusing federal money for welfare.
Created Governor's Faith-Based Advisory Board.




| | |
| --- | --- |
| Click for quotations from other sources by: | |

The above quotations are from Jeb Bush
Aggressive Conservatism in Florida
by Robert E. Crew, Jr..

Other books by Jeb Bush or mentioning Jeb Bush:

Related books regarding George H. W. Bush Sr.:

Related books regarding George W. Bush: