---
Books by and about 2020 presidential candidates
Crippled America,
by Donald J. Trump (2015)
Fire and Fury,
by Michael Wolff (2018)
Trump Revealed,
by Michael Kranish and Marc Fisher (2016)
The Making of Donald Trump,
by David Cay Johnston (2016)
Promise Me, Dad ,
by Joe Biden (2017)
The Book of Joe ,
by Jeff Wilser (2019; biography of Joe Biden)
The Truths We Hold,
by Kamala Harris (2019)
Smart on Crime,
by Kamala Harris (2010)
Guide to Political Revolution,
by Bernie Sanders (2017)
Where We Go From Here,
by Bernie Sanders (2018)
Our Revolution,
by Bernie Sanders (2016)
This Fight Is Our Fight,
by Elizabeth Warren (2017)
United,
by Cory Booker (2016)
Conscience of a Conservative,
by Jeff Flake (2017)
Two Paths,
by Gov. John Kasich (2017)
Every Other Monday,
by Rep. John Kasich (2010)
Courage is Contagious,
by John Kasich (1998)
Shortest Way Home,
by Pete Buttigieg (2019)
Becoming,
by Michelle Obama (2018)
Higher Loyalty,
by James Comey (2018)
The Making of Donald Trump,
by David Cay Johnston (2017)
Higher Loyalty ,
by James Comey (2018)
Trump vs. Hillary On The Issues ,
by Jesse Gordon (2016)
Outsider in the White House,
by Bernie Sanders (2015)
---
Book Reviews

(from Amazon.com)

(click a book cover for a review or other books by or about the presidency from Amazon.com)
The Mueller Report
Presented with Related Materials
by the Washington Post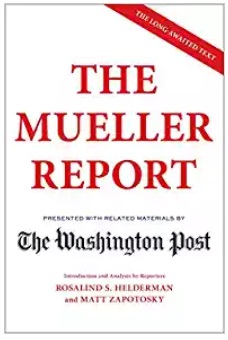 (Click for Amazon book review)
Click on a participant to pop-up their full list of quotations
from The Mueller Report (number of quotes indicated):
BOOK REVIEW by OnTheIssues.org:
We will attempt non-partisanship with this book excerpting, but this is the most challenging task of non-partisanship that OnTheIssues has ever attempted. Our methodology is to cite the Mueller report results; report where Mueller's results conflict with what members of the Trump administration say; and add in a few excerpts from other elected officials too, with citations. We leave the conclusions to our readers--one's conclusions depends on one's politics.
The page numbers in our excerpts are those of the Mueller Report itself--its formal title is "Report On The Investigation Into Russian Interference In The 2016 Presidential Election." It has two volumes--we show the volume number in the page references, since volume ii starts over at page 1. Volume i, running 199 pages, focuses on "collusion" between the Trump campaign and the Russian government. Volume ii, running 183 pages, focuses on "obstruction of justice" during the investigation.
We also include "Related Materials" as provided in the version of the Mueller Report published by the Washington Post. Those pages are numbered from that edition (not within each document). We use the Washington Post's summary of indictments and other legal documents because the documents themselves are written in "legalese" which is not amenable to excerpting or understanding. We avoid citing the Washington Post's commentary or opinion, because we recognize them as a partisan source. When we do cite opinions, from other sources, they are clearly labeled "OpEd" to indicate opinions rather than facts.
The terminology we use to describe the two volumes is common English instead of legalese, too. The Mueller Report itself disowns the term "collusion," pointing out that there is no such thing from a legal perspective. The relevant crime would be "coordination" between the Trump campaign and outside entities, which is disallowed by campaign finance law, or perhaps a conspiracy charge to commit some other crime. Several Russian operatives were charged by the Mueller team with cyber-crimes such as hacking into email and other computer sources--but those crimes don't apply to the Trump campaign.
The second volume's focus, "obstruction of justice," is equally couched in legalistic limbo. The Mueller team concluded that a sitting president cannot be charged with "obstruction of justice" at all, and hence simply presented the evidence of obstruction without exonerating Trump (they did charge several other campaign members). Mueller left it to Congress to determine whether criminal charges or impeachment proceedings should follow from their conclusions. Attorney General Barr (appointed by Trump) concluded that no criminal charges were warranted in his view, but Congress has yet to decide one way or the other, as of this writing.
We'll comment on two important but not-so-obvious conclusions of the Mueller Report: first, about Russian collusion. The Russian government began in 2014 to prepare their disinformation campaign for the 2016 election, including positioning Russian agents in America more than two years before the election. Note that in 2014, Donald Trump was not a serious candidate yet (for example, OnTheIssues had already covered his presidential intimations in 2000 and 2012, which remained posted in 2014, but our coverage of Trump's entry into the 2016 race didn't start until well into 2015). In other words, the Russians did not initially support Trump--their purpose was simply to lay the groundwork to disrupt the 2016 elections. Later, they did actively support Trump, and actively opposed Hillary Clinton (and accordingly, actively supported Bernie Sanders in the 2016 Democratic primary). Mueller concludes that the Russian interference in the 2016 election was successful--their online disinformation campaign resulted in millions of Facebook and Twitter re-postings (indicating widespread acceptance of disinformation as truth, vol. i, p. 15); and that the Russians' 80,000 Facebook posts reached 126 million people (that's half the voting population of the United States, vol. i, p. 42).
Second, on "obstruction of justice," the Mueller team convicted several Trump associates of obstruction. Several members of Trump's campaign and several Trump presidential aides were charged with lying to Congress or to the Mueller investigation--Michael Flynn, George Papadopoulos, Michel Cohen, Paul Manafort--the convictions are summarized on vol. i, p. 9, and their indictments are detailed in an additional two hundred pages, pp. 521-722 of the Washington Post "related materials." President Trump argued that he could not be charged with "obstruction of justice" because there was no underlying crime of "collusion," but that's not how the law works--his associates were convicted of "obstruction of justice" even without any underlying "collusion" crimes. Most notably, it's not a crime to lie to the American people, but it IS a crime to lie to Congress. Trump commits no crime by offering his opinion that he is fully exonerated by the Mueller Report, even if you think he is lying; his associates, on the other hand, DID lie to Congress or to the Mueller investigation, and hence obstructed justice and are facing prison terms accordingly. President Trump answered Mueller's questions in writing, and never in person--the in-person testimony is how Michael Cohen got convicted, for example. Robert Mueller himself commented on that, noting that he COULD have required the president to testify in person (and perhaps lay a "perjury trap"), but that would have taken a year or more to accomplish, so it was never done.
We have gathered separately politicians' comments on impeaching Trump, and we have also gathered separately the activities of the Trump administration in the policy realm outside of the Mueller Report. We leave the rest to our readers.
-- Jesse Gordon, editor-in-chief, jesse@OnTheIssues.org, April 2019
July 2019 Addendum: Robert Mueller testified to the United State Congress Committes on House Intelligence and House Judiciary, on July 24, 2019. We added several excerpts from that testimony, and from analysis before and afterwards.
Additional citations (sources for issue excerpts):
On Biden Promises: "Six key takeaways from Biden's Russia sanctions announcement," by Jeremy Herb, Brian Fung and Marshall Cohen, April 15, 2021
John Bolton interview with ABC News' Martha Raddatz, June 21, 2020
(On Elizabeth Warren): November Democratic primary debate, on Mueller Report, Nov 20, 2019
(On Julian Castro): July Democratic Primary debate, on Mueller Report, Jul 31, 2019
Fox News, I watched Mueller's testimony. Here's my biggest question," by Newt Gingrich, 7/25/2019
(On Adam Schiff): Vox.com on Congressional Testimony on Mueller Report, Jul 24, 2019
(On Donald Trump): NYTimes on 2019 Congressional Testimony on Mueller Report, Jul 24, 2019
(On Beto O`Rourke): June Democratic Primary debate on Mueller Report, Jun 26, 2019
(On Donald Trump): ABC This Week 2019 interview on Mueller Report, Jun 16, 2019
(On Pete Buttigieg): CBS Face the Nation 2019 interview on Mueller Report, Jun 16, 2019
(On Doug Collins): Fox News Sunday on 2019 Mueller Report, Jun 2, 2019
(On Justin Amash): Twitter posting on Mueller Report, May 18, 2019
(On Justin Amash): PoliticalWire.com on Mueller Report, May 18, 2019
(On Tom Steyer): San Francisco Chronicle, Tom Steyer OpEd on Mueller Report, May 13, 2019
(On Bill Weld): Letter from 500 ex-prosecutors on Mueller Report, May 6, 2019
(On Donald Trump): CNN Fact-check/coverage of 2019 Mueller Report, Apr 30, 2019
(On Donald Trump): Ryan Goodman, JustSecurity.org on Mueller Report, Apr 29, 2019
(On Donald Trump): The Atlantic magazine on Mueller Report, Apr 29, 2019
(On Joni Ernst): Des Moines Register summary of Mueller Report, Apr 24, 2019
(On Donald Trump): NYBooks.com on Prosectors' letter on Mueller Report, Apr 26, 2019