---
Books by and about 2020 presidential candidates
Crippled America,
by Donald J. Trump (2015)
United,
by Cory Booker (2016)
The Truths We Hold,
by Kamala Harris (2019)
Smart on Crime,
by Kamala Harris (2010)
Guide to Political Revolution,
by Bernie Sanders (2017)
Where We Go From Here,
by Bernie Sanders (2018)
Promise Me, Dad ,
by Joe Biden (2017)
Conscience of a Conservative,
by Jeff Flake (2017)
Two Paths,
by Gov. John Kasich (2017)
Every Other Monday,
by Rep. John Kasich (2010)
Courage is Contagious,
by John Kasich (1998)
Shortest Way Home,
by Pete Buttigieg (2019)
The Book of Joe ,
by Jeff Wilser (2019; biography of Joe Biden)
Becoming,
by Michelle Obama (2018)
Our Revolution,
by Bernie Sanders (2016)
This Fight Is Our Fight,
by Elizabeth Warren (2017)
Higher Loyalty,
by James Comey (2018)
The Making of Donald Trump,
by David Cay Johnston (2017)
Books by and about the 2016 presidential election
What Happened ,
by Hillary Clinton (2017)
Higher Loyalty ,
by James Comey (2018)
Trump vs. Hillary On The Issues ,
by Jesse Gordon (2016)
Hard Choices,
by Hillary Clinton (2014)
Becoming ,
by Michelle Obama (2018)
Outsider in the White House,
by Bernie Sanders (2015)
---
Book Reviews

(from Amazon.com)

(click a book cover for a review or other books by or about the presidency from Amazon.com)
Keeping Faith
Memoirs of a President,
by Jimmy Carter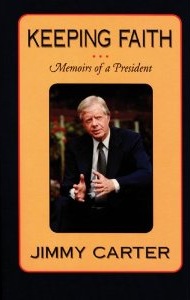 (Click for Amazon book review)
Click here for 19 full quotes from Jimmy Carter in the book Keeping Faith.
OR click on an issue category below for a subset.
OnTheIssues.org BOOK REVIEW:
This book is Jimmy Carter's memoir -- or one of his memoirs (several others are linked at the bottom of this page). In this one, Carter reviews his presidency by post-presidential commentary (published January 2007) on his actual diary notes during his presidency and governorship. Carter selects excerpts from his presidential diary that he kept while in office, and then for each one comments in more detail about its context, and what happened afterwards. An interesting method for historians, and also for voters.
-- Jesse Gordon, OnTheIssues editor-in-chief, June 2012
OnTheIssues.org excerpts: (click on issues for details)
Energy & Oil
Proposed Energy Dept. to share sacrifices of rising prices.
Passed energy policy of some decontrol & some regulation.
Environment
Established "Superfund" to clean up toxic waste sites.
Foreign Policy
End CIA lies; dedicate US to basic human rights & integrity.
Panama: New treaty on canal was needed.
Deal with Taiwan, China & USSR separately, despite pressure.
Move toward normalization with China, slowly & incrementally.
Push USSR to allow reunification of Jewish emigre families.
Use the weapon of human rights in peaceful struggle.
Abuse of human rights still serious problem in many lands.
Government Reform
Deregulate banks & airlines; get rid of excessive regulation.
Health Care
National health insurance addresses gross inequities on poor.
Lost to lobbyists on hospital-cost containment law.
Homeland Security
B-1 bomber was a gross waste of money.
Urged deployment of neutron bombs in NATO's Europe.
Principles & Values
To Southerners, presidency represented political redemption.
Withdrew from Moscow Olympics to protest Afghan invasion.
Tax Reform
Congress uses tax law as goodies for special interests.
Technology
Vetoed nuclear breeder reactors but supported research.
| | |
| --- | --- |
| Click for quotations from other sources by: | |
The above quotations are from Keeping Faith
Memoirs of a President,
by Jimmy Carter.
Books by and about Jimmy Carter: