---
Books by and about 2020 presidential candidates
Crippled America,
by Donald J. Trump (2015)
United,
by Cory Booker (2016)
The Truths We Hold,
by Kamala Harris (2019)
Smart on Crime,
by Kamala Harris (2010)
Guide to Political Revolution,
by Bernie Sanders (2017)
Where We Go From Here,
by Bernie Sanders (2018)
Promise Me, Dad ,
by Joe Biden (2017)
Conscience of a Conservative,
by Jeff Flake (2017)
Two Paths,
by Gov. John Kasich (2017)
Every Other Monday,
by Rep. John Kasich (2010)
Courage is Contagious,
by John Kasich (1998)
Shortest Way Home,
by Pete Buttigieg (2019)
The Book of Joe ,
by Jeff Wilser (2019; biography of Joe Biden)
Becoming,
by Michelle Obama (2018)
Our Revolution,
by Bernie Sanders (2016)
This Fight Is Our Fight,
by Elizabeth Warren (2017)
Higher Loyalty,
by James Comey (2018)
The Making of Donald Trump,
by David Cay Johnston (2017)
Books by and about the 2016 presidential election
What Happened ,
by Hillary Clinton (2017)
Higher Loyalty ,
by James Comey (2018)
Trump vs. Hillary On The Issues ,
by Jesse Gordon (2016)
Hard Choices,
by Hillary Clinton (2014)
Becoming ,
by Michelle Obama (2018)
Outsider in the White House,
by Bernie Sanders (2015)
---
Book Reviews

(from Amazon.com)

(click a book cover for a review or other books by or about the presidency from Amazon.com)
2007 Republican primary debate, sponsored by the Des Moines Register; Dec. 12, 2007; final debate before Iowa caucus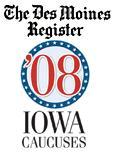 Click on a participant to pop-up their full list of quotations
from 2007 Des Moines Register Republican debate (number of quotes indicated):
OnTheIssues.org excerpts: (click on issues for details)
Abortion
Mitt Romney: Was pro-choice, now proudly pro-life.
Rudy Giuliani: Personally oppose abortion, but let the woman decide.
Budget & Economy
Duncan Hunter: Budget deficit & trade deficit to China create security risk.
Fred Thompson: $9 trillion debt affects our national security.
Fred Thompson: Deficit spending ok for military, infrastructure, and R&D.
John McCain: Loss of economic strength leads to losing military strength.
Mike Huckabee: Do things differently so people need not sacrifice.
Mitt Romney: Economic strength comes from people, not from Washington.
Mitt Romney: Cut deficit via waste, like 342 different economic programs.
Ron Paul: Give up American empire; that reduces debt without sacrifice.
Ron Paul: We spend too much, tax too much, & print too much money.
Rudy Giuliani: Retire 42% of federal employees in next decade, to save $20B.
Rudy Giuliani: Restrain Congressí spending; donít ask people to sacrifice.
Rudy Giuliani: 10% across-the-board cut; people can get services other ways.
Tom Tancredo: End womb-to-tomb protections; stick to Constitutional limits.
Corporations
Rudy Giuliani: Reduce corporate tax from 35% to 25%, to increase revenue.
Rudy Giuliani: FactCheck: Corporate tax cut would reduce revenue by half.
Education
Alan Keyes: We allowed the judges to drive God out of our schools.
Duncan Hunter: Unions and status quo run good teachers out of teaching.
Fred Thompson: The NEA opposes school choice; we must stop them.
John McCain: We need more choice and competition in education.
Mike Huckabee: Education is a state issue, not a federal issue.
Mike Huckabee: FactCheck: AR improved test scores, but still below-average.
Mitt Romney: Education is not just the teachersí union.
Mitt Romney: Bush was right on No Child Left Behind.
Mitt Romney: FactCheck: US scores at 50% internationally, not 10%-25%.
Mitt Romney: FactCheck: MA 1st in test scores, but was 1st before Romney.
Ron Paul: Encourage homeschooling & private school via tax writeoff.
Rudy Giuliani: Let parents be the deciders on their childrenís education.
Tom Tancredo: We donít need the Department of Education.
Energy & Oil
Duncan Hunter: Give incentives in R&D to find new energy sources.
John McCain: Climate change is real and must be addressed.
John McCain: FactCheck: Oil independence will take 25 years, not 5 years.
Mike Huckabee: Biofuel mandates are not necessary.
Mitt Romney: Invest in new technologies to get us off of foreign oil.
Tom Tancredo: Give incentives in R&D to find new energy sources.
Families & Children
Mitt Romney: FactCheck: Teenage birth rate declined from 1991 to 2005.
Foreign Policy
Ron Paul: Focus on the Iraq war and foreign policy.
Free Trade
Duncan Hunter: NAFTA is a bad business deal.
Fred Thompson: Free and fair trade is the backbone of our economy.
John McCain: Consider subsidies a mistake, and oppose them.
Mike Huckabee: A free country must feed, fuel, & fight for itself.
Mitt Romney: Re-negotiate trade deals with China and other countries.
Ron Paul: Look at the monetary system and deal with the trade issues.
Rudy Giuliani: NAFTA has been a good thing and should be enforced.
Tom Tancredo: Oil trade imbalance is a national security risk.
Tom Tancredo: NAFTA has been a disaster for many places, especially Mexico.
Government Reform
Alan Keyes: Focus on moral sovereignty, tax reform, & sealing the border.
Duncan Hunter: Focus on the military, immigration, & the industrial base.
Fred Thompson: Focus on the budget, social policy, and bipartisanship.
John McCain: Focus on homeland safety, restoring trust, and fiscal policy.
Mike Huckabee: Focus on uniting the country.
Mitt Romney: Focus on global Jihad, immigration, tax cut, and healthcare.
Rudy Giuliani: Focus on terrorism, immigration, tax cut, & small government.
Tom Tancredo: Focus on immigration and a war against radical Islam.
Homeland Security
Fred Thompson: Intelligence and parts of our military were neglected.
Jobs
Mike Huckabee: Excessive taxes, red tape, and litigation cause job losses.
Principles & Values
Alan Keyes: Be authentic about who you are.
John McCain: Able to work with others with own set of principles.
Mike Huckabee: Treat others as you wish to be treated.
Mitt Romney: Draw upon the strengths of the conservative principles.
Ron Paul: All political actionís goal should be to preserve liberty.
Ron Paul: The term ďrevolutionĒ was coined by the supporters.
Social Security
Fred Thompson: Reform entitlements now so our grandkids donít have to.
Tax Reform
Alan Keyes: FairTax turns off spigot that funds political ambitions.
Duncan Hunter: The IRS and current tax system cost too much.
Duncan Hunter: FactCheck: Cost of IRS compliance is $150B,not $250B.
Fred Thompson: Preserve the tax cuts of 2001 and 2003.
John McCain: Reform the tax code that nobody trusts and believes in.
Mike Huckabee: Support FairTax with a tax credit for the poor.
Mitt Romney: Reduce the tax burden on middle-income families.
Ron Paul: The most sinister of all taxes is the inflation tax.
Rudy Giuliani: Support a flatter and simpler tax and less corporate tax.
Tom Tancredo: Believe in a fair tax system.
War & Peace
Tom Tancredo: Stop policing Iraq, but cannot leave.
| | |
| --- | --- |
| Click for quotations from other sources by: | |
The above quotations are from 2007 Republican primary debate, sponsored by the Des Moines Register; Dec. 12, 2007; final debate before Iowa caucus.
2007 GOP primary debates: