---
Books by and about 2020 presidential candidates
Crippled America,
by Donald J. Trump (2015)
United,
by Cory Booker (2016)
The Truths We Hold,
by Kamala Harris (2019)
Smart on Crime,
by Kamala Harris (2010)
Guide to Political Revolution,
by Bernie Sanders (2017)
Where We Go From Here,
by Bernie Sanders (2018)
Promise Me, Dad ,
by Joe Biden (2017)
Conscience of a Conservative,
by Jeff Flake (2017)
Two Paths,
by Gov. John Kasich (2017)
Every Other Monday,
by Rep. John Kasich (2010)
Courage is Contagious,
by John Kasich (1998)
Shortest Way Home,
by Pete Buttigieg (2019)
The Book of Joe ,
by Jeff Wilser (2019; biography of Joe Biden)
Becoming,
by Michelle Obama (2018)
Our Revolution,
by Bernie Sanders (2016)
This Fight Is Our Fight,
by Elizabeth Warren (2017)
Higher Loyalty,
by James Comey (2018)
The Making of Donald Trump,
by David Cay Johnston (2017)
Books by and about the 2016 presidential election
What Happened ,
by Hillary Clinton (2017)
Higher Loyalty ,
by James Comey (2018)
Trump vs. Hillary On The Issues ,
by Jesse Gordon (2016)
Hard Choices,
by Hillary Clinton (2014)
Becoming ,
by Michelle Obama (2018)
Outsider in the White House,
by Bernie Sanders (2015)
---
Book Reviews

(from Amazon.com)

(click a book cover for a review or other books by or about the presidency from Amazon.com)
2008 Republican primary debate, moderated by Chris Wallace of Fox News; Jan. 6, 2008; final debate before New Hampshire primary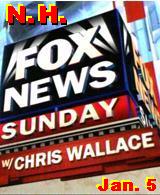 Click on a participant to pop-up their full list of quotations
from 2008 Fox News NH Republican primary debate, Jan. 6, 2008 (number of quotes indicated):
OnTheIssues.org excerpts: (click on issues for details)
Corporations
Mitt Romney: FactCheck: Closed $174M in corporate tax loopholes.
Foreign Policy
Fred Thompson: Keep Guantanamo open; keep embargo on Cuba.
Mike Huckabee: As governor, visited 41 countries & met with heads of state.
Rudy Giuliani: Foreign experience as mayor, at Justice Dept., & in 91 trips.
Government Reform
John McCain: FactCheck: Claim of "24 years with no earmarks" mostly true.
Homeland Security
Fred Thompson: Habeas corpus does not apply at Guantanamo; so keep it open.
Mike Huckabee: Keeping Guantanamo prisoners more important than location.
Social Security
Fred Thompson: Allow individual retirement accounts with government match.
Fred Thompson: FactCheck: Slower growth of benefits for future retirees.
Tax Reform
John McCain: Supported Reagan tax cuts because matched by spending cuts.
Mike Huckabee: Raising fees is the same as raising taxes.
Mike Huckabee: Raised AR net tax burden by $500M to comply with court order.
Mitt Romney: Raised $240M in MA fees, but only covering cost of services.
Mitt Romney: Zero tax rate on capital gains, for incomes up to $200,000.
Mitt Romney: Lowering taxes, like Bush tax cuts, grows the economy.
Mitt Romney: FactCheck: Never opposed 2003 Bush cuts, but never supported.
Rudy Giuliani: Recommended 64 tax cuts; accomplished 23 of them.
Rudy Giuliani: I am a supply-sider; and I actually made it work.
Rudy Giuliani: FactCheck: Claimed 34% NYC hotel tax cut; actual cut was 14%.
| | |
| --- | --- |
| Click for quotations from other sources by: | |
The above quotations are from 2008 Republican primary debate, moderated by Chris Wallace of Fox News; Jan. 6, 2008; final debate before New Hampshire primary.
Other 2008 Republican primary debates: