The Nine:
Inside the Secret World of the Supreme Court,
by Jeffrey Toobin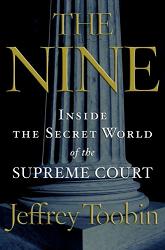 (Click for Amazon book review)
Click on a participant to pop-up their full list of quotations
from The Nine, by Jeffrey Toobin (number of quotes indicated):
OnTheIssues.org excerpts: (click on issues for details)
Abortion
Antonin Scalia: Since Framers didn't allow abortion, the issue is settled.
Harry Blackmun: Right of personal privacy does exist under the Constitution.
Samuel Alito: Aggressive line of attack against Roe.
William Rehnquist: In minority on 7-2 vote on Roe v. Wade.
Government Reform
Richard Nixon: Campaigned on reining in the liberalism of the Supreme Court.
Ronald Reagan: Appointed judges who reinforced conservative political goals.
| | |
| --- | --- |
| Click for quotations from other sources by: | |
The above quotations are from The Nine:
Inside the Secret World of the Supreme Court,
by Jeffrey Toobin.
Books by Supreme Court Justices and nominees:
Page last edited: Feb 06, 2014