2010 State of the Union address to Congress, plus the Republican Response: Jan. 27, 2010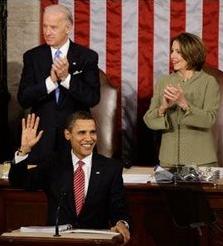 This was Pres. Obama's first formal State of the Union speech -- his 2009 address to a joint session of Congress was popularly called the "State of the Union" address, but that speech was not constitutionally required of an incoming president.

Pres. Obama used this speech to summarize his first year in office, and focused on the economic woes of the deep recession as well as the cynicism in the electorate resulting from those woes. The cynicism was expressed most dramatically by the election of Republican Scott Brown in Massachusetts, which is usually a "safe" Democratic seat. The special election to replace Ted Kennedy happened to be held one week prior to the State of the Union speech, and Senator-Elect Brown was alluded to by Pres. Obama, and cited by name in the Republican response. Brown's election makes passage of Obama's healthcare reform much more difficult, and indicates that the public is dissatisfied with how the Congress has ignored the voice of the people on this issue and others.

Obama's remedy for public cynicism is to call for a reduction in partisanship. However, he then points out that the Democrats still have a large majority in the Senate (59-41 even with Brown) and that they need to get healthcare done, i.e., without Republican input. Obama then calls for Republicans to join in the healthcare process and calls for their input -- implying that they have not offered any constructive suggestions. In the Republican response, the Governor of Virginia lays out the two standard Republican ideas on healthcare reform: allowing cross-state insurance purchasing, and tort reform. Indeed, the Republicans have been pushing those ideas for years -- and if Obama truly cared about Republican input, he would call for those two ideas to be included in the healthcare reform bill. Obama instead sounds partisan -- both on healthcare and on cynicism -- despite his call for a reduction in partisanship.

-- Jesse Gordon, jesse@OnTheIssues.org, Jan. 28, 2010
Click on a participant to pop-up their full list of quotations
from 2010 State of the Union address (number of quotes indicated):
Budget & Economy
Barack Obama: The worst has passed, but the devastation remains.
Barack Obama: We all hated the bank bailout; but it was necessary.
Barack Obama: $1T avoided Depression; but I took office with $8T debt.
Bob McDonnell: $100K debt per family is unsustainable: limit government.
Corporations
Barack Obama: OpEd: Overturn Court's campaign financing ruling in Congress.
Samuel Alito: "Simply not true" that companies will bankroll campaigns.
Barack Obama: Lend $30B in TARP repayments to small businesses.
Barack Obama: American elections shouldn't be bankrolled by corporations.
Education
Barack Obama: Reward successful schools, instead of funding the status quo.
Barack Obama: $10K college tax credit; forgive loans for public service.
Bob McDonnell: More charters; more choices.
Energy & Oil
Barack Obama: More incentives for clean energy, including nuclear.
Bob McDonnell: We must use ALL our vast natural resources.
Foreign Policy
Barack Obama: I do not accept 2nd place for the USA.
Barack Obama: Iran is more isolated and will face growing consequences.
Free Trade
Barack Obama: More exports means more jobs; double exports for 2M new jobs.
Government Reform
Barack Obama: Post all earmark request online before each vote.
Health Care
Barack Obama: Didn't tackle healthcare for political benefit, it's needed.
Barack Obama: End partisanship and get reform done.
Bob McDonnell: Don't turn over world's best system to federal government.
Homeland Security
Barack Obama: Hundreds of al Qaeda have been captured last year.
Barack Obama: Let gay people serve in military openly.
Scott Brown: Spend to defeat terrorists, not to protect them.
Jobs
Barack Obama: Jobs must be our #1 focus in 2010.
Bob McDonnell: Dignity comes with finding work: our top priority.
Principles & Values
Barack Obama: Hard times test us, like we have been tested in the past.
Tax Reform
Barack Obama: We cut taxes 25 times, for 95% of Americans.
Bob McDonnell: Piling on taxes & deficit spending hurts job creation.
Technology
Barack Obama: There's no reason Europe & China should have fastest trains.
War & Peace
Barack Obama: Troops will begin to exit Afghanistan in July 2011.
Barack Obama: Make no mistake: Troops coming home from Iraq by August.
Click for quotations from other sources by:
The above quotations are from 2010 State of the Union address to Congress, plus the Republican Response: Jan. 27, 2010.
Related books, debates, and candidates: