Plan of Attack:, by Bob Woodward of the Washington Post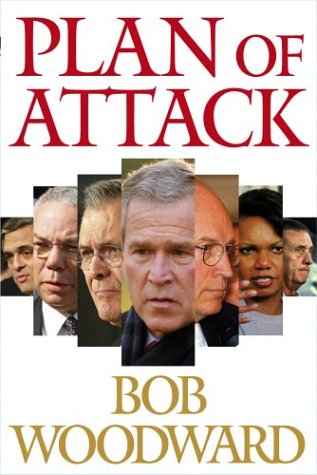 (Click for Amazon book review)
Click on a participant to pop-up their full list of quotations
from Plan of Attack, by Bob Woodward of the Washington Post (number of quotes indicated):
OnTheIssues.org excerpts: (click on issues for details)
Foreign Policy
Dick Cheney: UN becomes irrelevant because of failures in Iraq.
War & Peace
Colin Powell: Contradicted Cheney and sought more UN involvement.
Dick Cheney: Biggest threat comes from WMD and from Saddam.
Dick Cheney: UN inspections would not reduce WMD threat.
Dick Cheney: Contradicted Powell and sought to connect Saddam and 9/11.
Dick Cheney: WMD inspections makes decision to take out Saddam harder.
George W. Bush: $389M in 2002-2003 for CIA to overthrow Saddam.
George W. Bush: CIA report hedged on whether Saddam had WMD.
George W. Bush: CIA chief told Bush "slam dunk" that Saddam had WMD.
Colin Powell: Invading Iraq means "owning" it, for better or worse.
Condoleezza Rice: War stops Saddam from beating international community.
Dick Cheney: Pre-war planning: once the war starts, Saddam is "toast".
George W. Bush: US could not maintain Iraq inspection regime indefinitely.
John Kerry: Karl Rove: "Kerry gave green light to Bush on Iraq".
| | |
| --- | --- |
| Click for quotations from other sources by: | |
The above quotations are from Plan of Attack:, by Bob Woodward of the Washington Post.
Other books by Bob Woodward:
Page last edited: Jan 19, 2015