The Choice
How Bill Clinton Won
by Bob Woodward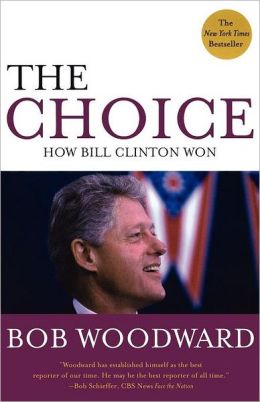 (Click for Amazon book review)
Click on a participant to pop-up their full list of quotations
from The Choice, by Bob Woodward (number of quotes indicated):
Dick Cheney (2)
OR click on an issue category below for a subset.
OnTheIssues.org BOOK REVIEW:
This book is another detailed behind-the-scenes political accounting by Bob Woodward, the Washington Post report who broke the Watergate story in the 1970s. Woodward writes an awful lot of "Inside Baseball": what's going on behind the scenes with each major (and minor) player; who approved and disapproved privately and publicly; and who met with whom on what date and under what circumstances. The focus of this book seems to be on the process of political speechwriting -- much too "insider" for most voters.
Woodward does like Pres. Clinton, which makes this book different than his recent books about Pres. Bush, whom evidently Woodward disliked intensely. Woodward analyzes Bob Dole's candidacy in this book; in other words, this book is about the 1996 campaign; Woodward evidently does not like Bob Dole much either. In comparison, The Agenda is about Bill Clinton's presidency (it too is an awful lot of "Inside Baseball").
Woodward's books are well-respected by the book reviewers and the political pundits. And they are fine books for those two elite classes of readers. For general readers, Woodward is not the best author.
-- Jesse Gordon, editor-in-chief, OnTheIssues.org, December 2012
OnTheIssues.org excerpts: (click on issues for details)
Civil Rights
Dick Cheney: 1995: Opposed gays in the military.
Principles & Values
Dick Cheney: Decided against running for president in 1996.
| | |
| --- | --- |
| Click for quotations from other sources by: | |
The above quotations are from The Choice
How Bill Clinton Won
by Bob Woodward.
Other books by Bob Woodward: