My Life & The Principles for Success, by Ross Perot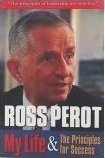 (Click for Amazon book review)
Click here for 12 full quotes from Ross Perot in the book My Life & The Principles for Success.
OR click on an issue category below for a subset.
OnTheIssues.org excerpts: (click on issues for details)
Budget & Economy
Building new businesses is key to country's future.
Civil Rights
Zero tolerance for sexual harassment.
Corporations
Build something better and money follows.
Supports employee stock options and performance rewards.
Recruit people of all religions, races, and genders.
Drugs
Never hires people who use drugs or alcohol.
Families & Children
Prioritize family over business.
Government Reform
Decision-making process is listening to opponents.
Principles & Values
Founded EDS to sell IBM working systems instead of hardware.
Take leadership principles from Attila the Hun.
Take leadership principles from the Boy Scouts.
Reputation based on honesty, promptness, and paying cash.
| | |
| --- | --- |
| Click for quotations from other sources by: | |
The above quotations are from My Life & The Principles for Success, by Ross Perot.
Other books by and about Ross Perot:
Page last edited: Feb 03, 2013