Not for Sale at Any Price
How We Can Save America for Our Children , by Ross Perot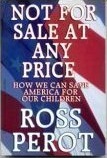 (Click for Amazon book review)
Click here for 8 full quotes from Ross Perot in the book Not For Sale at Any Price.
OR click on an issue category below for a subset.
OnTheIssues.org excerpts: (click on issues for details)
Corporations
Increase business fees and business tax collection.
Top US executives overpaid compared to foreign competitors.
Free Trade
Keep jobs in US instead of giant sucking sound toward Mexico.
Government Reform
Term Limits linked to Congressional performance.
Homeland Security
Cut defense by $8B; economic security comes first.
Tax Reform
Capital gains tax cut helps the rich; so cut investment tax.
Technology
Increase gas tax to invest in future infrastructure.
Welfare & Poverty
21% child poverty rate is unacceptable.
| | |
| --- | --- |
| Click for quotations from other sources by: | |
The above quotations are from Not for Sale at Any Price
How We Can Save America for Our Children , by Ross Perot.
Related books, debates, and candidates:
Page last edited: Jan 25, 2015