Common Sense Government: Works Better and Costs Less, by Al Gore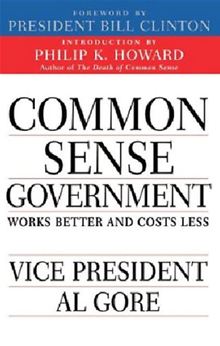 (Click for Amazon book review)
Click here for 9 full quotes from Al Gore in the book Common Sense Government.
OR click on an issue category below for a subset.
OnTheIssues.org excerpts: (click on issues for details)
Government Reform
Top-down reform fails; ReGo asks the people involved.
Common sense government: focus on results & customers.
Reinvention is an ongoing process that's never finished.
We distrust our government; but want it in emergencies.
Big Government comes from Congress; agencies; & lawyers.
ReGo: "Working better and costing less".
ReGo: downsize; streamline; restructure; & privatize.
Congressional inaction results in unnecessary programs.
ReGo: more measurement; accountability; & competition.
| | |
| --- | --- |
| Click for quotations from other sources by: | |
The above quotations are from Common Sense Government: Works Better and Costs Less, by Al Gore.
Related books, debates, and candidates:
Page last edited: Apr 16, 2013