---
Books by and about 2020 presidential candidates
Crippled America,
by Donald J. Trump (2015)
United,
by Cory Booker (2016)
The Truths We Hold,
by Kamala Harris (2019)
Smart on Crime,
by Kamala Harris (2010)
Guide to Political Revolution,
by Bernie Sanders (2017)
Where We Go From Here,
by Bernie Sanders (2018)
Promise Me, Dad ,
by Joe Biden (2017)
Conscience of a Conservative,
by Jeff Flake (2017)
Two Paths,
by Gov. John Kasich (2017)
Every Other Monday,
by Rep. John Kasich (2010)
Courage is Contagious,
by John Kasich (1998)
Shortest Way Home,
by Pete Buttigieg (2019)
The Book of Joe ,
by Jeff Wilser (2019; biography of Joe Biden)
Becoming,
by Michelle Obama (2018)
Our Revolution,
by Bernie Sanders (2016)
This Fight Is Our Fight,
by Elizabeth Warren (2017)
Higher Loyalty,
by James Comey (2018)
The Making of Donald Trump,
by David Cay Johnston (2017)
Books by and about the 2016 presidential election
What Happened ,
by Hillary Clinton (2017)
Higher Loyalty ,
by James Comey (2018)
Trump vs. Hillary On The Issues ,
by Jesse Gordon (2016)
Hard Choices,
by Hillary Clinton (2014)
Becoming ,
by Michelle Obama (2018)
Outsider in the White House,
by Bernie Sanders (2015)
---
Book Reviews

(from Amazon.com)

(click a book cover for a review or other books by or about the presidency from Amazon.com)
The Rogue
Searching for the Real Sarah Palin
by Joe McGinniss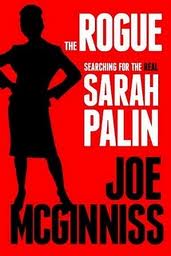 (Click for Amazon book review)
Click here for 22 full quotes from Sarah Palin in the book The Rogue, by Joe McGinniss.
OR click on an issue category below for a subset.
BOOK REVIEW by OnTheIssues.org:
This is the book written by the guy who moved in next door to Sarah Palin. The author didn't originally intend the focus of the book to be his residence, but having moved in right next door in the summer of 2010, that became the focus of the book, and the focus of the controversy surrounding the book. Joe McGinnis, a supposedly legitimate political reporter who has published about Palin and about Alaska previously, originally intended the book as an investigation of Sarah's background and the people who knew her before the vice-presidential race. But he stumbled upon the opportunity to move in next door to the Palins (by accident, he says on pp. 3-4). Hence several chapters are devoted to the Palin's reaction to discovering a hostile next-door neighbor, and to the national blowback (including hate-mails and death-threats) that resulted.
Ok, so getting past the silly next-door-neighbor issue, McGinnis' purpose is to elucidate Sarah Palin's true character by interviewing people who knew her well. But he only interviews people who didn't like Palin (admittedly, because those who DID like her wouldn't talk to the "stalker next door", as he points out on p. 207). Additional controversy about the book results from the even sillier issues that McGinnis raises as if they are legitimate political analysis:
Sarah dated a black basketball player in college (how is this politically relevant? Glen Rice still speaks fondly of her; Sarah was not married at the time.) This gets a half a chapter and a photo on p. 25, where the author hints that Sarah is racist.
Sarah is accused explicitly of being racist -- not because she regretted dating Glen Rice, but because she didn't hire many minorities (p. 219). The author does mention -- but does not diminish his accusations that Sarah is racist -- that Sarah married a minority (Todd is part Native American).
Sarah's daughter Bristol is suspected of being the actual mother of Sarah's Down syndrome baby -- this warrants an entire chapter (e.g., p. 282) which evidently McGinnis hopes will blossom into a conspiracy theory based on the fact that Sarah looked trim even in her 7th month of pregnancy and other even less substantiated "facts."
Todd has a dysfunctional family; Todd had extramarital affairs (p. 64) as did Sarah; Todd and Sarah have loud fights where they threaten divorce -- while these topics would be fascinating cover stories for People magazine, they are not political reporting!
McGinnis loses all legitimacy as a political reporter, in our view, by bashing the mainstream media: "As America prepares for the 2012 presidential campaign, our mainstream media [is] reduced to a level of helpless codependency, in which its willing suspension of disbelief in regard to Sarah requires that it not look at or listen to her too closely, for fear that it might discover something it can't ignore." (p. 318). McGinnis doesn't get it -- he IS the mainstream media! And he IS the problem -- reporting on candidate's personal life as if it's news; "suspending disbelief" when any political enemy hints at some rumor or another; defining "something it can't ignore" as whether Sarah was a bully in grade school (p. 84). McGinnis fails in his duty as a reporter -- this book is tabloid crap; fun to read for a little while, but not real political reporting.

We at OnTheIssues.org desired to explore Sarah Palin's background in the same manner that McGinnis claimed -- by interviewing Wasilla residents who knew her in her mayoral days. We did so in a respectful manner in our 2008 interview of a Wasilla resident. If you want some meaningful background, read our interview -- and throw McGinnis' book in the trash, where it belongs.

-- Jesse Gordon, editor-in-chief, OnTheIssues.org, jesse@OnTheIssues.org, Oct. 2011

OnTheIssues.org excerpts: (click on issues for details)
Abortion
Pushed to ban 2nd trimester abortion at Wasilla's hospital.
Down syndrome child makes her saint of antiabortion movement.
Budget & Economy
2009: Rejected $300M in federal stimulus aid.
Civil Rights
1996: Disapproved of gay-parent books in public library.
2006: No choice but to comply with same-sex partner benefits.
Drugs
1996: Allow Wasilla bars to stay open until 5 AM.
Energy & Oil
OpEd: $40B AGIA natural gas pipeline isn't working.
Early 2008: Couldn't support McCain because he opposed ANWR.
Environment
1996: initial mayoral issue: Bike paths in Wasilla.
1996: Gave evangelical churches access to city parks.
2007: Opposed listing polar bears as endangered species.
Gun Control
1996: Allow concealed carry in bars, banks, & schools.
Open carry in city library and city hall.
Principles & Values
As child, joined "Missionettes" at Assembly of God church.
2002: Ran for Lieutenant Governor; came in close second.
Troopergate's one merited charge: shot moose without permit.
OpEd: Feels called by God; chosen to do certain things.
OpEd: Won election as fresh, feisty, girl-next-door.
2008: TrooperGate replacement asked to resign for harassment.
OpEd: McCain's moribund campaign pulsed with Sarah's energy.
2006 & 2008: Addressed convention of secessionist AIP.
Welfare & Poverty
Got churches to provide private aid for starving people.



| | |
| --- | --- |
| Click for quotations from other sources by: | |
The above quotations are from The Rogue
Searching for the Real Sarah Palin
by Joe McGinniss.
Gov. Sarah Palin's documents & debates: