---
Books by and about 2020 presidential candidates
Crippled America,
by Donald J. Trump (2015)
United,
by Cory Booker (2016)
The Truths We Hold,
by Kamala Harris (2019)
Smart on Crime,
by Kamala Harris (2010)
Guide to Political Revolution,
by Bernie Sanders (2017)
Where We Go From Here,
by Bernie Sanders (2018)
Promise Me, Dad ,
by Joe Biden (2017)
Conscience of a Conservative,
by Jeff Flake (2017)
Two Paths,
by Gov. John Kasich (2017)
Every Other Monday,
by Rep. John Kasich (2010)
Courage is Contagious,
by John Kasich (1998)
Shortest Way Home,
by Pete Buttigieg (2019)
The Book of Joe ,
by Jeff Wilser (2019; biography of Joe Biden)
Becoming,
by Michelle Obama (2018)
Our Revolution,
by Bernie Sanders (2016)
This Fight Is Our Fight,
by Elizabeth Warren (2017)
Higher Loyalty,
by James Comey (2018)
The Making of Donald Trump,
by David Cay Johnston (2017)
Books by and about the 2016 presidential election
What Happened ,
by Hillary Clinton (2017)
Higher Loyalty ,
by James Comey (2018)
Trump vs. Hillary On The Issues ,
by Jesse Gordon (2016)
Hard Choices,
by Hillary Clinton (2014)
Becoming ,
by Michelle Obama (2018)
Outsider in the White House,
by Bernie Sanders (2015)
---
Book Reviews

(from Amazon.com)

(click a book cover for a review or other books by or about the presidency from Amazon.com)
Alaska 2006 Governor Debate series, Former Governor Tony Knowles vs. Mayor Sarah Palin, October 25th - November 3rd, 2006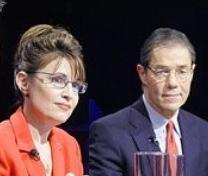 Click on a participant to pop-up their full list of quotations
from Alaska 2006 Governor Debate series (number of quotes indicated):
Sarah Palin (12)
Tony Knowles (10)
OR click on an issue category below for a subset.
The Alaska gubernatorial race included a series of debates.

Excerpts include the following debates:
KAKM Channel 7, moderated by public television's Michael Carey; October 25, 2006
BP debate, moderated by KTUU News Director John Tracy; October 30, 2006
Anchorage Rotary debate, moderated by trial lawyer Paul Davis; October 31, 2006
Radio debate on KFQD 750 AM, moderated by radio host Dan Fagan; November 2, 2006
OnTheIssues.org excerpts: (click on issues for details)
Abortion
Sarah Palin: Choose life, even if her own daughter were raped.
Tony Knowles: Support woman's decision in cases of rape.
Civil Rights
Sarah Palin: Prefers term "anti-rural" to "anti-Native".
Sarah Palin: Special legislative session on same-sex health benefits.
Tony Knowles: No special legislative session on same-sex health benefits.
Education
Sarah Palin: Don't push school boards on creationism but allow discussion.
Sarah Palin: I believe we have a creator; and many theories of evolution.
Tony Knowles: Keep alternatives to evolution out of classrooms.
Tony Knowles: No politics in science; no creationism in schools.
Energy & Oil
Tony Knowles: Qualified support of BP-Arco merger.
Sarah Palin: Met with producers and employee groups for pipeline deal.
Tony Knowles: Include producers & all proposals in negotiating pipeline.
Government Reform
Sarah Palin: Attended numerous debates & did not avoid any unnecessarily.
Principles & Values
Sarah Palin: Decries "politics as usual" of attacking opponents.
Tony Knowles: Raise the level of conversation in political debates.
Sarah Palin: Fight for freedom of religion and freedom of expression.
Tony Knowles: Religious political beliefs are part of freedom of speech.
War & Peace
Sarah Palin: We have not been attacked since 2001; so support our troops.
Sarah Palin: I support the mission of our troops in Iraq.
Sarah Palin: Our troops in Iraq keep us safe at home.
Tony Knowles: We need a different strategy for this war.
Tony Knowles: Reasons given for going to war were not justified.
| | |
| --- | --- |
| Click for quotations from other sources by: | |
The above quotations are from Alaska 2006 Governor Debate series, Former Governor Tony Knowles vs. Mayor Sarah Palin, October 25th - November 3rd, 2006.
Gov. Sarah Palin's documents & debates: