---
Books by and about 2020 presidential candidates
Crippled America,
by Donald J. Trump (2015)
United,
by Cory Booker (2016)
The Truths We Hold,
by Kamala Harris (2019)
Smart on Crime,
by Kamala Harris (2010)
Guide to Political Revolution,
by Bernie Sanders (2017)
Where We Go From Here,
by Bernie Sanders (2018)
Promise Me, Dad ,
by Joe Biden (2017)
Conscience of a Conservative,
by Jeff Flake (2017)
Two Paths,
by Gov. John Kasich (2017)
Every Other Monday,
by Rep. John Kasich (2010)
Courage is Contagious,
by John Kasich (1998)
Shortest Way Home,
by Pete Buttigieg (2019)
The Book of Joe ,
by Jeff Wilser (2019; biography of Joe Biden)
Becoming,
by Michelle Obama (2018)
Our Revolution,
by Bernie Sanders (2016)
This Fight Is Our Fight,
by Elizabeth Warren (2017)
Higher Loyalty,
by James Comey (2018)
The Making of Donald Trump,
by David Cay Johnston (2017)
Books by and about the 2016 presidential election
What Happened ,
by Hillary Clinton (2017)
Higher Loyalty ,
by James Comey (2018)
Trump vs. Hillary On The Issues ,
by Jesse Gordon (2016)
Hard Choices,
by Hillary Clinton (2014)
Becoming ,
by Michelle Obama (2018)
Outsider in the White House,
by Bernie Sanders (2015)
---
Book Reviews

(from Amazon.com)

(click a book cover for a review or other books by or about the presidency from Amazon.com)
The Extreme Makeover of Hillary (Rodham) Clinton, by Bay Buchanan (published May 14, 2007)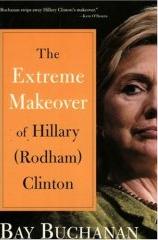 (Click for Amazon book review)
Click here for 12 full quotes from Hillary Clinton in the book Extreme Makeover, by Bay Buchanan.
OR click on an issue category below for a subset.
BOOK REVIEW by OnTheIssues.org:
Bay Buchanan does not like Hillary Clinton. Bay Buchanan is Pat Buchanan's sister, and his campaign manager for his presidential campaign -- so she bases her criticisms on valid opposition research. We try here to omit the gratuitous Hillary-bashing, because that's not part of our website. But we do report on the valid analyses of how Hillary's voting record differs from her public statements, or how Hillary's positions change over time.
Bay Buchanan makes several important (and apparently valid) criticisms that Hillary's voting record is considerably more liberal than her public statements -- for example, on abortion and gay marriage. Buchanan also makes several (apparently valid) criticisms that Hillary's position has changed as she prepared for a presidential run -- for example, from anti-illegal immigrant to pro-comprehensive immigration reform. It appears to us, however, that Hillary's positions as "revealed" here will merely make her liberal supporters happier with her liberal positions, and/or make her potential moderate supporters happier with her willingness to moderate her position to accomplish compromise legislation. In other words, Buchanan's research is valid, but her criticisms don't result in a reason for reduced support for Hillary.
We omitted the most vicious anti-Hillary diatribes in our excerpts of this book -- but there are plenty of 'em, so we'll illustrate a couple of the worst ones to give our readers a flavor for Bay Buchanan's true attitude:
Chapter 8 is entitled "The Stepford Candidate" (a reference to "The Stepford Wives," in which women are replaced by obedient robots). Bay Buchanan posits that Hillary's most extreme makeover occurred as she ran for Senate -- but it's not much different than describing any candidate with "campaign discipline" of sticking to the issues of the day.
One photo essay shows Hillary with four different outfits and hairstyles, to which Ms. Buchanan adds four captions: "a) I'm serious. b) I'm nice. c) I'm Lady Di. d) I'm smart." Poking fun at women politician's appearance is an old sport in politics, but one which is usually reserved for chauvinistic males competing against women they want to belittle. One might expect more from Ms. Buchanan, who has undoubtedly been similarly belittled for her appearance. Evidently Ms. Buchanan places her opposing conservatism over her common gender with Hillary.
Another photo essay encapsulates well the anti-Hillary flavor of the book: An unflattering photo of Hillary reading The Iraq Study Group Report is captioned, "Hillary plots her changing course on Iraq." One might question how Ms. Buchanan discerned Hillary's inner conspiratorial thoughts.
The title of Chapter 9, "Unfit to Serve," perhaps indicates Ms. Buchanan's goal for this book. That's a reference to the book "Unfit for Command," the Swift Boat Veteran's attack book on John Kerry in 2004, which was widely credited with destroying Kerry's campaign. Presumably Ms. Buchanan wants her book to serve a similar role in 2008. I don't think it will succeed in that role, but it will certainly provide fodder for Hillary's attackers. Bay Buchanan is good at what she does -- right-wing politics -- but if this is the worst the right-wing can dig up, Hillary is indeed doing very well.
-- Jesse Gordon, jesse@OnTheIssues.org, May 2007
OnTheIssues.org excerpts: (click on issues for details)
Abortion
Abortion is a sad, tragic choice to many women.
Civil Rights
2004:defended traditional marriage; 2006:voted for same-sex.
Families & Children
Hillary's "village" criticized as Big Government.
Foreign Policy
Supported Palestine in 1998, before Bill officially did.
Immigration
Opposes illegal immigration, but doesn't vote to follow up.
Principles & Values
Reaches out to conservatives but voting record is liberal.
Prefers role as knowledgeable expert to role of visionary.
Family myth: named after Everest's Sir Edmund Hillary.
At her core, Hillary is an idealistic activist.
Critics call it "extreme makeover" but admit its success.
Replay of "2 for price of 1" has big pluses & big minuses.
War & Peace
Bush misused authorization for war.
| | |
| --- | --- |
| Click for quotations from other sources by: | |
The above quotations are from The Extreme Makeover of Hillary (Rodham) Clinton, by Bay Buchanan (published May 14, 2007).
Related books, debates, and candidates:

BIASED IN FAVOR OF HILLARY:

NEUTRAL INVESTIGATION OF HILLARY: