---
Books by and about 2020 presidential candidates
Crippled America,
by Donald J. Trump (2015)
United,
by Cory Booker (2016)
The Truths We Hold,
by Kamala Harris (2019)
Smart on Crime,
by Kamala Harris (2010)
Guide to Political Revolution,
by Bernie Sanders (2017)
Where We Go From Here,
by Bernie Sanders (2018)
Promise Me, Dad ,
by Joe Biden (2017)
Conscience of a Conservative,
by Jeff Flake (2017)
Two Paths,
by Gov. John Kasich (2017)
Every Other Monday,
by Rep. John Kasich (2010)
Courage is Contagious,
by John Kasich (1998)
Shortest Way Home,
by Pete Buttigieg (2019)
The Book of Joe ,
by Jeff Wilser (2019; biography of Joe Biden)
Becoming,
by Michelle Obama (2018)
Our Revolution,
by Bernie Sanders (2016)
This Fight Is Our Fight,
by Elizabeth Warren (2017)
Higher Loyalty,
by James Comey (2018)
The Making of Donald Trump,
by David Cay Johnston (2017)
Books by and about the 2016 presidential election
What Happened ,
by Hillary Clinton (2017)
Higher Loyalty ,
by James Comey (2018)
Trump vs. Hillary On The Issues ,
by Jesse Gordon (2016)
Hard Choices,
by Hillary Clinton (2014)
Becoming ,
by Michelle Obama (2018)
Outsider in the White House,
by Bernie Sanders (2015)
---
Book Reviews

(from Amazon.com)

(click a book cover for a review or other books by or about the presidency from Amazon.com)
Opinions and policy on the Syrian Refugee crisis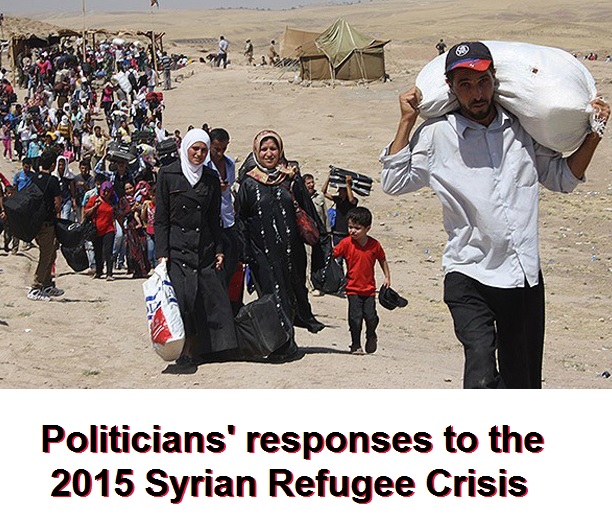 Click on a participant to pop-up their full list of quotations
from Syrian Refugee Crisis (number of quotes indicated):
OnTheIssues.org excerpts: (click on issues for details)
Foreign Policy
Bernie Sanders: America stands for hope; we should take Syrian refugees.
Ben Carson: Focus on funding refugee camps; not bringing refugees to US.
Jeb Bush: Duty to protect religious minorities & Christian refugees.
Kamala Harris: The way to keep us safe is NOT to keep outsiders out.
John Kasich: Pause accepting Syrian refugees to create stringent checks.
Asa Hutchinson: Europe, Asia or Africa are better for Syrian refugees.
Colin Bonini: Don't accept Syrian refugees to settle in Delaware.
David Ige: Welcome refugees from Syria with aloha.
Jack Markell: Provide asylum for Syrian refugees seeking safety.
Jerry Brown: Syrian refugees should be fully vetted, then given asylum.
Paul LePage: Irresponsible to allow Syrian refugees into America.
Steve Beshear: Do the Christian thing to welcome Syrian refugees.
Jeb Bush: Syrian refugee camps in Jordan are really quite nice.
Lindsey Graham: Create safe haven for refugees, not bring them to US.
Marco Rubio: Too risky to take in Syrian refugees.
Bernie Sanders: Moral responsibility to reach out to Syrian refugees.
Hillary Clinton: We should accept 65,000 Syrian refugees, vetted and screened.
Martin O`Malley: We should accept 65,000 Syrian refugees who are fleeing ISIL.
Donald Trump: Provide economic assistance to create a safe zone in Syria.
Jill Stein: Take 65,000 Syrian refugees immediately, not over 18 months.
Homeland Security
Hillary Clinton: Support our NATO allies and take vetted Syrian refugees.
Sam Brownback: Halted Syrian refugees from being resettled in Kansas.
Hillary Clinton: Keep Syrian refugees; we're a nation of resolve, not of fear.
Chris Christie: Syrian refugees cannot be vetted; don't allow any into US.
Rand Paul: Both refugees and visa waivers pose threat.
Rocky Chavez: Block Syrian refugees until we upgrade our intel and vetting.
Larry Kudlow: Moratorium on Syrian refugees must be in place.
Ken Spaulding: 18-to-24 months for Syrian refugees is plenty of vetting.
Roy Cooper: Pause Syrians for most effective screening process possible.
Maggie Hassan: Terrorist attacks strengthen our resolve to defeat ISIS.
Bobby Jindal: Demand info on background & monitoring of Syrian refugees.
Chris Christie: No Syrian refugees in US, not even infant orphans.
Jay Nixon: No Syrian refugees in MO; screening & safeguards needed.
John Kasich: No more Syrian refugees in Ohio or anywhere in USA.
Mark Dayton: Existing security checks for Syrian refugees are sufficient.
Nikki Haley: Persecuted immigrants are welcome--but not Syrian refugees.
Scott Walker: Syrian refugees pose a security threat.
Steve Bullock: Don't let terrorists intimidate us to abandon our values.
Terry Branstad: Protect residents with info on where Syrian refugees are.
Jeb Bush: Syrian refugees already in US can stay.
Ben Carson: Religion not sufficient probable cause to track.
Immigration
Jay Williams: Welcome Syrian refugees fleeing religious intolerance.
Jim Rubens: Halt immigration of Syrian refugees; reduce all immigration.
Martin O`Malley: Accept 65,000 Syrians now, and more later if needed.
Marco Rubio: In 2013, refugees were fleeing oppression; not like Syrians.
Loretta Sanchez: Refugees are not the enemy, today nor in our history.
Rocky Chavez: We are home for the tired and oppressed, even Syrians.
Alan Grayson: Screening process for refugees from Iraq & Syria ok as-is.
Ann Kirkpatrick: Screening process for refugees from Iraq & Syria ok as-is.
Joe Heck: Stronger screening process for refugees from Iraq and Syria.
Pat McCrory: Stop sending Syrian refugees to North Carolina.
Kate Brown: Open the doors of opportunity for Syrian refugees.
Maggie Hassan: Temporarily halt acceptance of refugees from Syria.
Maggie Hassan: Close borders for now; but welcome ISIS refugees later.
Andrew Cuomo: No comment on changing rules for Syrian refugees in NY.
Bill Haslam: Suspend placing Syrian refugees in Tennessee.
Bill Walker: Deal with budget instead of focusing on Syrian refugees.
Brian Sandoval: Review Syrian refugee resettlement --but don't halt it.
Bruce Rauner: Temporarily suspend accepting new Syrian refugees.
Butch Otter: Halt Syrian refugees until vetting rules instituted.
Dan Malloy: Continue to accept refugees from Syria.
Dennis Daugaard: S.D. shouldn't expect any Syrian refugees.
Doug Ducey: Immediate halt to placement of any new Mideast refugees.
Earl Ray Tomblin: We'll screen Syrian refugees if they arrive.
Gary Herbert: Review Syrian refugee security, but keep accepting them.
Gina Raimondo: Help settle Syrian refugees.
Greg Abbott: Ordered no more Syrian refugee resettlement.
Jack Dalrymple: N.D. shouldn't expect any Syrian refugees.
Jay Inslee: Washington state welcomes Syrian refugees.
John Hickenlooper: Stringent verification process for Syrian refugees.
Larry Hogan: Reasoned & careful decision about resettling Syrian refugees.
Maggie Hassan: Halt acceptance of Syrian refugees until fully vetted.
Mary Fallin: Suspend sending Syrian refugees until checking is assured.
Matt Bevin: Oppose the resettlement of Syrian refugees.
Mike Pence: Suspend the relocation of any more Syrian refugees.
Nathan Deal: Executive order to not accept Syrian refugees.
Pat McCrory: Cease sending Syrian refugees until checking is effective.
Peter Ricketts: No Syrian refugee resettlement until full federal review.
Peter Shumlin: Rejecting Syrian refugee stomps on American greatness.
Phil Bryant: Do everything possible to keep Syrian refugees out of MS.
Rick Scott: Aggressively block attempts to relocate Syrian refugees.
Rick Snyder: Welcome Syrian refugees to Michigan, after full review.
Robert Bentley: Refuse Syrian refugees relocating to Alabama.
Sam Brownback: Executive order to not assist Syrian refugees.
Steve Bullock: Safety first; review protocols for Syrian refugees.
Susana Martinez: No more Syrian refugees until vetting plan in place.
Terry McAuliffe: Syrian refugee already undergo intensive security screening.
Tom Wolf: Continue resettling Syrian refugees with federal screening.
Donald Trump: Need to keep database of Muslim refugees.
Maggie Hassan: Ensure robust screening before we admit refugees from Syria.
Donald Trump: Syrian refugees are a Trojan Horse.
Donald Trump: Syrian refugee crisis partly our fault; but don't take any.
Tim Kaine: Allow more Syrian Refugees to resettle in US.
Technology
John Kasich: Broadcast Judeo-Christian values abroad, to help defeat ISIS.
War & Peace
Ben Carson: Support Syrian refugees in Jordan; place more with Kurds.
Lindsey Graham: If Syrian war goes on another year, Jordan's king might fall.
John Kasich: No-fly zone 1st priority, but ok with more aid for refugees.
John Kasich: US ground troops in Syria, but not involved in civil war.
Maggie Hassan: We are at war on ISIS; intensify our efforts to destroy them.
| | |
| --- | --- |
| Click for quotations from other sources by: | |
The above quotations are from Opinions and policy on the Syrian Refugee crisis.
2010-2020 Voter Guides for House, Senate and Gubernatorial candidates:
(below are individual candidate responses; to the right are "surveys" with support/oppose inferred summaries):