---
Books by and about 2020 presidential candidates
Crippled America,
by Donald J. Trump (2015)
United,
by Cory Booker (2016)
The Truths We Hold,
by Kamala Harris (2019)
Smart on Crime,
by Kamala Harris (2010)
Guide to Political Revolution,
by Bernie Sanders (2017)
Where We Go From Here,
by Bernie Sanders (2018)
Promise Me, Dad ,
by Joe Biden (2017)
Conscience of a Conservative,
by Jeff Flake (2017)
Two Paths,
by Gov. John Kasich (2017)
Every Other Monday,
by Rep. John Kasich (2010)
Courage is Contagious,
by John Kasich (1998)
Shortest Way Home,
by Pete Buttigieg (2019)
The Book of Joe ,
by Jeff Wilser (2019; biography of Joe Biden)
Becoming,
by Michelle Obama (2018)
Our Revolution,
by Bernie Sanders (2016)
This Fight Is Our Fight,
by Elizabeth Warren (2017)
Higher Loyalty,
by James Comey (2018)
The Making of Donald Trump,
by David Cay Johnston (2017)
Books by and about the 2016 presidential election
What Happened ,
by Hillary Clinton (2017)
Higher Loyalty ,
by James Comey (2018)
Trump vs. Hillary On The Issues ,
by Jesse Gordon (2016)
Hard Choices,
by Hillary Clinton (2014)
Becoming ,
by Michelle Obama (2018)
Outsider in the White House,
by Bernie Sanders (2015)
---
Book Reviews

(from Amazon.com)

(click a book cover for a review or other books by or about the presidency from Amazon.com)
American Dreams
Restoring Economic Opportunity for Everyone
by Marco Rubio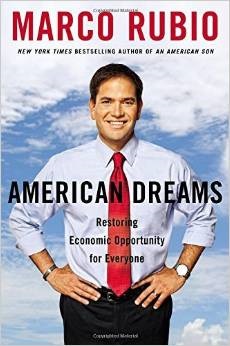 (Click for Amazon book review)
Click here for 13 full quotes from Marco Rubio in the book American Dreams, by Marco Rubio.
OR click on an issue category below for a subset.
BOOK REVIEW by OnTheIssues.org:
This book represents Rubio's presidential platform -- published in January 2015, just in time to finish his publicity tour prior to his presidential candidacy announcement in April 2015. Rubio previously wrote an autobiography about his personal history, and a Florida-oriented policy book, so he sticks to national policy in this book.
That title hints at the focus of the book while simultaneously hinting at the focus of his presidential campaign: (1) Rubio personifies the American Dream, and (2) Rubio will spend a lot of time in his campaign on immigration issues, specifically on his "American Dream Act." This review will discuss the double entendre of the title, and hence explore a key theme of Rubio's presidential campaign, which has also served as a key theme for much of his political career.
Rubio introduces this book with the story of his grandfather, who was born in Cuba and emigrated to the United States in 1956 (three years before the Cuban Communist Revolution). Rubio states that his grandfather instilled in Marco, as a youth, his definition of the the American Dream: the "universal hope" that "people from humble or disadvantaged backgrounds" can come to America and "achieve their ambitions." Rubio claims that the American Dream has become harder to achieve due to "government-centered command-and-control liberalism," and says that saving the American Dream "will determine whether we continue to be an exceptional nation" [Introduction, pp. 7-8]. Rubio makes clear that he considers this the central defining theme of the conservative movement, even tying it to the concept of American exceptionalism, the core conservative foreign policy theme.
Rubio's first chapter is entitled, "The American Dream, Downsized." Rubio focuses here on comparing the 1956 America where his family first arrived, to modern America--as defined by decades of that "government-centered command-and-control liberalism." Rubio blames President Obama (p.22)--an easy target for Republican candidates--but also blames globalization (p. 23); technology and its concomitant job loss (p. 24); government-run education which doesn't address those two changes (p. 25); and a decline of marriage and family (p. 26). All of those were better in the 1950s, according to Rubio, but he is still an optimist: America must figure out how to deal with the new modern reality to restore the 1950s ideal of the American Dream.
On the second meaning of the title, the term "DREAM" is an acronym for "Development, Relief, and Education for Alien Minors;" Congressional bills by both parties have been labeled "DREAM Act" since the first one in 2001. In general, all "DREAM Acts" offer some sort of aid to those who immigrated illegally to America while still children (i.e., their parents illegally immigrated and brought them along); and offers some sort of "comprehensive reform" instead of a piecemeal one-policy-at-a-time approach. Rubio's version of the DREAM Act focuses on legal residency for minors (even after they pass age 18) and does not end up with citizenship; Obama's version promises not to deport those same minors (also even after they pass age 18). Rubio has denounced Obama's version because it acts by executive order instead of Congressional legislation, but many immigration opponents consider the two versions to be similar or essentially identical.
The bottom line on the DREAM Act is that Rubio wants to address the immigration issue "comprehensively," which is generally a Democratic Party approach, in contrast to addressing border security first, which is generally the Republican Party approach. This stance puts Rubio at odds with the Tea Party (who otherwise adore him) and with many of his Republican primary opponents (who oppose any comprehensive approach to immigration).
Politically, Rubio is saying that the Republican Party must regain at least part of the Latino vote in order to win the presidency, and comprehensive reform is the means to do that. With this book, Rubio challenges his Republican opponents to come up with their own comprehensive reform--and with their own policies to restore the American Dream. You may not agree with Rubio's pro-1950s approach, but he certainly makes his views clear--we wish every candidate wrote a book like this!
-- Jesse Gordon, jesse@OnTheIssues.org, June 2015
OnTheIssues.org excerpts: (click on issues for details)
Education
Outdated educational systems must be updated to meet needs.
The poor benefit most from parental choice in education.
Families & Children
The "success sequence"--education and kids after marriage.
Free Trade
Develop policies that embrace reality of globalization.
Government Reform
Conservatives must show they have real solutions to poverty.
Government has a role, but it is not giving poor money.
Health Care
ObamaCare stifles entrepreneurship with regulation.
Jobs
Give wage subsidies rather than raise minimum wage.
Principles & Values
Founders promoted and protected our God-given rights.
Strong values like discipline, hard work are keys to success.
Success hinges on opportunity, family, and security.
Tax Reform
Our outdated tax code encourages outsourcing jobs.
Technology
Technology is an opportunity to help people, not take jobs.
| | |
| --- | --- |
| Click for quotations from other sources by: | |
The above quotations are from American Dreams
Restoring Economic Opportunity for Everyone
by Marco Rubio.
2016 Presidential debates