---
Books by and about 2020 presidential candidates
Crippled America,
by Donald J. Trump (2015)
United,
by Cory Booker (2016)
The Truths We Hold,
by Kamala Harris (2019)
Smart on Crime,
by Kamala Harris (2010)
Guide to Political Revolution,
by Bernie Sanders (2017)
Where We Go From Here,
by Bernie Sanders (2018)
Promise Me, Dad ,
by Joe Biden (2017)
Conscience of a Conservative,
by Jeff Flake (2017)
Two Paths,
by Gov. John Kasich (2017)
Every Other Monday,
by Rep. John Kasich (2010)
Courage is Contagious,
by John Kasich (1998)
Shortest Way Home,
by Pete Buttigieg (2019)
The Book of Joe ,
by Jeff Wilser (2019; biography of Joe Biden)
Becoming,
by Michelle Obama (2018)
Our Revolution,
by Bernie Sanders (2016)
This Fight Is Our Fight,
by Elizabeth Warren (2017)
Higher Loyalty,
by James Comey (2018)
The Making of Donald Trump,
by David Cay Johnston (2017)
Books by and about the 2016 presidential election
What Happened ,
by Hillary Clinton (2017)
Higher Loyalty ,
by James Comey (2018)
Trump vs. Hillary On The Issues ,
by Jesse Gordon (2016)
Hard Choices,
by Hillary Clinton (2014)
Becoming ,
by Michelle Obama (2018)
Outsider in the White House,
by Bernie Sanders (2015)
---
Book Reviews

(from Amazon.com)

(click a book cover for a review or other books by or about the presidency from Amazon.com)
An American Son: A Memoir
by Senator Marco Rubio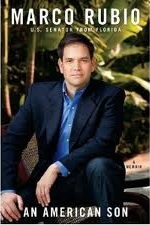 (Click for Amazon book review)
Click on a participant to pop-up their full list of quotations
from An American Son, by Marco Rubio (number of quotes indicated):
OnTheIssues.org BOOK REVIEW:
This book is Marco Rubio's autobiography. It covers the basics: The first half is his life story, including his family history of emigration from Cuba. The second half is all about the horserace in Rubio's Senate race against Gov. Charlie Crist.
Normally we don't like "horserace" books, but that's when they're written by pundits. When they're written by the candidate, they are truly insightful. Normally we don't like family history either, unless the other family members are elected officials too, which Rubio's are not. But Rubio's family history is tied in with his political appeal, so that works too.
In summary, there's not a lot of policy material here. But Rubio's previous book, 100 Innovative Ideas for Florida's Future, covers Rubio's policy ideas in great detail. Rubio does give his side of all of the scandals that Gov. Crist and other opponents have thrown at him; an unauthorized biography, The Rise of Marco Rubio, gives the other side's perspective. Reading all three gives a balanced perspective about policy and personality. If Rubio gets the vice presidential nod from Gov. Romney, all three will instantly become mandatory reading.
-- Jesse Gordon, editor-in-chief, OnTheIssues.org, July 2012
OnTheIssues.org excerpts: (click on issues for details)
Corporations
Marco Rubio: Accused of rigging bidding process for Turnpike concessions.
Drugs
Marco Rubio: 1987: Brother-in-law imprisoned for drug conviction.
Education
Marco Rubio: Became serious college student after football injury.
Energy & Oil
Charlie Crist: Instituted state cap-and-trade by Executive Order.
Marco Rubio: I dislike cap-&-trade, but it is inevitable as national law.
Environment
Charlie Crist: Let state-run insurance carrier compete in private market.
Marco Rubio: State-run insurance carriers mean more taxpayer subsidies.
Families & Children
Marco Rubio: Elian Gonzalez should stay in US & father should join him.
Marco Rubio: Even single mothers see their hopes & dreams in firstborn.
Marco Rubio: Improve state-provided services for kids with disabilities.
Foreign Policy
Marco Rubio: Che Guevara reviled by Cuban exiles; I want no association.
Government Reform
Marco Rubio: Accused of using campaign funds for personal expenses.
Immigration
Marco Rubio: Leave immigration to feds; 50 sets of laws is worse.
Marco Rubio: English is de facto official language; let's recognize that.
Jobs
Marco Rubio: 1984: Enthusiastic union activist during dad's strike.
Principles & Values
Al Gore: OpEd: Elian Gonzalez lost Florida for Gore & hence election.
Barack Obama: OpEd: Offered a third way; but hid left-of-center agenda.
Charlie Crist: New kind of Republican: reasonable moderate leader.
Charlie Crist: 2009: Ran for Senate after expected unopposed run for Gov.
Charlie Crist: 2009: Embraced Obama publicly, to promote stimulus bill.
Charlie Crist: OpEd: Ran as independent because of polls, not principles.
Kendrick Meek: Participated in 3-way debates with Gov. Crist and Sen. Rubio.
Marco Rubio: Family moved to Las Vegas to avoid Miami crime.
Marco Rubio: 1979: Born Catholic; but baptized as Mormon in NV.
Marco Rubio: 1980s: Studied Mormonism as child; church member for 3 years.
Marco Rubio: 1996: Surrogate for Bob Dole in Spanish radio debate.
Marco Rubio: I am the heir to two generations of unfulfilled dreams.
Marco Rubio: Married to Jeanette in 1998; four kids since.
Marco Rubio: Prayed for guidance & got job that allowed Legislature too.
Marco Rubio: Goal as Speaker: House is vibrant laboratory of policy ideas.
Marco Rubio: Children baptized Catholic; but attend Christ Fellowship.
Marco Rubio: Accused of spending $160,000 on GOP party credit card.
Marco Rubio: We cannot keep God out of our lives, even in public realm.
Marco Rubio: 2009: Considered running for Governor instead of Senate.
Marco Rubio: Primary strategy based on FL rule that only GOP could vote.
Marco Rubio: 2009 campaign: proxy fight against moderates for soul of GOP.
Marco Rubio: Strategized in 3-way race to split Dem. & independent vote.
Marco Rubio: Ignore political press' hyped controversy; stick to message.
Marco Rubio: I've had hecklers in audience, but never on debate stage.
Marco Rubio: Rules of Senate push for bipartisanship, and so do Americans.
Social Security
Marco Rubio: Benefits have to be less generous to save Social Security.
Tax Reform
Charlie Crist: Double homestead exemption to $50K & taxes drop like a rock.
Marco Rubio: Replace property taxes with a consumption tax.
Marco Rubio: OpEd: Proposed consumption tax called "largest tax increase".
Technology
Tea Party: Social media allows organizing opposition without Party.
| | |
| --- | --- |
| Click for quotations from other sources by: | |
The above quotations are from An American Son: A Memoir
by Senator Marco Rubio.
Books about the Tea Party Movement:
Page last edited: Dec 12, 2018