---
Books by and about 2020 presidential candidates
Crippled America,
by Donald J. Trump (2015)
United,
by Cory Booker (2016)
The Truths We Hold,
by Kamala Harris (2019)
Smart on Crime,
by Kamala Harris (2010)
Guide to Political Revolution,
by Bernie Sanders (2017)
Where We Go From Here,
by Bernie Sanders (2018)
Promise Me, Dad ,
by Joe Biden (2017)
Conscience of a Conservative,
by Jeff Flake (2017)
Two Paths,
by Gov. John Kasich (2017)
Every Other Monday,
by Rep. John Kasich (2010)
Courage is Contagious,
by John Kasich (1998)
Shortest Way Home,
by Pete Buttigieg (2019)
The Book of Joe ,
by Jeff Wilser (2019; biography of Joe Biden)
Becoming,
by Michelle Obama (2018)
Our Revolution,
by Bernie Sanders (2016)
This Fight Is Our Fight,
by Elizabeth Warren (2017)
Higher Loyalty,
by James Comey (2018)
The Making of Donald Trump,
by David Cay Johnston (2017)
Books by and about the 2016 presidential election
What Happened ,
by Hillary Clinton (2017)
Higher Loyalty ,
by James Comey (2018)
Trump vs. Hillary On The Issues ,
by Jesse Gordon (2016)
Hard Choices,
by Hillary Clinton (2014)
Becoming ,
by Michelle Obama (2018)
Outsider in the White House,
by Bernie Sanders (2015)
---
Book Reviews

(from Amazon.com)

(click a book cover for a review or other books by or about the presidency from Amazon.com)
Faith and Freedom Coalition
"Road to Majority" Policy Conference
(GOP presidential primary event)
June 18, 2015, in Washington DC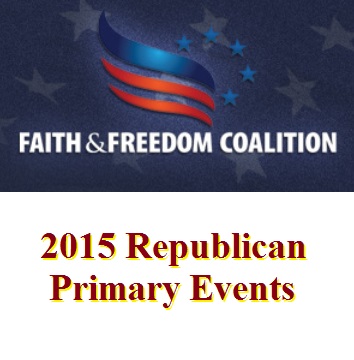 (Click for external website)
Click on a participant to pop-up their full list of quotations
from 2015 Faith and Freedom Conference (number of quotes indicated):
On April 25, 2015, the Faith and Freedom Coalition organized the "Road to Majority Policy Conference" in Waukee, Iowa, part of a series of conferences around the country. Their Iowa mission statement:
"The Faith and Freedom Coalition is committed to educating [voters], including our 6th annual 'Road to Majority' Conference in Washington, DC."
OnTheIssues.org excerpts: (click on issues for details)
Budget & Economy
Rick Perry: Regulate Wall Street, but Dodd-Frank kills community banks.
Civil Rights
Bobby Jindal: Institution of marriage existed long before our laws existed.
Bobby Jindal: I pledge support for a religious freedom law.
Marco Rubio: One-man-one-woman marriage existed before our laws.
Rick Santorum: I would never attend a same-sex wedding.
Scott Walker: Constitutional amendment to prevent federal gay marriage.
Ted Cruz: Pray against a court decision legalizing same-sex marriage.
Ted Cruz: Liberals obsessed with mandatory gay marriage in 50 states.
Ted Cruz: Zealotry on same-sex marriage leaves out religious liberty.
Mike Huckabee: Same-sex marriage leads to criminalization of Christianity.
Mike Huckabee: Courts cannot unilaterally allow same-sex marriage.
Corporations
Rick Perry: Lowering corporate tax rate 10% increase wages by 10%.
Families & Children
Ted Cruz: Defend Judeo-Christian values against liberal fascism.
Gun Control
Rick Perry: Taking away guns is knee-jerk reaction to gun tragedies.
Immigration
Scott Walker: We have too many legal immigrants.
Principles & Values
Rick Perry: Studied as veterinarian; organic chemistry made him a pilot.
Scott Walker: My relationship with God drives every major decision.
Scott Walker: Raised as a "P.K.", Pastor's Kid, by his father Pastor Llew.
| | |
| --- | --- |
| Click for quotations from other sources by: | |
The above quotations are from Faith and Freedom Coalition
"Road to Majority" Policy Conference
(GOP presidential primary event)
June 18, 2015, in Washington DC.