---
Books by and about 2020 presidential candidates
Crippled America,
by Donald J. Trump (2015)
Fire and Fury,
by Michael Wolff (2018)
Trump Revealed,
by Michael Kranish and Marc Fisher (2016)
The Making of Donald Trump,
by David Cay Johnston (2016)
Promise Me, Dad ,
by Joe Biden (2017)
The Book of Joe ,
by Jeff Wilser (2019; biography of Joe Biden)
The Truths We Hold,
by Kamala Harris (2019)
Smart on Crime,
by Kamala Harris (2010)
Guide to Political Revolution,
by Bernie Sanders (2017)
Where We Go From Here,
by Bernie Sanders (2018)
Our Revolution,
by Bernie Sanders (2016)
This Fight Is Our Fight,
by Elizabeth Warren (2017)
United,
by Cory Booker (2016)
Conscience of a Conservative,
by Jeff Flake (2017)
Two Paths,
by Gov. John Kasich (2017)
Every Other Monday,
by Rep. John Kasich (2010)
Courage is Contagious,
by John Kasich (1998)
Shortest Way Home,
by Pete Buttigieg (2019)
Becoming,
by Michelle Obama (2018)
Higher Loyalty,
by James Comey (2018)
The Making of Donald Trump,
by David Cay Johnston (2017)
Higher Loyalty ,
by James Comey (2018)
Trump vs. Hillary On The Issues ,
by Jesse Gordon (2016)
Outsider in the White House,
by Bernie Sanders (2015)
---
Book Reviews

(from Amazon.com)

(click a book cover for a review or other books by or about the presidency from Amazon.com)
2010 gubernatorial press releases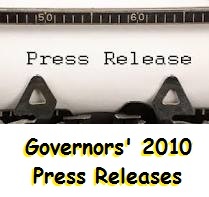 Click on a participant to pop-up their full list of quotations
from 2010 gubernatorial press release (number of quotes indicated):
Excerpts from Gubernatorial press releases in 2010s to 2020s:
(2021 N.J. Governor press release): "Governor Murphy Unveils Sweeping Gun Safety Package," 04/15/2021
(2021 Virginia Governor press release): "Governor Northam Announces 13th Annual Conference on Agricultural Trade," March 23, 2021
CA Attorney General press release, "Eviction Protections for Californians," April 28, 2016
CA Attorney General press release, "California Homeowner Bill of Rights Passes Legislature," July 2, 2012
MI Gov. Press release, "Governor Honors Michigan Service Men and Women, Past and Present," 11/7/2008
MI Gov. Press release, "Granholm Says Budget Plan Protects Michigan's Priorities," February 8, 2008
MI-Gov: NRA press release, "Pro-Gun Bills Signed by Governor Granholm!," April 7, 2006
MI Gov. press release, "Granholm Announces Opposition to Bush Proposal to Privatize Social Security," March 24, 2005
MI Gov press release, "Governor Granholm Signs Bills to Improve Services Provided to Immigrants," June 18, 2004
OnTheIssues.org excerpts: (click on issues for details)
Abortion
Dave Heineman: Signs informed consent Legislation.
Budget & Economy
Brad Henry: Our investments in Sooner State made recession better.
Civil Rights
Linda Lingle: Civil unions are same-sex marriage by another name.
Steve Beshear: Will veto a bill that would ban gay marriage in KY.
Education
Sean Randall Parnell: Constitutionally protected Higher Ed scholarship fund.
Steve Beshear: High national rankings shows that education is good in KY.
Scott Walker: Supports charter schools and choice, not one-size-fits-all.
Rick Perry: No "Race to the Top" funding; too many strings attached.
Energy & Oil
Phil Scott: Supports renewable energy investment.
Joe Manchin III: No regulation of greenhouse gases by EPA.
John Rockefeller: No regulation of greenhouse gases by EPA.
Lisa Murkowski: No regulation of greenhouse gases by EPA.
Scott Walker: Supports using traditional energy sources.
Environment
Scott Walker: Delist wolf & implement land use policy that benefit people.
Families & Children
Robert Bentley: Supports relief for families who cannot afford their houses.
Health Care
Brian Sandoval: Supports lawsuits against Obama health care bill.
Scott Walker: The private sector, not mandates, will fix healthcare.
Linda Lingle: State QUEST program instead of ObamaCare.
Immigration
Scott Walker: Supports AZ's immigration law and no benefits for illegals.
Dave Heineman: End Medicaid services for illegal immigrants.
Technology
Scott Walker: Pulled plug on light rail; fix roads and bridges instead.
| | |
| --- | --- |
| Click for quotations from other sources by: | |
The above quotations are from 2010 gubernatorial press releases.
Autobiographies and Biographies of Governors:
Press Releases etc. from Governors, Mayors, and Justices:
Page last edited: Oct 31, 2021