The Work of Nations: Preparing Ourselves for 21st Century Capitalism, by Robert Reich, published 1991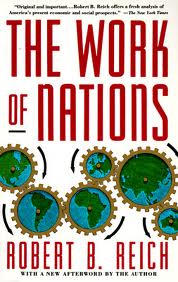 (Click for Amazon book review)
Click on a participant to pop-up their full list of quotations
from The Work of Nations (number of quotes indicated):
Robert Reich (9)
OR click on an issue category below for a subset.
OnTheIssues.org excerpts: (click on issues for details)
Corporations
Robert Reich: CIA "found" communist plots to help 1950s corporations.
Robert Reich: Protectionism benefits corporations, not consumers.
Robert Reich: US corporations push for "voluntary quotas" by competitors.
Free Trade
Robert Reich: Globalization means less focus on Nation and more on People.
Robert Reich: Post-WWII global capitalism was history's greatest growth.
Robert Reich: Dumping no different than competitive pricing.
Immigration
Robert Reich: Assimilation more constructive than restricting immigration.
Technology
Robert Reich: Interstates, built for defense, had positive side effects.
War & Peace
Robert Reich: Post-WWII pro-corporate foreign policy led to US wars abroad.
| | |
| --- | --- |
| Click for quotations from other sources by: | |
The above quotations are from The Work of Nations: Preparing Ourselves for 21st Century Capitalism, by Robert Reich, published 1991.
Related books, debates, and candidates:
Page last edited: Feb 06, 2014