A Government As Good As Its People, by Jimmy Carter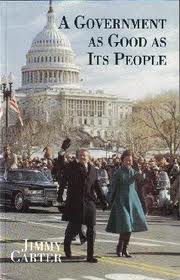 (Click for Amazon book review)
Click on a participant to pop-up their full list of quotations
from As Good As Its People (number of quotes indicated):
Gerald Ford (1)
Jimmy Carter (8)
OR click on an issue category below for a subset.
OnTheIssues.org excerpts: (click on issues for details)
Crime
Jimmy Carter: Jails are filled with poor; focus on white-collar crime.
Jimmy Carter: Crime reflects a sickness in society.
Drugs
Jimmy Carter: We stopped treating alcoholism as a crime; that helped.
Foreign Policy
Gerald Ford: Eastern Europe NOT dominated by USSR?
Health Care
Jimmy Carter: Supports national health insurance.
Jimmy Carter: Supports more funding for education & research.
Homeland Security
Jimmy Carter: Eliminate all nuclear weapons from this earth.
Principles & Values
Jimmy Carter: A Government As Good As Its People.
Tax Reform
Jimmy Carter: Reform tax structure without tax increases.
| | |
| --- | --- |
| Click for quotations from other sources by: | |
The above quotations are from A Government As Good As Its People, by Jimmy Carter.
Books by and about Jimmy Carter:



Page last edited: Feb 06, 2014