2009 AARP Voter Guide: Massachusetts Senate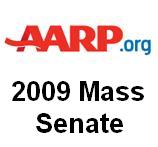 The AARP (Association for the Advancement of Retired Persons) asked the 2009 Senate candidates for their views on issues relevant to AARP members. Five candidates out of six running resopnded to the AARP questionnaire (Scott Brown did not).

The candidates were asked to check off "Support" or "Oppose" on each issue; for all questions, all five candidates unanimously chose to check off the AARP recommendation. We include the results anyway, in case Scott Brown decides to answer differently. The four Democrats elaborated on their responses; Jack Robinson declined on all questions but one to offer any guidance on the interpreation of his checkboxes.
Click on a participant to pop-up their full list of quotations
from 2009 AARP Voter Guide: Massachusetts Senate (number of quotes indicated):
Families & Children
Michael Capuano: Healthy Families Act: paid time off for respite care.
Government Reform
Alan Khazei: Include senior opportunities in Serve America Act.
Health Care
Alan Khazei: Close the Medicare Part D coverage gap.
Jack Robinson: Universal coverage; no Medicare cuts; no tax increase.
Jack Robinson: Increase consumer choice and control for longterm care.
Martha Coakley: Individual mandate with public insurance option.
Martha Coakley: Target enforcement against corrupt long term care facilities.
Michael Capuano: Preserve all the Medicare benefits for seniors.
Stephen Pagliuca: Close the Medicare Part D "doughnut hole" coverage gap.
Stephen Pagliuca: Expand home and community-based long term care services.
Jobs
Alan Khazei: Enforceable workforce protection for seniors.
Jack Robinson: Restore the full protections of the age discrimination laws.
Martha Coakley: Restore the Age Discrimination in Employment Act.
Michael Capuano: Strengthen rights of seniors against age discrimination.
Stephen Pagliuca: Reverse Gross v FBL Financial: no age discrimination.
Social Security
Alan Khazei: Individual retirement accounts ok; but not from Trust Fund.
Jack Robinson: No diversion of payroll tax to individual retirement account.
Martha Coakley: Safety net of Social Security is more important than ever.
Michael Capuano: Resist any attempt to privatize Social Security.
Stephen Pagliuca: Never allow diverting into individual retirement accounts.
Technology
Alan Khazei: Focus on mobility as key determinants of senior wellness.
Jack Robinson: Supports Complete Streets policy for all ages & abilities.
Martha Coakley: Take into account drivers' abilities, from teens to seniors.
Michael Capuano: $6B to restore MA roads, bridges, and tunnels.
Stephen Pagliuca: Require federal fundees to adopt Complete Street principles.
Click for quotations from other sources by:
The above quotations are from 2009 AARP Voter Guide: Massachusetts Senate.
Related books, debates, and candidates:
2009 Special Election Senate Race:
2009 Special Election Senate Candidates: