---
Books by and about 2020 presidential candidates
Crippled America,
by Donald J. Trump (2015)
United,
by Cory Booker (2016)
The Truths We Hold,
by Kamala Harris (2019)
Smart on Crime,
by Kamala Harris (2010)
Guide to Political Revolution,
by Bernie Sanders (2017)
Where We Go From Here,
by Bernie Sanders (2018)
Promise Me, Dad ,
by Joe Biden (2017)
Conscience of a Conservative,
by Jeff Flake (2017)
Two Paths,
by Gov. John Kasich (2017)
Every Other Monday,
by Rep. John Kasich (2010)
Courage is Contagious,
by John Kasich (1998)
Shortest Way Home,
by Pete Buttigieg (2019)
The Book of Joe ,
by Jeff Wilser (2019; biography of Joe Biden)
Becoming,
by Michelle Obama (2018)
Our Revolution,
by Bernie Sanders (2016)
This Fight Is Our Fight,
by Elizabeth Warren (2017)
Higher Loyalty,
by James Comey (2018)
The Making of Donald Trump,
by David Cay Johnston (2017)
Books by and about the 2016 presidential election
What Happened ,
by Hillary Clinton (2017)
Higher Loyalty ,
by James Comey (2018)
Trump vs. Hillary On The Issues ,
by Jesse Gordon (2016)
Hard Choices,
by Hillary Clinton (2014)
Becoming ,
by Michelle Obama (2018)
Outsider in the White House,
by Bernie Sanders (2015)
---
Book Reviews

(from Amazon.com)

(click a book cover for a review or other books by or about the presidency from Amazon.com)
The Nine:
Inside the Secret World of the Supreme Court,
by Jeffrey Toobin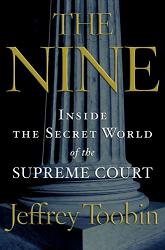 (Click for Amazon book review)
Click on a participant to pop-up their full list of quotations
from The Nine, by Jeffrey Toobin (number of quotes indicated):
BOOK REVIEW by OnTheIssues.org:
This book is a multiple biography of "The Nine" Supreme Court justices in the period from the 1990s until 2008. It covers both Clinton and Bush appointees, and hence actually covers more than a dozen people (just nine at any one time!). The book provides a deep profile of the mostly un-profiled lives of Supreme Court justices, including their career history and the reasoning behind their important judicial decisions. The author, Jeffery Toobin, was a lawyer who became a CNN pundit.
The book is in "plain English," more or less -- i.e. it's a good book for people interested in the Supreme Court from an institutional perspective, not from a legalistic perspective. It does descend occasionally into jargon like "denied cert", but explains the terms in layman's terms (that jargon means that the Supreme Court declined to hear a case, via a "writ of certiorari," which means the original court ruling stands).

The interesting aspect of the book is that Toobin considers the Supreme Court justices from a political perspective -- i.e., Toobin writes as a CNN pundit doing political analysis, rather than as a lawyer doing legal analysis. Toobin cites Supreme Court Justice Brennan on this distinction:

BRENNAN [to every incoming court clerk]: "What is the most important law for the Supreme Court?"

CLERKS: "The first amendment?" "The fourth amendment?"

BRENNAN: "No, it's 'the law of 5'." [which means, getting the 5 votes required for a majority opinion is all that really matters].

This book convinced OnTheIssues that we could cover Supreme Court nominees and justices with the same political analysis that we apply to candidates for federal office. Our editors for reading Supreme Court cases are trained lawyers (because reading case rulings requires a lot of legal jargon!), who typically are apprehensive at political analysis instead of legal analysis. We ask them to "pretend" that the justices are political and the results will then come out right. Readers can judge from our VoteMatch results whether we have succeeded. Some of Toobin's examples include:

Overall, this book is appropriate for any politically-savvy citizen who wants to better understand the Supreme Court. Toobin persuaded OnTheIssues that anyone who thinks that Supreme Court justices simply apply the law --without a political lens -- is a starry-eyed naïf. This book illustrates how the judicial branch of government is just as political as the legislative branch and the executive branch. We hope that Toobin refreshes the book with a new edition soon.
-- Jesse Gordon, jesse@OnTheIssues.org, editor-in-chief of OnTheIssues, July 2019
OnTheIssues.org excerpts: (click on issues for details)
Abortion
Antonin Scalia: Since Framers didn't allow abortion, the issue is settled.
Harry Blackmun: Right of personal privacy does exist under the Constitution.
Samuel Alito: Aggressive line of attack against Roe.
William Rehnquist: In minority on 7-2 vote on Roe v. Wade.
Government Reform
Richard Nixon: Campaigned on reining in the liberalism of the Supreme Court.
Ronald Reagan: Appointed judges who reinforced conservative political goals.
| | |
| --- | --- |
| Click for quotations from other sources by: | |
The above quotations are from The Nine:
Inside the Secret World of the Supreme Court,
by Jeffrey Toobin.
Books by Supreme Court Justices and nominees: