---
Books by and about 2020 presidential candidates
Crippled America,
by Donald J. Trump (2015)
United,
by Cory Booker (2016)
The Truths We Hold,
by Kamala Harris (2019)
Smart on Crime,
by Kamala Harris (2010)
Guide to Political Revolution,
by Bernie Sanders (2017)
Where We Go From Here,
by Bernie Sanders (2018)
Promise Me, Dad ,
by Joe Biden (2017)
Conscience of a Conservative,
by Jeff Flake (2017)
Two Paths,
by Gov. John Kasich (2017)
Every Other Monday,
by Rep. John Kasich (2010)
Courage is Contagious,
by John Kasich (1998)
Shortest Way Home,
by Pete Buttigieg (2019)
The Book of Joe ,
by Jeff Wilser (2019; biography of Joe Biden)
Becoming,
by Michelle Obama (2018)
Our Revolution,
by Bernie Sanders (2016)
This Fight Is Our Fight,
by Elizabeth Warren (2017)
Higher Loyalty,
by James Comey (2018)
The Making of Donald Trump,
by David Cay Johnston (2017)
Books by and about the 2016 presidential election
What Happened ,
by Hillary Clinton (2017)
Higher Loyalty ,
by James Comey (2018)
Trump vs. Hillary On The Issues ,
by Jesse Gordon (2016)
Hard Choices,
by Hillary Clinton (2014)
Becoming ,
by Michelle Obama (2018)
Outsider in the White House,
by Bernie Sanders (2015)
---
Book Reviews

(from Amazon.com)

(click a book cover for a review or other books by or about the presidency from Amazon.com)
The Choice
How Bill Clinton Won
by Bob Woodward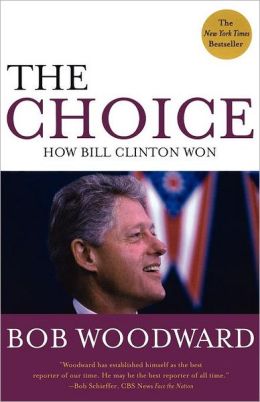 (Click for Amazon book review)
Click on a participant to pop-up their full list of quotations
from The Choice, by Bob Woodward (number of quotes indicated):
OnTheIssues.org BOOK REVIEW:
This book is another detailed behind-the-scenes political accounting by Bob Woodward, the Washington Post report who broke the Watergate story in the 1970s. Woodward writes an awful lot of "Inside Baseball": what's going on behind the scenes with each major (and minor) player; who approved and disapproved privately and publicly; and who met with whom on what date and under what circumstances. The focus of this book seems to be on the process of political speechwriting -- much too "insider" for most voters.
Woodward does like Pres. Clinton, which makes this book different than his recent books about Pres. Bush, whom evidently Woodward disliked intensely. Woodward analyzes Bob Dole's candidacy in this book; in other words, this book is about the 1996 campaign; Woodward evidently does not like Bob Dole much either. In comparison, The Agenda is about Bill Clinton's presidency (it too is an awful lot of "Inside Baseball").
Woodward's books are well-respected by the book reviewers and the political pundits. And they are fine books for those two elite classes of readers. For general readers, Woodward is not the best author.
-- Jesse Gordon, editor-in-chief, OnTheIssues.org, December 2012
OnTheIssues.org excerpts: (click on issues for details)
Budget & Economy
Al Gore: 1990s: Dems should not oppose a Balanced Budget.
Bill Clinton: 1992: A deficit hawk elected to fix the economy.
Bill Clinton: 1995: balance the budget in ten years.
Bob Dole: 1995 chief legislative goal: Balanced budget.
Erskine Bowles: 1990s: Support balanced budget with a date-certain plan.
Joseph Lieberman: 1995: Support balanced budget with a date-certain plan.
Newt Gingrich: 1995: Eliminate the annual federal deficit in 7 years.
Civil Rights
Bob Dole: 1996: Shift away from previous support of affirmative action.
Dick Cheney: 1995: Opposed gays in the military.
Pat Buchanan: Women are not endowed by nature with capitalism's fierceness.
Corporations
Pat Buchanan: 1995: America First's enemies are Wall Street & the bankers.
Education
Bill Clinton: Education is the best possible investment in people.
Bob Dole: Abolish four departments: Commerce, Energy, Education, & HUD.
Bob Dole: Voted consistently for voluntary school prayer.
Families & Children
Bob Dole: 2005: Hollywood crossed the line of taste and human dignity.
Free Trade
Bill Clinton: 1995: Determined to open Japanese auto market.
Pat Buchanan: Stopped belief in free trade when US lost manufacturing jobs.
Government Reform
Newt Gingrich: First 100 days: votes on 10 items of Contract with America.
Pat Buchanan: 1973: Destroy White House tapes, when first discovered.
Gun Control
Bob Dole: Repeal the ban on assault weapons.
Health Care
Bill Clinton: 1995 health plan lost on politics, not on substance.
Hillary Clinton: More people read my health plan abroad than in the US.
Joseph Lieberman: 1995 massive healthcare reform was too much.
Homeland Security
Bill Clinton: Our generation's enemies: terrorists & their state sponsors.
Immigration
Pat Buchanan: Easier to assimilate Englishmen than Zulus.
Principles & Values
Al Gore: 1990s: Weekly private lunch, inviolate, with Pres. Clinton.
Bill Weld: Considered run for presidency in 1996.
Bob Dole: 1994: Considered Colin Powell for V.P. & Secretary of State.
Bob Dole: Dole's strength: What you see is what you get.
Bob Dole: Values are connected with religion.
Colin Powell: 1996: Considered for V.P. by Bob Dole.
Dick Cheney: Decided against running for president in 1996.
Hillary Clinton: Bill and I believe in obligation to give something back.
Pat Buchanan: 1992: We lost nomination, but won the GOP's heart and soul.
Pat Buchanan: Hitler was genocidal but also a great orator.
Phil Gramm: 1995: Driven to run for presidency by zealot's zeal.
Richard Nixon: OpEd: Problem of Watergate wasn't cover-up, but lying.
Tax Reform
Bill Weld: 1990s: Produced nine tax cuts as governor of Tax-achussets.
Bob Dole: 1988: Refused to sign "Taxpayer Protection Pledge".
Welfare & Poverty
Bob Dole: 1996: Better to have some reform than wait for perfection.
| | |
| --- | --- |
| Click for quotations from other sources by: | |
The above quotations are from The Choice
How Bill Clinton Won
by Bob Woodward.
Other books by Bob Woodward: