---
Books by and about 2020 presidential candidates
Crippled America,
by Donald J. Trump (2015)
United,
by Cory Booker (2016)
The Truths We Hold,
by Kamala Harris (2019)
Smart on Crime,
by Kamala Harris (2010)
Guide to Political Revolution,
by Bernie Sanders (2017)
Where We Go From Here,
by Bernie Sanders (2018)
Promise Me, Dad ,
by Joe Biden (2017)
Conscience of a Conservative,
by Jeff Flake (2017)
Two Paths,
by Gov. John Kasich (2017)
Every Other Monday,
by Rep. John Kasich (2010)
Courage is Contagious,
by John Kasich (1998)
Shortest Way Home,
by Pete Buttigieg (2019)
The Book of Joe ,
by Jeff Wilser (2019; biography of Joe Biden)
Becoming,
by Michelle Obama (2018)
Our Revolution,
by Bernie Sanders (2016)
This Fight Is Our Fight,
by Elizabeth Warren (2017)
Higher Loyalty,
by James Comey (2018)
The Making of Donald Trump,
by David Cay Johnston (2017)
Books by and about the 2016 presidential election
What Happened ,
by Hillary Clinton (2017)
Higher Loyalty ,
by James Comey (2018)
Trump vs. Hillary On The Issues ,
by Jesse Gordon (2016)
Hard Choices,
by Hillary Clinton (2014)
Becoming ,
by Michelle Obama (2018)
Outsider in the White House,
by Bernie Sanders (2015)
---
Book Reviews

(from Amazon.com)

(click a book cover for a review or other books by or about the presidency from Amazon.com)
Jeb vs. Hillary On The Issues:
Side-by-side stances on the issues
by Jesse Gordon of OnTheIssues.org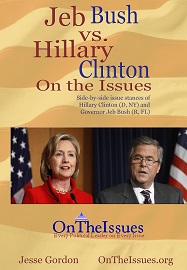 (Click for Amazon book review)
Click on a participant to pop-up their full list of quotations
from Jeb vs. Hillary On The Issues, by Jesse Gordon (number of quotes indicated):
Hillary Clinton (3)
Jeb Bush (3)
OR click on an issue category below for a subset.
BOOK SUMMARY by OnTheIssues.org:
This book puts OnTheIssues' web content into book form -- a direct comparison of issue stances -- not personal biographies, not political horserace analysis, not scandal histories. Each headline below is backed up with a referenced citation, in context, so you can compare for yourself what each candidate says. The comparisons are made convenient in a side-by-side layout, with book reviews and a VoteMatch issue summary at the end.
OnTheIssues.org excerpts: (click on issues for details)
Abortion
Hillary Clinton: Issues where Jeb Bush disagrees with Hillary.
Corporations
Hillary Clinton: OpEd: Disagrees with progressives on corporatism & military.
Homeland Security
Jeb Bush: OpEd: a multilateralist more than a neoconservative.
Immigration
Jeb Bush: OpEd: Disagrees with Tea Party on immigration and education.
Principles & Values
Hillary Clinton: OpEd: Sincerely religious, unlike Bill Clinton.
Jeb Bush: Issues where Jeb agrees with Hillary Clinton.
| | |
| --- | --- |
| Click for quotations from other sources by: | |
The above quotations are from Jeb vs. Hillary On The Issues:
Side-by-side stances on the issues
by Jesse Gordon of OnTheIssues.org.
---
| Domestic Issues | Hillary Clinton | Jeb Bush |
| --- | --- | --- |
| Gun Rights: | Rein in idea that anybody can have a gun anywhere, anytime | Stand-your-ground bill: Deadly force OK when threatened |
| Gun Crimes: | Against illegal guns; crack down on illegal gun dealers | Use a Gun and You're Done |
| Criminal Sentencing: | Mandatory sentences have been too widely used | 1990s: punishment over therapy; 2010s: that hardens people |
| Death Penalty: | Longtime advocate of death penalty, with restrictions | Fewer death-row appeals; faster executions |
| War on Drugs: | Divert non-violent drug offenders away from prison | Illegal drugs moving over US-Mexico border has intensified |
| Marijuana Legalization: | Medical marijuana now; wait-and-see on recreational pot | No medical marijuana; it's just a guise toward legalization |
| Transportation Infrastructure: | Infrastructure investment creates jobs AND improves security | Enraged by citizen initiative mandating high speed rail |
| Hurricane Recovery: | Overcome almost criminal indifference to Katrina rebuilding | 2004: Universal praise for handling spate of hurricanes |
| Environmental Protection: | Remove PCBs from Hudson River by dredging 200 miles | 1990s: Compensate landowners; 2010s: state-run conservation |
| Nuclear Power: | Voted against and consistently opposed to Yucca Mountain | Use federal funds for nuclear cleanup, with state input |
| Internet Taxation: | Ensure net neutrality: no corporate-tiered Internet | Level playing field for Main Street vs. Internet sales tax |
| Internet Freedom: | Balance Internet freedom of speech against defamation | Practice technology in context of virtue; not isolated pleasure |
| Government Secrecy: | Make sure surveillance doesn't go too far, like Snowden did | WikiLeaks is abhorrent but showed seriousness of Iran threat |
| Open Government: | Administration secrecy shreds the Constitution | Longer time and more fees to see public records |
| Voter Registration: | Same-day voter registration; no oppressive ID requirements | Scrubbed voter registration rolls to eliminate felons |
---
| Economic Issues | Hillary Clinton | Jeb Bush |
| --- | --- | --- |
| Corporate Regulation: | We need bankruptcy reform, but we need the right kind | Champion enterprise zones and business deregulation |
| Corporate Welfare: | Enough with corporate welfare; enough golden parachutes | Fight corporate welfare: snouts out of public trough |
| Recession Bailout: | Government action to tackle recession, not tax cuts | Bank bailouts were needed to avoid financial unraveling |
| Mortgage Crisis: | Foreclosure moratorium mitigates agony; doesn't prolong it | Mortgage bankers got us into this mess; they should solve it |
| Budget Deficit: | Look back to 1990s to see how I'd be fiscally responsible | Bipartisan compromise to reduce the deficit significantly |
| Environment vs. Economy | $5B for green-collar jobs in economic stimulus package | Restrict Eminent Domain; most severe of all gov't powers |
| Oil Drilling | Ban drilling in the Arctic National Wildlife Refuge | Drilling in Gulf of Mexico hurts Florida tourism industry |
| Renewable Energy | Tax oil profits to fund renewable energy | Replace crony capitalism with free-market strategy |
| Government Privatization: | Cut government contractors; end privatization of government | Privatize & outsource gov't; fee holidays for contractors |
| Campaign Finance Reform: | Stand for public financing and getting money out of politics | No campaign spending limits; no public financing |
| Capital Gains Tax: | Perhaps raise capital gains tax, but at most to 20% | Remove Intangibles Tax on stocks, bonds & dividends |
| Inheritance Tax: | Freeze estate tax at 2009 level of $7 million per couple | Supports estate tax repeal, but not at states' expense |
| Tax Reform: | Wealthy should go back to paying pre-Bush tax rates | Compromise on taxes ok, as part of a spending cut package |
---
| Entitlement Issues | Hillary Clinton | Jeb Bush |
| --- | --- | --- |
| ObamaCare: | Non-employer system better; but don't turn back ObamaCare | ObamaCare is flawed to its core |
| Medicare/Medicaid: | Recommended managed competition; not expanding Medicare | Move Medicaid from "defined benefit" to defined contribution |
| Mental Health: | Sponsored bill for mental health service for older Americans | Slashed every request for adult mental health |
| Medical Malpractice: | Voted NO on limiting medical liability lawsuits to $250,000 | Compromised on limiting medical malpractice awards |
| Union Policy: | Stand up for unions; organize for fair wages | School choice is about unions versus kids |
| Employment Policy: | Pushed for extension of unemployment insurance | Cutting taxes on job creators benefits everyone |
| Affirmative Action: | Equal pay is not yet equal | One Florida: equal minority contracts and admissions |
| College Policy: | Establish right to education from pre-school thru college | Guarantee college admission for top 20% of high school grads |
| Common Core: | OpEd: Common Core recycled from Clintons in 1980s & 1990s | Common Core lets 1,000 different curriculum flowers bloom |
| No Child Left Behind: | Ark. Education Reform taught that there is a place for testing | No Child Left Behind got states to start reforms |
| Charter Schools: | Charter schools provide choice within public system | 800,000 FL parents selected schools, not district zoning |
| School Vouchers: | Supports public school choice; but not private nor parochial | Education savings accounts: Fund students instead of schools |
| Social Security Privatization: | Privatization off the table; but maybe payroll cap increase | Privatization became administration's fundamental philosophy |
| Welfare Reform: | 1990s welfare work requirement was critical step despite flaws | Taking welfare should be more shameful than working |
| Faith-Based Organizations: | Partner with faith based community in empowerment zones | Welcome community and faith based organizations as partners |
---
| Social Issues | Hillary Clinton | Jeb Bush |
| --- | --- | --- |
| Abortion: | Make abortion rare by supporting adoption & foster care | No need to teach about abortion if we have moral absolutes |
| Family Planning: | Advocates birth control but OK with faith-based disagreement | Funded adoption counseling, but not abortion counseling |
| Stem Cells: | Expand embryonic stem cell research | Prevent use of public funds for stem cell research |
| Gay Rights: | GLBT progress since 2000, when I marched in gay pride parade | Gay rights & feminism are "modern victim movements" |
| Defense of Marriage Act: | I support gay marriage personally and as law | Traditional marriage best; but recognize gay couples |
| Families & Children: | "It Takes a Village" implies family as part of society | Pass moral judgment & teach virtue to our children |
| Foster Care Policy: | Even welfare children are better off with their parents | No Place Like Home initiative: find families for DCF kids |
| School Prayer: | Allow student prayer, but no religious instruction | School prayer OK if prayers are voluntary and student-led |
| Flag Issues: | Voted NO on Constitutional ban on flag desecration | Removed Confederate battle flag from Florida Capitol |
| Personal Faith: | I have always felt the presence of God in my life | 9/11/2001: after emergency meeting, went to church to pray |
| Principles & Values: | Make a pact not to give in to cynicism or hate | America is different because identity derives from ideals |
| Casino Gambling: | Supports Niagara casino, but prefers job creation strategy | Gambling is emblematic of "something for nothing" culture |
| Partisanship: | Triangulation replaces partisanship with a dynamic center | GOP isn't about orthodoxy & disallowing disagreement |
---
| National Security Issues | Hillary Clinton | Jeb Bush |
| --- | --- | --- |
| Terrorism Policy: | Called war on terror "Bush's war" but has played active role | $17M for new programs for terrorism response |
| ISIL (Islamic State): | Not helping Free Syrian Army left vacuum for ISIS to fill | ISIL's rise is because world has no clue where US will be |
| Benghazi: | Benghazi: Figure out what happened to prevent repeating | Conflicting accounts of Benghazi emboldens terrorists |
| September 11th: | Called for wrath on those who attacked America on 9/11 | Threat from 9/11 is unprecedented for our generation |
| Iranian Sanctions: | Political restraint against Iran's Ahmadinejad was a mistake | Encourage regime change in Iran; keep military option open |
| Iraq War: | I got it wrong on 2002 Iraq War vote | Keep US forces in Iraq, like we did after WWII |
| Israel/Palestine: | 2001 speech to AIPAC pledges money for Israeli military | Support Israel in its battle against terrorism |
| Afghanistan War: | Clinton-Gates combo won push for Afghan surge | OpEd: Not distancing himself from brother's Afghan policy |
| Defense Spending: | Our troops are stretched; so increase size of military | Make Florida the most military-friendly state in the nation |
| Military Bases: | No permanent bases, but continuing residual force in Iraq | Save Florida's 21 military bases from closure or downsizing |
| Cuba Policy: | Meet with Cuban leaders only after evidence of change | Strengthen the Cuban embargo instead of lifting it |
| Vietnam: | Vietnam converted her from conservative to liberal | 1971: Troubled by LBJ's Vietnam, but registered to serve |
| Korea Policy: | Get China involved with North Korea diplomacy | South Korea success: 1952 devastation to 2014 first-world |
| Russia Policy: | Take a harder line with Russia's Putin | Passivity hasn't worked on Russia and Ukraine |
---
| International Issues | Hillary Clinton | Jeb Bush |
| --- | --- | --- |
| Climate Change: | $100B per year by 2020 for climate change mitigation | I'm a skeptic about global warming |
| Kyoto Treaty: | Ratify Kyoto; more mass transit | Kyoto Treaty must include reductions by all countries |
| International Treaties: | Regrets US not part of International Criminal Court | We are leader among equals in community of nations |
| International Diplomacy: | New American Moment: new ways of global leadership | God grants liberty only to ready to defend it |
| International Alliances: | NATO essential for evolving threats of the 21st century | Nourish our existing alliances: that means NATO & Israel |
| Foreign Policy Doctrine: | Idealistic realism: embody hybrid rather than categorizing | Nourish our existing alliances: that means NATO & Israel |
| Ebola Policy: | Ebola won't stay confined; put resources into Africa | Handle Ebola crisis like I handled anthrax in Florida |
| China Policy: | Focus on BRICs: Brazil, Russia, India, China, & South Africa | Supports economic cooperation between US and China |
| Free Trade: | Supported NAFTA in 1998; opposed CAFTA since 2005 | Advocated Miami as HQ for Free Trade Area of the Americas |
| Latin American Policy: | Integrate with Latin America but focus on income inequality | 2010: Ineptitude will bring down Chavez regime in Venezuela |
| Mexico Policy: | More border patrolling on both Mexican AND Canadian borders | Deploy military on both sides of the US-Mexican border |
| Path to Citizenship: | Introduce a path to earn citizenship in the first 100 days | There is no realistic pathway to citizenship for most people |
| Sources of Immigration: | Immigrants keep America young and dynamic | Immigration is 'not a felony' but 'an act of love' |
| Comprehensive Immigration Reform: | Focus on comprehensive reform, not driver's licenses | 6-part proposal for comprehensive immigration reform |
---