---
Books by and about 2020 presidential candidates
Crippled America,
by Donald J. Trump (2015)
United,
by Cory Booker (2016)
The Truths We Hold,
by Kamala Harris (2019)
Smart on Crime,
by Kamala Harris (2010)
Guide to Political Revolution,
by Bernie Sanders (2017)
Where We Go From Here,
by Bernie Sanders (2018)
Promise Me, Dad ,
by Joe Biden (2017)
Conscience of a Conservative,
by Jeff Flake (2017)
Two Paths,
by Gov. John Kasich (2017)
Every Other Monday,
by Rep. John Kasich (2010)
Courage is Contagious,
by John Kasich (1998)
Shortest Way Home,
by Pete Buttigieg (2019)
The Book of Joe ,
by Jeff Wilser (2019; biography of Joe Biden)
Becoming,
by Michelle Obama (2018)
Our Revolution,
by Bernie Sanders (2016)
This Fight Is Our Fight,
by Elizabeth Warren (2017)
Higher Loyalty,
by James Comey (2018)
The Making of Donald Trump,
by David Cay Johnston (2017)
Books by and about the 2016 presidential election
What Happened ,
by Hillary Clinton (2017)
Higher Loyalty ,
by James Comey (2018)
Trump vs. Hillary On The Issues ,
by Jesse Gordon (2016)
Hard Choices,
by Hillary Clinton (2014)
Becoming ,
by Michelle Obama (2018)
Outsider in the White House,
by Bernie Sanders (2015)
---
Book Reviews

(from Amazon.com)

(click a book cover for a review or other books by or about the presidency from Amazon.com)
AmericansElect questionnaire by OnTheIssues.org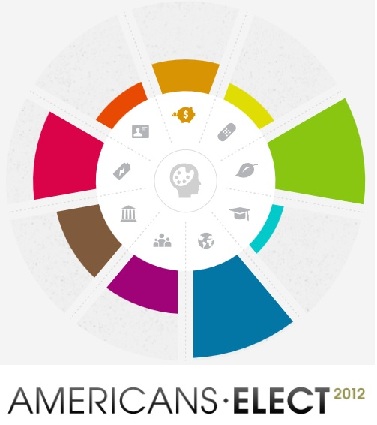 Click on a participant to pop-up their full list of quotations
from AmericansElect email questionnaire (number of quotes indicated):
OnTheIssues.org provides the underlying issue stances for AmericansElect.org. When elected officials or public figures request changes in our inferred responses, we do so via an email interview. Those interviews are summarized here.
Click here for a full explanation of the process by which we infer the underlying AmericansElect issue stances for elected officials and public figures.
OnTheIssues.org excerpts: (click on issues for details)
Budget & Economy
David Walker: 3 parts spending cuts to 1 part tax increase via reforms.
David Walker: Comprehensive tax reforms, capping tax at 20.5% of GDP.
Rocky Anderson: More spending cuts than tax increases.
Condoleezza Rice: More spending cuts than tax increases.
JL Mealer: Federal Budget is beyond bloated and full of waste.
Jill Stein: End the Bush-Obama recession; ask wealthy to pay share.
Jill Stein: Reduce spending via military cuts & preventive health.
Scott Brown: Cut spending & keep the tax burden low.
Scott Brown: Spending cuts preferred, but eliminating tax loopholes ok.
Civil Rights
David Walker: Civil unions with all the benefits; but no same-sex marriage.
Rocky Anderson: Same-sex couples should be allowed to marry legally.
Condoleezza Rice: Same-sex civil unions, but not marriage.
JL Mealer: No religious same-sex marriage; civil unions instead.
Jill Stein: First pro-gay-marriage candidate in first gay marriage state.
Scott Brown: Civil unions ok; federal same-sex marriage not ok.
Scott Brown: Gay marriage is a resolved issue in Massachusetts.
JL Mealer: Don't treat gay-Americans as hyphenated-Americans.
Corporations
Jill Stein: 1776 Revolution threw off corporate rule; it's creeping back.
Education
David Walker: Basic national standards; local control for curriculum.
Rocky Anderson: Curriculums by national standards; with local flexibility.
Condoleezza Rice: National standards rather than local school curriculum.
JL Mealer: All curriculum via local mandates.
Jill Stein: Focus on student needs, not corporate needs.
Jill Stein: Move school decisions from national to grassroots level.
Jill Stein: Charter school siphon resources from public schools.
Scott Brown: Transparency on teacher effectiveness and school funding.
Scott Brown: Curriculum set by local school boards more than nationally.
JL Mealer: Supports choosing schools via vouchers.
Energy & Oil
David Walker: More drilling now; invest in renewables now & over time.
Rocky Anderson: Strong investment in renewable energy like wind and solar.
Condoleezza Rice: Strong investment in renewable energy like wind and solar.
JL Mealer: Feds make too much money taxing fuels to cut fuel usage.
Jill Stein: Renewable energy is win-win for economy & national security.
Scott Brown: Energy efficiency yes; energy tax no.
Scott Brown: "All of the above" approach to energy independence.
JL Mealer: Drill here; drill now; end dependency.
JL Mealer: Replace most coal & oil; design non-EV autos.
Environment
David Walker: Protect natural resources balanced with human use.
Rocky Anderson: Natural resources should be mostly protected.
Condoleezza Rice: Protect natural resources, but also for benefit of humanity.
JL Mealer: Protect natural resources, but human benefit too.
Jill Stein: Environment & economy are interdependent; not at odds.
Jill Stein: Sustainable transportation plus sustainable food supply.
Scott Brown: Strong advocate for conservation; protect natural resources.
Foreign Policy
David Walker: Listen to other countries, but act in US self-interest.
Rocky Anderson: The US should always listen to other countries.
Condoleezza Rice: Listen to other countries before pursuing US interests.
JL Mealer: Other countries are rarely interested in US well-being.
Jill Stein: US should behave as member of world community, no world cop.
Scott Brown: Act in US interest without UN, but that includes foreign aid.
Free Trade
Jill Stein: NAFTA caused the wave of undocumented immigrants.
JL Mealer: No free trade; no UN membership.
Government Reform
Jill Stein: Building for the future makes America great.
Scott Brown: Leader on addressing waste, fraud, and abuse.
Health Care
David Walker: Demographics will require more federal healthcare funding.
David Walker: Repeal and replace ObamaCare if Supreme Court doesn't.
David Walker: Annual budget limit on all federal health care spending .
David Walker: Universal care that is appropriate, affordable & sustainable.
Rocky Anderson: Government should be sole payer, but not sole provider.
Condoleezza Rice: Limited role for government providing healthcare insurance.
JL Mealer: No-profit healthcare: push Federal Health Insurance Bank.
Jill Stein: Streamline bureaucracy: $400B yearly for comprehensive care.
Jill Stein: 30% of healthcare costs squandered on ads & CEO salaries.
Scott Brown: Massachusetts system good; ObamaCare no good.
Scott Brown: Limited government role in providing healthcare .
JL Mealer: Treat those who are incapable of caring for themselves.
JL Mealer: Replace ObamaCare with Mealer Economic Initiative.
Immigration
David Walker: Path to legal status but not to citizenship.
Rocky Anderson: Most illegal immigrants should be able to stay in the US.
Condoleezza Rice: Most illegal immigrants should be able to stay in the US.
Jill Stein: Undocumented immigrants are critical component of economy.
Jill Stein: No pathway to citizenship for criminals; open to all others.
Scott Brown: Tighten our borders; no blanket amnesty.
JL Mealer: Earn citizenship via the Mealer Immigration Policy.
JL Mealer: End Mexican drug trade by path to citizenship.
Jobs
Jill Stein: Green New Deal: emergency program for 25M jobs.
Principles & Values
David Walker: Many founding principles are timeless, & have been violated.
David Walker: Priorities on economy over foreign & social issues.
Rocky Anderson: US should keep building and adapting for the future.
Condoleezza Rice: American greatness from values of our forefathers.
JL Mealer: Return to the examples and values of our forefathers.
Jill Stein: Join with Occupy movement to throw off rule by the 1%.
Tax Reform
JL Mealer: Replace tax system with the FairTax.
| | |
| --- | --- |
| Click for quotations from other sources by: | |
The above quotations are from AmericansElect questionnaire by OnTheIssues.org.
Related books, debates, and candidates: