---
Books by and about 2020 presidential candidates
Crippled America,
by Donald J. Trump (2015)
United,
by Cory Booker (2016)
The Truths We Hold,
by Kamala Harris (2019)
Smart on Crime,
by Kamala Harris (2010)
Guide to Political Revolution,
by Bernie Sanders (2017)
Where We Go From Here,
by Bernie Sanders (2018)
Promise Me, Dad ,
by Joe Biden (2017)
Conscience of a Conservative,
by Jeff Flake (2017)
Two Paths,
by Gov. John Kasich (2017)
Every Other Monday,
by Rep. John Kasich (2010)
Courage is Contagious,
by John Kasich (1998)
Shortest Way Home,
by Pete Buttigieg (2019)
The Book of Joe ,
by Jeff Wilser (2019; biography of Joe Biden)
Becoming,
by Michelle Obama (2018)
Our Revolution,
by Bernie Sanders (2016)
This Fight Is Our Fight,
by Elizabeth Warren (2017)
Higher Loyalty,
by James Comey (2018)
The Making of Donald Trump,
by David Cay Johnston (2017)
Books by and about the 2016 presidential election
What Happened ,
by Hillary Clinton (2017)
Higher Loyalty ,
by James Comey (2018)
Trump vs. Hillary On The Issues ,
by Jesse Gordon (2016)
Hard Choices,
by Hillary Clinton (2014)
Becoming ,
by Michelle Obama (2018)
Outsider in the White House,
by Bernie Sanders (2015)
---
Book Reviews

(from Amazon.com)

(click a book cover for a review or other books by or about the presidency from Amazon.com)
This Is Not Florida:
How Al Franken Won the Minnesota Senate Recount,by Jay Weiner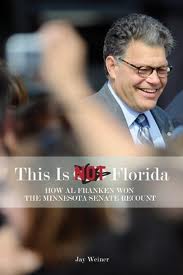 (Click for Amazon book review)
Click on a participant to pop-up their full list of quotations
from This Is Not Florida, by Jay Weiner (number of quotes indicated):
BOOK REVIEW by OnTheIssues.org:
Al Franken got elected to the Senate in 2009. The election was held in November 2008, like normal, but the election was not decided until July 2009. After a long court battle, Al Franken, the former Saturday Night Live comic, was finally declared the winner against incumbent Republican Senator Norm Coleman, and was seated in the Senate. For seven months, Minnesota was down one Senate representative. This court battle was strongly reminiscent of the Bush-Gore court battle in 2000, except for three things:
Few people outside of Minnesota paid attention to this court battle;
The intense partisan animosity of Bush v. Gore was absent;
And, perhaps because of item 1 or item 2 above, or both, the Coleman-Franken court battle took eight months instead of the one month required for Bush v. Gore, and hence included seven months where the Senate seat remained empty.
This book is named after the Bush-Gore recount battle, which focused on the presidential ballots in Florida. One judge in the Coleman-Franken recount said (p. xx), "This is not Florida; we've got a case in Minnesota." Several of the players on both sides of the Coleman-Franken court battle were imported from the Bush-Gore case, so comparing the Minnesota recount to Florida was of obvious relevance.

The author's conclusion about why Franken won the court battle comes down to this: "Coleman's campaign didn't have that depth of data and the hunting-and-gathering DNA in its organizational blood." (p. 62). In other words, Franken had several advantages over Coleman which proved decisive:
Franken had a detailed supporter list to whom they could go, to seek evidence and testimony.
Franken's staff were willing and able (including financially) to go out to seek evidence and testimony.
In summary, Franken worked harder and more effectively at the recount battle, and earned the election as a result.
Why would that be so? Why would an incumbent Senator NOT work hard in a post-election recount battle? The author has an answer to that too. It became obvious to Coleman, a few weeks after the election, that he would lose the court battle, because Franken would win despite any court rulings about how the ballots were recounted. So Coleman's post-election strategy was to delay, while Franken's post-election strategy was to win. Coleman benefited from delaying because the Senate was down one Democratic vote as long as Franken was not seated. In other words, Coleman extended the court battle as long as possible to perform his final duty for the Republican Party.

This book is great for political insiders. For normal voters, it's way too much detail: a day-by-day, blow-by-blow description of a eight-month court battle. In fact, it's way WAY too much detail, for anyone except the junkiest of political junkies. Reading our excerpts should be plenty for just about anyone.

-- Jesse Gordon, editor-in-chief, OnTheIssues.org, Dec. 2011

OnTheIssues.org excerpts: (click on issues for details)
Civil Rights
Al Franken: Apologized for comic routines that offended women.
Drugs
Al Franken: Admitted drug use during days as TV comedian.
Al Franken: Wrote two movies about drug addiction and its horrors.
Mike Ciresi: 2007: acknowledged past marijuana dabbling.
Norm Coleman: Opposed to legalizing marijuana despite past usage.
Homeland Security
Al Franken: 2005: Coleman should've held hearings on post-war corruption.
Jobs
Al Franken: 2005: Fined $25,000 for failing to insure workers.
Principles & Values
Al Franken: Spent $20M on campaign; more for Great Minnesota Recount.
Al Franken: Recount: What do we want? Patience! When do we want it? Now!
Al Franken: OpEd: Franken should have beaten Coleman easily in blue MN.
Al Franken: Decided to take on Coleman when he berated Paul Wellstone.
Al Franken: 2005: Formed progressive Midwest Values PAC.
Al Franken: Response to attack ad "Angry Al":why isn't Coleman outraged?
Al Gore: 2000: Urged to recount all FL; focused on just 4 counties.
Christine Gregoire: 2004 recount battle determined by absentee ballots.
Mary Landrieu: 1996-97: ten-month investigation over voting irregularities.
Norm Coleman: If I were 725 votes down, I'd say 'We need to heal'.
Norm Coleman: I'm a 99% improvement over Paul Wellstone.
Norm Coleman: 2002: Hand-picked by Vice President Dick Cheney.
Norm Coleman: Attack ad: evaded questions about $75K donation through wife.
Paul Wellstone: Died 12 days before likely re-election.
Technology
Al Franken: 21st-century communication methods helped win recount.
Norm Coleman: Paper pads to fight Franken's 21st-century communications.
War & Peace
Al Franken: Consistently opposed to Iraq War.



| | |
| --- | --- |
| Click for quotations from other sources by: | |
The above quotations are from This Is Not Florida:
How Al Franken Won the Minnesota Senate Recount,by Jay Weiner.
Other 2008 Senate debates: