---
Books by and about 2020 presidential candidates
Crippled America,
by Donald J. Trump (2015)
United,
by Cory Booker (2016)
The Truths We Hold,
by Kamala Harris (2019)
Smart on Crime,
by Kamala Harris (2010)
Guide to Political Revolution,
by Bernie Sanders (2017)
Where We Go From Here,
by Bernie Sanders (2018)
Promise Me, Dad ,
by Joe Biden (2017)
Conscience of a Conservative,
by Jeff Flake (2017)
Two Paths,
by Gov. John Kasich (2017)
Every Other Monday,
by Rep. John Kasich (2010)
Courage is Contagious,
by John Kasich (1998)
Shortest Way Home,
by Pete Buttigieg (2019)
The Book of Joe ,
by Jeff Wilser (2019; biography of Joe Biden)
Becoming,
by Michelle Obama (2018)
Our Revolution,
by Bernie Sanders (2016)
This Fight Is Our Fight,
by Elizabeth Warren (2017)
Higher Loyalty,
by James Comey (2018)
The Making of Donald Trump,
by David Cay Johnston (2017)
Books by and about the 2016 presidential election
What Happened ,
by Hillary Clinton (2017)
Higher Loyalty ,
by James Comey (2018)
Trump vs. Hillary On The Issues ,
by Jesse Gordon (2016)
Hard Choices,
by Hillary Clinton (2014)
Becoming ,
by Michelle Obama (2018)
Outsider in the White House,
by Bernie Sanders (2015)
---
Book Reviews

(from Amazon.com)

(click a book cover for a review or other books by or about the presidency from Amazon.com)
Back-to-back speeches by John McCain and Barack Obama at the NALEO conference, National Association of Latino Elected & Appointed Officials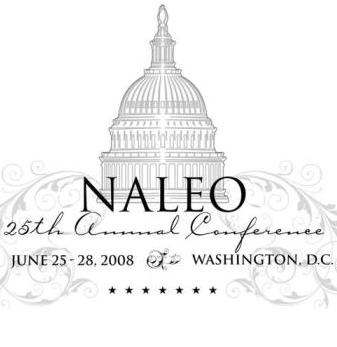 Click on a participant to pop-up their full list of quotations
from Back-to-back speeches at NALEO (number of quotes indicated):
Barack Obama (6)
John McCain (7)
OR click on an issue category below for a subset.
OnTheIssues.org excerpts: (click on issues for details)
Budget & Economy
Barack Obama: Latinos & blacks are hardest hit by housing & gas crises.
Civil Rights
Barack Obama: Has stood together with Latino leaders for last 20 years.
Corporations
John McCain: Government should be on businesses' side, not in their way.
Education
John McCain: Shake up failed school bureaucracies with competition.
Energy & Oil
John McCain: Address both the supply and demand sides of imported oil.
John McCain: Lexington Project: invest to achieve energy security.
Free Trade
John McCain: When have Americans ever been afraid of foreign competition?
Immigration
Barack Obama: America has nothing to fear from today's immigrants.
Barack Obama: We need comprehensive reform, like McCain used to support.
Barack Obama: Recognize the humanity of immigrants: Todos somos Americanos.
John McCain: Restart comprehensive reform only after securing borders.
Principles & Values
Barack Obama: ¡Sí, se puede! Yes, we can!
Tax Reform
John McCain: Terrible mistake to raise taxes during an economic downturn.
| | |
| --- | --- |
| Click for quotations from other sources by: | |
The above quotations are from Back-to-back speeches by John McCain and Barack Obama at the NALEO conference, National Association of Latino Elected & Appointed Officials.
Related books, debates, and candidates:


Debates:
Third debate, Hofstra U., Hempstead NY, Oct. 15, 2008
Second debate, Belmont U., Nashville TN, Oct. 7, 2008
V.P. debate, Washington U. in St. Louis, Oct. 2, 2008
First debate, U. Mississippi, Sept. 26, 2008


Convention coverage:
Democratic Convention, Aug. 26-28, 2008
Republican Convention, Sep. 2-4, 2008
Joint apperances by McCain and Obama:
Saddleback Civil Forum on the PresidencyAug 16, 2008
NAACP 99th Annual Conference, July 12, 2008
NALEO 25th Annual Conference, June 28, 2008


Biographies & platforms: (excerpts and book reviews)
Promises to Keep: On Life and Politics, by Joe Biden
Why Courage Matters, by John McCain
Faith of My Fathers: A Family Memoir, by John McCain
The Blueprint for Change, Obama's campaign platform booklet
Dreams From My Father, by Barack Obama
The Audacity of Hope: Thoughts on Reclaiming the American Dream, by Barack Obama