---
Books by and about 2020 presidential candidates
Crippled America,
by Donald J. Trump (2015)
United,
by Cory Booker (2016)
The Truths We Hold,
by Kamala Harris (2019)
Smart on Crime,
by Kamala Harris (2010)
Guide to Political Revolution,
by Bernie Sanders (2017)
Where We Go From Here,
by Bernie Sanders (2018)
Promise Me, Dad ,
by Joe Biden (2017)
Conscience of a Conservative,
by Jeff Flake (2017)
Two Paths,
by Gov. John Kasich (2017)
Every Other Monday,
by Rep. John Kasich (2010)
Courage is Contagious,
by John Kasich (1998)
Shortest Way Home,
by Pete Buttigieg (2019)
The Book of Joe ,
by Jeff Wilser (2019; biography of Joe Biden)
Becoming,
by Michelle Obama (2018)
Our Revolution,
by Bernie Sanders (2016)
This Fight Is Our Fight,
by Elizabeth Warren (2017)
Higher Loyalty,
by James Comey (2018)
The Making of Donald Trump,
by David Cay Johnston (2017)
Books by and about the 2016 presidential election
What Happened ,
by Hillary Clinton (2017)
Higher Loyalty ,
by James Comey (2018)
Trump vs. Hillary On The Issues ,
by Jesse Gordon (2016)
Hard Choices,
by Hillary Clinton (2014)
Becoming ,
by Michelle Obama (2018)
Outsider in the White House,
by Bernie Sanders (2015)
---
Book Reviews

(from Amazon.com)

(click a book cover for a review or other books by or about the presidency from Amazon.com)
Top 10 Visionaries that Changed the World
500 Life and Business Lessons
by George Ilian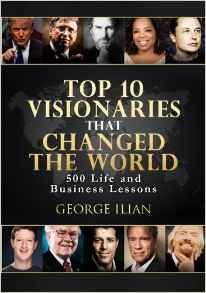 (Click for Amazon book review)
Click on a participant to pop-up their full list of quotations
from Top 10 Visionaries (number of quotes indicated):
Arnold Schwarzenegger (3) California Former Republican Governor (2003-2010)
OR click on an issue category below for a subset.
BOOK REVIEW by OnTheIssues.org:
Well, the best we can say about this book is "it's a heck of lot better than Ilian's other book." His other book, 100 Valuable Leadership Lessons from 10 U.S. Presidents, had the same idea as this book, but in a historical context. The common format is to apply the lessons to today's daily life from business leaders (in this book) or past presidents (in the earlier book). Ilian's level of history put the past president book at a high-school level; this book is perhaps at a college freshman level. The business leaders include:
Donald Trump, the reason we read this book; Ilian has some decent pre-election analysis
Arnold Schwarzenegger, whom we also excerpt; he is a business leader, according to Ilian, because of his bodybuilding career and his film career.
Steve Jobs of Apple Computers
Bill Gates of Microsoft
Elon Musk of Tesla Motors and SpaceX
Mark Zuckerberg of Facebook
Oprah Winfrey of OWN Network
Richard Branson of Virgin Atlantic airline and Virgin Records
Tony Robbins of "Awaken the Giant Within"
Warren Buffett of Berkshire Hathaway
We excerpt only from the two political sections; the other eight sections are outside the scope of OnTheIssues. But the two political sections were enjoyable light reading -- not a lot of political insight, and not a lot of "Life and Business Lessons" -- but a nice summary of key events from Trump's and Schwarzenegger's lives.

-- Jesse Gordon, jesse@OnTheIssues.org, Jan. 2017

OnTheIssues.org excerpts: (click on issues for details)
Abortion
Arnold Schwarzenegger: State funding for stem cell research, despite Bush ban.
Energy & Oil
Arnold Schwarzenegger: The future is sustainable green energy.
Jobs
Arnold Schwarzenegger: As governor, raised minimum wage to $8.50.



Click for quotations from other sources by:
Arnold Schwarzenegger California Former Republican Governor (2003-2010)
The above quotations are from Top 10 Visionaries that Changed the World
500 Life and Business Lessons
by George Ilian.