The Ralph Nader Reader, by Ralph Nader, Oct. 1, 2000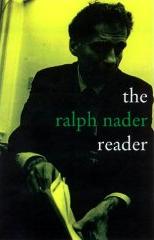 (Click for Amazon book review)
BOOK REVIEW by OnTheIssues.org:
This book contains a collection of published essays and speech transcripts by Ralph Nader in the period 1959 through 1999. Yes, you read that right -- 1959 -- Nader has been in public life for nearly a half-century now. We'll get to the ramifications for his 2008 presidential run later, but first we'll review the book.
The collection has a handful of representative pieces in the following categories (the categories therefore represent Nader's highest career priorities):
On the presidency and democracy
On the corporate state and the corporatizing of America
On corporate welfare
On opposing the World Trade Organization
On consumer rights
On tort reform
On citizen action and social change
On practicing law
On the information age
On the media
Since 1996, when Nader made his first presidential run, people have considered Nader a political figure. But in fact that is not the focus of his career -- his actual focus has been as a consumer advocate and legal activist. His long list of accomplishments include:
1965: Published "Unsafe at Any Speed", about GM's Corvair, and started the movement for auto safety which resulted in seat belts & airbags, as well as the establishment of the National Highway Traffic Safety Administration.
1966: Coined the phrase "Corporate Welfare" and started the movement to address the issue.
1971: Founded "Public Citizen" (the formal name for his group nicknamed "Nader's Raiders"), an umbrella organization of groups working on consumer rights and government corruption. Nader's organizations are credited with establishing:

The Safe Drinking Water Act
Freedom of Information Act (FOIA)
Occupational Safety and Health Administration (OSHA)
Environmental Protection Agency (EPA)
The Consumer Product Safety Commission

1980: Founded Multinational Monitor, a magazine covering multinational corporations
1993: Founded the Appleseed Foundation, a funding organization to assist with local change and activism.
2000: Published "Crashing the Party", about how the two-party system quashes outside opinions and candidates.
Any one of the accomplishments listed above would be a typical person's primary accomplishment of their lifetime -- but for Nader, it is just a small sampling of his full list of accomplishments. Whether you agree or disagree with his politics, you must acknowledge that Nader has done more than almost any other person to change America. Democrats and Republicans alike can find things in their daily lives that they think are better because of Nader's work.

And that brings us to the political consideration. Democrats and Republicans alike hate Nader -- Democrats, because Nader costs them elections; and Republicans, because Nader represents all the wrong policy choices. So, if he's hated by both sides, why does Nader run? As a political activist, I've thought about that question a lot, over many years, and will provide a policy answer below and then a psychological answer in another review.

I think Nader ran for president in 1996 and then 2000 because he saw that his policy accomplishments were at risk. His stated core issue was about the corporatization of American politics -- that big business funded major-party candidates, who then catered to the needs of big business after they got elected. All of Nader's accomplishments focus on empowering individuals over the empowerment of big business and big government -- so the way to make his life's work last longer would be to attack the corporate forces that oppose the agencies he caused to be founded. Nader's much-maligned characterization of the two major party's candidates in 2000 as "Tweedle-Dum and Tweedle-Dee" meant that it was just a matter of WHICH big businesses funded the party in question; they were "the same", in Nader's view, in being beholden to corporate interests.

To some extent, Nader accomplished his purpose in 2000. Corporate issues, lobbying, campaign reform, and their related issues are now a solid part of the American political dialogue, even if the third-party candidates who most loudly espouse those views are not. FOIA is permanent despite the Bush Administration's dislike of it; the EPA has Cabinet rank; no one questions OSHA and plenty of people question NAFTA. Nader's legacy will assuredly live on for many decades to come.

Nader explores his rationale for running in 2000 -- as well as insight for his runs in 2004 and 2008 -- in his political book, Crashing the Party.

-- Jesse Gordon, jesse@OnTheIssues.org, April 2008


OR click on an issue category below for a subset.



Click for quotations from other sources by:
The above quotations are from The Ralph Nader Reader, by Ralph Nader, Oct. 1, 2000. Error processing SSI file