---
Candidate Debates
St. Anselm NH debate
June 13, 2011
Faith & Freedom Conference
June 4, 2011
South Carolina debate
May 5, 2011
NRA Conference
May 1, 2011
CPAC Conference
Feb. 11, 2011
---
Candidate Books
---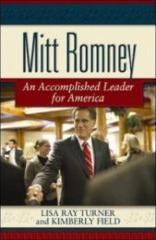 Mitt Romney: The Man, His Values and His Vision, by Lisa Ray Turner and Kimberly Field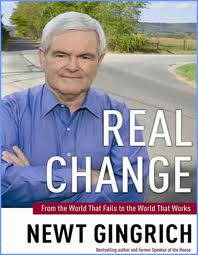 Real Change, by Speaker Newt Gingrich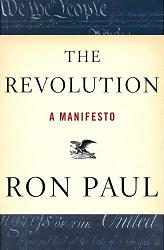 The Revolution: A Manifesto, by Ron Paul, published April 2008


Tim Pawlenty: The Sam's Club Republican, by J. A. McClure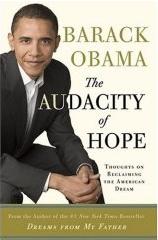 The Audacity of Hope,
by Sen. Barack Obama (D, IL)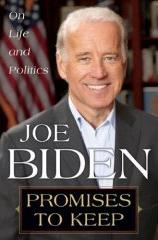 Promises to Keep: On Life and Politics, by Joe Biden
---
Withdrawn Candidates
---

The America We Deserve, by Donald Trump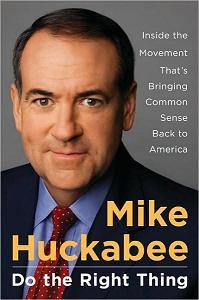 Do the Right Thing, by Mike Huckabee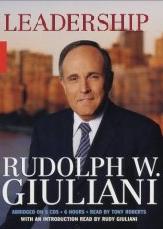 Leadership, autobiography by Rudolph Giuliani

America by Heart, by Sarah Palin
---
Book Reviews

(from Amazon.com)

(click a book cover for a review or other books by or about the presidency from Amazon.com)
Sen. Jim Talent (R) debates Claire McCaskill (D), in the Missouri Senate Debate on Meet the Press, moderated by Tim Russert, Oct. 8, 2006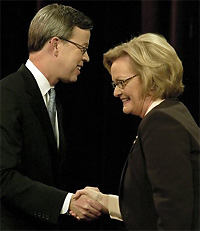 Click on a participant to pop-up their full list of quotations
from 2006 Missouri Senate Debate (number of quotes indicated):
Claire McCaskill (7)
Jim Talent (8)
OR click on an issue category below for a subset.
Abortion
Claire McCaskill: Support embryonic stem cell research but not cloning.
Claire McCaskill: Support a ban on partial-birth abortion.
Jim Talent: Oppose embryonic stem cell research that involves cloning.
Jim Talent: Favor exemptions in abortion law but not stem cell research.
Budget & Economy
Claire McCaskill: $300 billion in Iraq is a lot of money.
Jim Talent: The $300 billion spent on Iraq is 1 perfect of the GDP.
Homeland Security
Claire McCaskill: Support surveillance with civil rights protection.
Principles & Values
Claire McCaskill: Hastert should resign his speakership for a cover-up.
Jim Talent: Hastert should resign his speakership if found responsible.
War & Peace
Claire McCaskill: Need to change course in Iraq.
Claire McCaskill: Redeploy our troops in Iraq to Afghanistan to find bin Laden.
Jim Talent: Oppose an artificial timetable for withdrawing from Iraq.
Jim Talent: Need to season the Iraqi army before leaving Iraq.
Jim Talent: Our troops must stay in Iraq until the job is done.
Jim Talent: Would still have invaded Iraq knowing there were no weapons.
Click for quotations from other sources by:
The above quotations are from Sen. Jim Talent (R) debates Claire McCaskill (D), in the Missouri Senate Debate on Meet the Press, moderated by Tim Russert, Oct. 8, 2006.