Jesse Jackson : The Search for Common Ground, by Charles P. Henry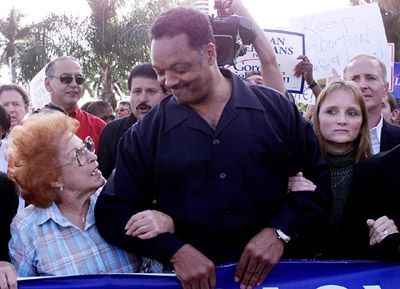 (Click for Amazon book review)
Click here for 17 full quotes from Rev. Jesse Jackson in the book The Search for Common Ground.
OR click on an issue category below for a subset.
OnTheIssues.org excerpts: (click on issues for details)
Budget & Economy
Economic justice & fairness over efficiency.
Civil Rights
Pledged woman V.P. in 1984; key to Geraldine Ferraro in 1988.
Participated in gay rights rallies during 1988 campaign.
First serious black presidential candidate.
Education
Involve parents in school decision-making.
Families & Children
Jackson populism: attack big business; stress family values.
Homeland Security
Commitment against first use of nuclear weapons.
Immigration
Supports bilingual ed.; opposed Reagan's immigration reform.
Principles & Values
My religion obligates me to be political.
Politically progressive: responsibility over victimhood.
Apologized for calling NYC "Hymietown".
Was 1988 frontrunner after winning Michigan primary.
Rainbow Coalition: specific groups instead of a melting pot.
Tax Reform
Tax wealthy & business more, to pay for social programs.
War & Peace
Endorsed self-determination for Palestinians.
Got US POW released from Syria in 1984.
Welfare & Poverty
Deal forcefully with "permanent disaster areas" in cities.
| | |
| --- | --- |
| Click for quotations from other sources by: | |
The above quotations are from Jesse Jackson : The Search for Common Ground, by Charles P. Henry.
Page last edited: Apr 16, 2013