---
Books by and about 2020 presidential candidates
Crippled America,
by Donald J. Trump (2015)
United,
by Cory Booker (2016)
The Truths We Hold,
by Kamala Harris (2019)
Smart on Crime,
by Kamala Harris (2010)
Guide to Political Revolution,
by Bernie Sanders (2017)
Where We Go From Here,
by Bernie Sanders (2018)
Promise Me, Dad ,
by Joe Biden (2017)
Conscience of a Conservative,
by Jeff Flake (2017)
Two Paths,
by Gov. John Kasich (2017)
Every Other Monday,
by Rep. John Kasich (2010)
Courage is Contagious,
by John Kasich (1998)
Shortest Way Home,
by Pete Buttigieg (2019)
The Book of Joe ,
by Jeff Wilser (2019; biography of Joe Biden)
Becoming,
by Michelle Obama (2018)
Our Revolution,
by Bernie Sanders (2016)
This Fight Is Our Fight,
by Elizabeth Warren (2017)
Higher Loyalty,
by James Comey (2018)
The Making of Donald Trump,
by David Cay Johnston (2017)
Books by and about the 2016 presidential election
What Happened ,
by Hillary Clinton (2017)
Higher Loyalty ,
by James Comey (2018)
Trump vs. Hillary On The Issues ,
by Jesse Gordon (2016)
Hard Choices,
by Hillary Clinton (2014)
Becoming ,
by Michelle Obama (2018)
Outsider in the White House,
by Bernie Sanders (2015)
---
Book Reviews

(from Amazon.com)

(click a book cover for a review or other books by or about the presidency from Amazon.com)
The Natural:
The Misunderstood Presidency of Bill Clinton, by Joe Klein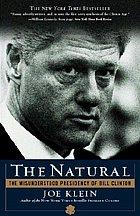 (Click for Amazon book review)
Click on a participant to pop-up their full list of quotations
from The Natural, by Joe Klein (number of quotes indicated):
BOOK REVIEW by OnTheIssues.org:
This is the biography to read if you want to understand Bill Clinton. It is not pro-Clinton nor is it anti-Clinton -- it feels like journalism rather than propaganda. So many political biographies feel like advocacy that it's refreshing to read one that does not.
Joe Klein, the author, is most renowned for his anonymously-published book, "Primary Colors", about the 1992 primaries. Klein writes for "The New Republic" and several newspapers which are usually called liberal; but he is described as a neoconservative who admires George W. Bush. Hence he has a mixed opinion politically about Clinton, and that mixed opinion comes out in this book.
OnTheIssues.org feels that political biography is superior to political autobiography because autobiography is inherently biased. Readers cannot get a fully balanced picture of Bill Clinton from his autobiography, My Life, because Clinton uses his memoir to present his view of things without presenting his opponents' views. While Clinton's autobiography is valuable reading as well, like any autobiography, it leaves many things unsaid. Klein says them here.
OnTheIssues.org was approached by several media organizations during the 2008 presidential campaign to talk about presidential candidate autobiographies, because our editors have read all of them. In each case, we offered to also discuss books ABOUT the leading candidates as well as books BY the leading candidates, based on the "balancing" view above. For example, we considered the best character sketches of the leading candidates to be A Bound Man for Barack Obama; The Myth of a Maverick for John McCain; and God and Hillary for Hillary Clinton. All those offers were declined -- the media really do prefer autobiography to biography. We hope readers here try both.
-- Jesse Gordon, jesse@OnTheIssues.org, November 2008
OnTheIssues.org excerpts: (click on issues for details)
Budget & Economy
Bill Clinton: OpEd: Despite personal issues, ran a disciplined presidency.
Bill Clinton: Reduced federal deficit from eleven zeroes to simply zero.
Bill Clinton: 1992: Connected with audience on recession's personal effect.
Bill Clinton: 1995 budget impasse blamed on Republican intransigence.
Bill Clinton: New Clintonism demonstrated in 1997 balanced budget.
George Bush Sr.: 1992 debate: Disconnected on recession's personal effect.
Robert Reich: Reagan cuts intended to produce deficits & prevent programs.
Civil Rights
Bill Clinton: 1991: Pledged to allow gays to serve openly in military.
Bill Clinton: MLK didn't fight for freedom to abandon family.
Bill Clinton: 1996: Supported affirmative action despite its unpopularity.
Bill Clinton: Believed in affirmative action on racial & personal grounds.
Crime
Bill Clinton: Approved Arkansas execution of mentally retarded black man.
Education
Bill Clinton: 1997: Established middle class entitlement: 2 years college.
Energy & Oil
Al Gore: 1993: BTU tax failed because too complicated.
Foreign Policy
Bill Clinton: Foreign policy is domestic policy.
Bill Clinton: 1995: Pushed Mexican peso "bailout"; Mexico repaid all loans.
Free Trade
Bill Clinton: Traditional borders challenged by new technologies.
Bill Clinton: Assumed that economic globalization was inevitable.
Bill Clinton: Our tariff reductions were largest tax cut in world history.
Government Reform
Al Gore: 1993: Why do we need 10 pages of regulations for ashtrays?
Al Gore: Passion about technical needs of Reinventing Government.
Bill Clinton: OpEd: Mastered legislative process in 1995 budget impasse.
Bill Clinton: Favored tax incentives over new bureaucracies.
Hillary Clinton: Visited many non-governmental programs on India trip.
Joe Biden: Modern Congress is much cleaner than in 1970s or 1950s.
Joe Biden: Campaign reform in 1980s made more problems than it solved.
Joe Biden: Disallowed bringing pornography issues into Thomas hearing.
Health Care
Bill Clinton: Preferred healthcare vouchers in 1994.
Hillary Clinton: 1990s plan based on employer mandate.
Homeland Security
Bill Clinton: Established AmeriCorps as national service program.
Bill Clinton: 1998: Accused of "wagging the dog" by attacking Bin Laden.
Bill Clinton: Promise of national service watered down in AmeriCorps.
Principles & Values
Al Gore: Discomfort with Lewinsky because his daughter was same age.
Bill Clinton: OpEd: 1998 scandal: surplus of libido & deficit of integrity.
Bill Clinton: Awe & disappointment intertwined in Clinton staff.
Bill Clinton: Third Way Principles: opportunity, responsibility, community.
Bill Clinton: OpEd: Virginia an unlikely, but American, presidential mom.
Bill Clinton: First president to admit he participated in psychotherapy.
Bill Clinton: Recruited in 1989 as chair of Democratic Leadership Council.
Bill Clinton: OpEd: too unconcerned with money to care about Whitewater.
Bill Clinton: 1992 staff called him "The Natural" after Redford movie.
Bill Clinton: OpEd: Sloppy personal habits reflected in sloppy policy.
Bill Clinton: Nature of Clinton marriage was abiding mystery of presidency.
Bill Clinton: 1998: Lewinsky affair upset GOP & press more than the public.
George Bush Sr.: 1992 debate: Caught glancing at wristwatch.
Hillary Clinton: Replaced entire staff of White House Travel Office.
Hillary Clinton: Methodist of straight-laced, moralizing, 19th-century type.
Joe Biden: Conducted Bork hearings in a scholarly manner, not emotional.
Newt Gingrich: Politics is war without blood.
Ralph Nader: Saw anti-Bork campaign as constituency-building opportunity.
Technology
Al Gore: 1995: Led policy of free-market Internet.
Bill Clinton: Vision to transform from Industrial Age to Information Age.
Bill Clinton: 1995: Tax-free Internet policy spread from US to world.
War & Peace
Bill Clinton: Regrets tactics used in Somalia.
Bill Clinton: 1995: Launched aerial assault against the Bosnian Serbs.
Bill Clinton: Cruise-missile attack on Sudan & Afghanistan praised by GOP.
Bill Clinton: Accepted Bush policy: Saddam better than instability.
John McCain: 2000: Air bombing in Kosovo was immoral: it "wins ugly".
Welfare & Poverty
Al Gore: Supported 1996 reform because system fundamentally broken.
Bill Clinton: Expanded the EITC from $15.9 to $21.2 billion.
Bill Clinton: Create "New Markets" in impoverished areas.
Bill Clinton: Welfare reform significantly reduced unmarried child-raising.
| | |
| --- | --- |
| Click for quotations from other sources by: | |
The above quotations are from The Natural:
The Misunderstood Presidency of Bill Clinton, by Joe Klein.